Cascade 1200 - Day 1
-
June 23-26, 2012
by John Oswald
In four parts: Day 1 - Day 2 - Day 3 - Day 4

My journey of 1200km actually began on the D'Arcy 400 when Andrew Hartline told me that he'd signed up for the Cascade 1200. Between gasps I mustered some energy to voice my admiration and respect because as a new randonneur struggling to keep my (inadequate) breakfast down on the climb out of Squamish, I felt far, far away from my first ultra-distance adventure and, anyway, I wasn't keen on riding for 3-4 days on little to no sleep.

"You really should sign up for Cascade then." Andrew implored. "It's not like the other 1200's. There are overnight controls at schools where everyone stops, eats and sleeps before heading out after breakfast early the next day. Since you're a fast rider you'd just get there early and have time to hang out and roast marshmallows or something."

I have to admit, even now with the benefit of 1.5 months hindsight, it's a pretty nice image. I allowed myself the possibility of considering the possibility to sign up IF the rest of the 400 went ok.
Well, as I've mentioned elsewhere that 400 almost ended my randonneuring career and had me seriously questioning my ability to ride 600km never mind 1200. I bounced back nicely though and after riding the Princeton 600 over two days with only four hours' sleep and after consulting the veteran Keith Nichol on the gear I'd need for the ride, I took a deep breath and signed up (dropping Keith's name to secure late registration--Thanks Keith!). Transportation was the next challenge and a call out on the message board netted me a ride with Ed Person(Thanks Ed! Thanks to Bob Koen who also offered a spot) and I was on my way.

I began to feel some of the legendary Seattle Internatinal Randonneurs (SIR) support Friday night when the bike check and registration netted me a sweet long sleeve t-shirt and cycling cap with the ride logo on it--these folks know how to throw a party!

On the morning of the ride I met Ron Himschoot who had accepted delivery of my new front rack bag and I rushed upstairs to pack it with my ride-day essentials--NOTE: The author in no way suggests or endorses trying to pack a brand bag twenty minutes before the start of one's first 1200km brevet. After messing up Ed's pump valve in a hurried attempt to attain adequate tire pressure and scrambling to the start to hear the organizer's instructions, I realized I didn't have my long fingered gloves! Returning to the front desk I grabbed a new room key and hit the stairwell at full sprint (no small feat in cycling shoes) to find the balled up woolies on the second landing. More sprinting back to my bike and I managed to hear the last of the instructions (you can just see me in the start line photo behind Keith if you look closely!) and roll out with the last of the group.

In short order I fell in with my favorite pace car in the BC Randonneurs, Will Danicek. Will is one of the riders I have the most respect for because, despite carrying what he calls his,"extra bicycle," he rides at a good clip and gets solid finishing times with honest efforts by riding his own ride. We did the first 40km together talking about his ride over from the Everett Amtrak Station and enjoying the rolling scenery that the organizers had provided with their route choices. It was great to see more Western Washington than the I-5 usually serves up.

The scuttlebutt at the back of the pack that morning was about how ill-prepared some riders appeared. For my part I had spent the evening and my last waking hours fretting about what to wear/bring on the ride (not having my front bag certainly complicated the planning process!) and had decided to bring the vest, the heavy rain jacket and the shoe covers but no rain pants. Some people get really offended when they see a rider on a brevet without the kitchen sink and/or the full coverage fenders but as someone who packs to the lighter side of things, I have to let people make their own decisions. I did mention that the Cascade 1200 FAQ recommended fenders and clothing for changing conditions but I had little more than a shrug and a raised eyebrow for fender-less riders clad in only polyester jerseys and shorts.

On the climb up to the Issaquah Park and Ride I lost Will but caught up with Keith and Ross Nichol. These are experienced 1200 guys and I knew I could count on them for some solid pacing. We joined up with Mike from San Fancisco, he of the tattoo leg warmers, who now rides with the Oregon Randonneurs and settled into a good rhythm for the rollers the led to Cumberland, the first control. The sun was coming out over the last rise and I decided it was time to ditch the wind vest and full fingered gloves!

Pride cometh before the fall.

Two minutes out of the control, where the featured food item was pre-boiled potatoes (The Discovery of the Day!) the first raindrops hit. Then as we were pulling out of the state park campground (the control's restroom stop) I flatted. I told Mike I'd catch up and pulled off. This was my first flat on a brevet and I couldn't help but flash back to my mechanic, Eric, telling me that I should be starting a big event like this one on new tires. After shelling out for entry, hotel, gas, a new cassette, chain, shoes, a new wind vest, I had balked at the $80-100 for new tires and tubes. Now, as I pulled out one of my spare tubes and I realized that I was carrying 18-23mm tubes for my 33mm tires, I began consider the wisdom of such a small additional investment. Sigh...

I got the change done pretty quickly but I couldn't locate the puncture in the tube or any foreign body in the tire. Since my mini pump can only get a tire up to 80psi the smaller tube was swimming in the big tire. Would I have paid eighty dollars-or-so at that point to stop the nagging wobbly feeling that my tire was going to roll off my rim injuring me and ending my inaugural 1200 three hours in? Um, yeah.

Riding from the back like I was now brings new aspects to a randonnée that I hadn't previously considered; the primary one being that you meet way more people. As the rain began to find its legs I met: riders from Japan (one had the fastest bike on the ride complete with deep section aero wheels, disc brakes and carbon fibre fenders), SIR guys on 650b bikes and my favorite rider of the day a 240+lb German in a PBP jacket with brilliant red aero shoe covers--that guy owned me on all downhills!

By this point, the rain was,"...in the drops and really tapping out the rhythm," so I had to stop to don my own (non-aero) shoe covers and heavy jacket. After two hours of chasing I finally got into (actual) shouting distance of Will and Mike only to flat again. Red Shoes leapfrogged me almost instantly.

I only had two spare tubes to start so now that I was on my last one I decided to try harder to find the culprit. Fortunately the unrelenting rain had provided many puddles in which I was able to landmark the spot on the tire and pull out a piece of ceramic something-erather. There was a noticeable hole in the tire that I booted on the advice of Mark from SIR instead of swapping out for my 27mm spare tire.

I was really frustrated at this point and the ride became a bit of a death march. Cold, wet, alone and more than 100 miles from the sleep control I found myself begging for a service station and I got one 25min later. There was no air compressor to top up my tire but there was candy to improve my mood. "Rain wasn't part of the ride I signed up for," I joked as I passed yet another yellow-highlighter jacket clad rider on the uphill before the second control in Eatonville.

"It's an added bonus," he offered through gritted teeth without making eye contact. Yes, I suppose it was...

The second control was open but most people chose the local grocery store with its generous awning--complete with a large amount of space for bike leaning--as their stop. I saw Keith and Ross leaving as I pulled up and this reassured me that I was making up some lost ground but Will and Mike were nowhere to be seen. I deviated from my usual eating pattern (against my own hard-learned advice) and ate chicken strips(!) in an effort to put some hot food into my body. Then I topped up my rear tire at a gas station to alleviate some of the wobbliness but I was still (literally) praying that my tire would hold together (Hear me, baby? Hold together.)

The rain, which had been bucketing down coming out of Eatonville, began to let up as I reached a T-intersection at a Alder Lake and a sign that pointed me toward Mount Rainier. I was riding along pretty well now and I soon spotted Red Shoes and (yet another) Captain Highlighter Randonneur in the distance. The aero benefit of the shoe covers was minimal on the slight uphill grade (or perhaps the UV radiation from the Day-Glo jacket was acting as some sort of kryptonite..?) and I was soon alone again.

Fortunately for me this was one of the nicest parts of the ride so far--a smooth car-free road through a tunnel dripping dry, moss-covered trees framing peek-a-boo views of the mountains swaddled in fluffy white clouds. Outside of Ashford, just before the turn off for Skate Creek Road, I saw two riders about a kilometer ahead and hoped they were the Nichol's. They turned out to be Mike and a woman I'd seen with him and Will as I flatted the second time. I filled Mike in on my tube problem and he suggested stopping at a nearby mountain sports store to see if they had tubes. I had my doubts but I had a lot to gain so I tried. Nope. I then rode away from Mike (he said he'd been cramping up a bit) and his companion in search of Will and the Nichol's. After 45min of blissfully silent solo climbing, during which I managed to swap the rain jacket for my vest and use my bars for a clothes drying line, I spied their group.

"Sorry it took so long to get the water from the car, guys. Johann says we need to move Lance up to the front before the final climb," I called out as I rode onto the back of their group.
"Do you have our EPO for that." Ross asked?
"Nah, we don't need any of that." I replied. "We've got some of Contador's Beef!"

We soon crested the hill and began a sweet downhill to the third control in Packwood where Keith made the Samuel Adams Good Decision of the Day--buying a burrito for a sit down lunch. Suitably fortified, we began the 4500' climb up White Pass and I was shortly on my own again.

What a ride. The road--like all at I'd pedaled on today was immaculate. The views were clouded but the air was fresh and cool and...then the sun came out. Beauty! I passed two riders and upon reaching the summit, I heeded the advice of the ride website and immediately put on all the clothes I had for the descent to Clear Lake and the best control of the whole Cascade 1200.

When I pulled in someone took my bike, another offered me hot cup-a-noodles while somebody else began taking my sandwich order whilst sitting me down in a Walmart/Canadian Tire nylon camp lounger. Wow. It was like a NASCAR pit stop. I got back on the road, sandwich in hand, to join John from Seattle and and John from North Carolina for the final (mostly) downhill 60km to the sleep control in Naches (pronounced,"Nan-cheese," by locals). When I learned their names I immediately began composing the "Three John's Arriving at Nanches" photo in my head but the dream was short lived as Seattle John forgot a bag at the control and had to turn back. I rode the remainder with NC John listening to his stories from PBP and other 1200s. John mentioned the,"Charlie Miller guys," at PBP like I should know who they were and I resolved to find out before the end of the 1200 (I was too tired and/or too shy to ask at this point). We ended the day on a high note picking up a tail wind in the last 20km and got into Nanches middle school at 9:15-ish.

My plan was to get out of my bibs, shower, eat, patch my tubes and sleep. I'm happy to report it went even better than I could have hoped. I got cleaned up and when I went in to eat volunteers took my order for food, filled a plate for me as I remained seated and then got me a drink. I borrowed some patch glue from the Ian, the on-site mechanic, patched my tubes and was in 'bed' (a thermarest in the school's wrestling room) with a 4am wake up call for by 11. What organization! What volunteers! Not even two flats could cloud my impression of the first day at C1200!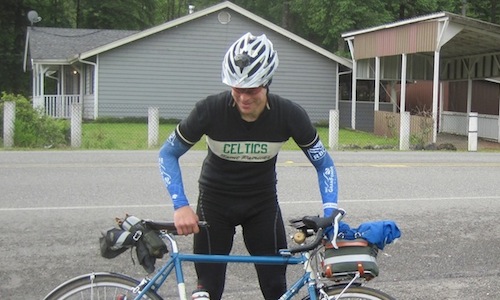 Go to: Day 2
---
Go to: Cascade 1200 Results
Go to: BC Rider Photos
July 7, 2012