Cascade 1200 - Day 2
ShimErgo, Hanford and Just Who the Heck is Charlie Miller?!?
June 23-26, 2012
by John Oswald
In four parts: Day 1 - Day 2 - Day 3 - Day 4

I copied Keith and Ross' wake up call of 4am but after doing a bit more prep than them before bed I was ready to go a few minutes earlier. Fortunately, I saw Bob Goodison hitting the road when I was packing up and I managed to latch on with him for the push back up towards the first control of the day at Mount Ranier National Park's Lodgepole Campground. I had what felt like a hangover headache and I cursed myself for not drinking enough water with my dinner last night.

The tailwind of last night was ever present but since we were now headed west it was directly in our faces. I take a long time to loosen up on tour and today was no exception. I am extremely grateful that Bob was willing to hunker down and take some long pulls in that first half hour. We began catching the early birds and one of them was Mike.

"Are you enjoying the nice cool breeze?" Mike asked as he joined our line.
"Yes, it's quite refreshing," I replied in reference to the now howling headwind. The road leveled off in a river valley and Bob and I found a good rhythm trading pulls after Mike sat up to nurse his sore legs.

When the road headed into the national park it tipped up a bit but the trees offered some wind protection. We rode in silence along a roaring river with the sun peeking through every now and then until reaching the village of Cliffdell (41km) where Bob spotted a Rando bike parked for a coffee stop at the service station. We continued on wondering when we'd see Keith Fraser and Nigel Press coming back from the control/turnaround. Clouds turned to mist which morphed to rain by the time we saw Keith and Nigel--they looked really cold but seeing them meant the control was near.

At Lodgepole Campground (72km) Mark from SIR took great care of us. Fresh brewed coffee to order, pastries, fruit and sandwiches if we wanted. I took some bananas and cookies to go and we were on our way back downhill to Nanches on a mostly smooth road with a tailwind. Even the the rain died down. I was having a great time ringing my bell to encourage everyone on their way up. One group of about seven guys that didn't need any encouragement was pacelining uphill(!) at a high tempo led by a rider in canary yellow Mavic Road shoes--you don't wear shoes like that unless you can back them up. I had a feeling we'd be seeing them again.

We were flying though and I was beginning to imagine roasting those marshmallows after an early arrival at Quincy...until I flatted again. I expected Bob to continue with his tempo but he pulled off to wait for me. I decided enough was enough and changed the rear tire. Bob handed me his pump to get the new tire up to pressure faster than mine and then saved me a blowout by noticing the bead coming off the rim and calling out just before blastoff. I caught it, re-seated the tire and got back on the road.

We caught up to Seattle John (of yesterday's short-lived 'Three John's' fame) just as we were passed by Yellow Shoes' paceline. Bob and I had been hopeful of catching a tow from them so I immediately latched on. The rider at the back of the group told me with a smirk that he,"...wasn't long for this world," shortly before pulling off. I shot the gap, fell in and began cruising along at 40+km/hr.

There really is nothing like the sound and speed of a smoothly oiled paceline. The tires whirring on pavement...the wind rushing by as you turn over a bigger gear at minimal cost... I was lost in what Andrew Hartline calls,"a trance of speed," when I looked back and realized that Bob had been caught behind Seattle John and missed the move (it happened that fast). I felt like I could ride with this group for a while but Bob had been good the enough to wait for me so it would have been bad form to drop him in favour of Yellow Shoe's time trial team so I sat up and pulled off.

When Bob rode up alongside he had been joined by the rider who'd briefly been ahead of me in the paceline, Gary Prince of Seattle Intnational Randonneurs (SIR). Gary has the kind of dry humour that makes the inevitable low points of any long ride way more tolerable so I became hopeful that this new group could stay together. Having completed the C1200 previously and he would also be an invaluable source of local knowledge and topography.

When we reached the highway junction outside of Nanches (136km) the sun had once and for all gained the upper hand and it was time to stow our jackets, vests, shoe covers, and arm/knee warmers. While applying sunscreen for the first time on this brevet I heard Gary mention his,"Cat 5 Tattoo," and without looking up I began to wonder why someone would feel the need to commemorate their first season of racing with body art and what kind of design could do such a triviality justice. Then as I was putting my sunscreen away I saw the chainring mark on Gary's right calf. Right--I might need more blood sugar to the brain...Clif Bar, anyone?

Buoyed by the tailwind and the sun we bobbed happily through cherry orchards eastward through Nanches and towards Yakima while Gary regaled us with told us about his hotel room (at what I believe was the only 'hotel' in Nanches), other places he'd stayed on PBP last year and his rando philosophy: good sleep is more important that getting a 'good' time or saving money. After sweating myself into a hangover in a darkened high school wrestling room full of snoring randonneurs last night, I could see his point.

During one PBP story Gary mentioned 'The Charlie Miller Guys' and I figured this was my chance at solving the mystery.

"Excuse me, I'm new at this...Who's Charlie Miller?"
"Charly Miller was a guy who went to PBP back in like 1908 or something when it was done on dirt roads and did it in like 56 hours and change," Gary replied. So a lot of people try to go over there and get the same time or less."

Wow. I couldn't even imagine doing that time on modern roads and equipment. I haven't quite grasped the idea of continuous riding on a brevet--I like to see where I'm riding in daylight, the time limits allow for rest and after all, isn't the ride supposed to be fun..? Anyone who can ride for more than 16 hours in one shot has my respect but if you do 1200km in 56 hours on dirt roads with a heavy turn of the century single-speed you are a legend. I run errands in Vancouver on a Flying Pigeon and the thought of riding it for more than ONE hour is too much to contemplate. Bravo Charly!

Gary's lunch spot of choice was the Fred Meyer at the next control in Fruitvale (165km), outside Yakima and Mr. Meyer's air conditioning, sandwich deli and café tables were greatly appreciated. We left Yakima on a shaded Rotary Club bike path (that was probably a rail/trail conversion) but as we did the nagging from my left Achilles tendon shifted to full-on rage and I became fearful that I might not be able to maintain the group's pace. Fortunately Bob rescued me again with some Extra-strength Ibuprofen as we waited for the light to turn back onto the highway. Gary and his buddy Ward Beebe, who'd joined us at Fred's, informed us that this next stretch on SR-24 was a long hot drag. In fact it was 67km to the next water stop--not a promising prospect when you have a tender tendon.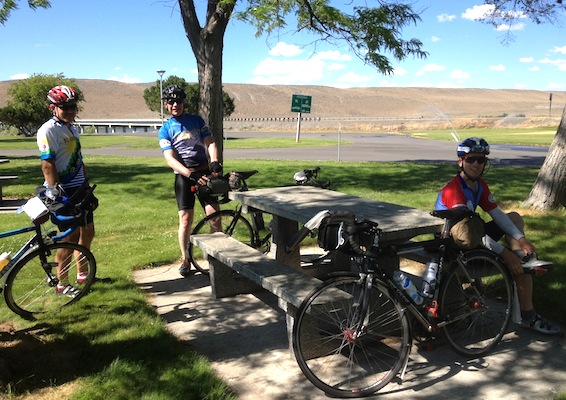 Bob Goodison, Ward Beebe and Gary Prince

After riding through fields of 'Pacific Northwest Hops' against a Big Sky horizon with the kind of puffy white clouds usually reserved for the intro to The Simpson's for an hour or so the road developed a slight incline and we struggled to find a pace to keep the group together. Eventually Ward dropped off but Gary said he didn't feel bad because the roles had been reversed many times in the past. Just before the top of the rise, though, it was Bob's turn to flat. The ibuprofen had worked its magic by this point and we were clicking off some serious km/h so this was a bit of a letdown but I pulled over to help as best I could. Gary, who had just asked us not to go nuts on our upcoming pulls, said he was going to lie down under the trees at the top of the rise and continued on. Ward came up on us a few minutes later and we let him know where Gary was so he kept going.

As Bob was finishing up the change I noticed Gary riding towards us in the distance and when I waved he nodded and rode away--I assumed this meant we'd see him somewhere down the road. Once Bob and I were over the rise the road dropped away for miles and bent a bit and making what had been a crosswind into a tailwind. Happy Days were here again! After 25minutes of Ludicrous Speed I caught sight of Gary in the distance. At the base of the next climb, I asked him if Ward was still napping under the trees and Gary said that he was actually ahead of us.

At this point Gary began sharing his knowledge of the geography of the area talking about the famous 'gaps' in the river canyon and telling us how he was,"...excited to see the river because this is one of the last free flowing sections of the Columbia. Up a ahead is Hanford so they aren't allowed to dam the river there."
"Oh, yeah," I said non-committaly enough to prompt him.
"You know about Hanford, right?
Uh, actually no.
"It was a big nuclear research facility. They actually used plutonium from there in the first atomic bomb...It's polluted like crazy and they don't want the water sitting there picking up toxins so it's the only un-dammed place on the Columbia. There's a huge sign out front that says: Property of the US Government: No Entry, Pain of Death. I'm gonna take a picture of it this time"

Upon arrival at the Hanford gate (239km) the sign in question had been moved back from the road to the booth and Gary decided that a photograph was not worth drawing the ire of the (presumably armed) guard and we turned north toward the river. There was a sweet downhill runout into the Columbia valley and a rest stop where we rejoined Ward and could refilled out bottles. As the others enjoyed vending machine Pepsi's in in the shade and I reapplied sunscreen, Gary pointed out the hill we'd be climbing out of the valley on the other side of the bridge--it looked vertical.

"There has to be another way," I found myself protesting out loud.
"This must be your first SIR ride," said Ward. "Basically, if there's a hill, we're going to ride up it." And with that we crossed the bridge (literally and figuratively) to begin the climb onto the Columbia Plateau.

The river, much like the Fraser back home, was running really high and what I believe we're trees now appeared as shrubs since any visible stumps were covered but the swollen river. As we turned into the climb I downshifted, upped my cadence and was soon alone. As I hit the steepest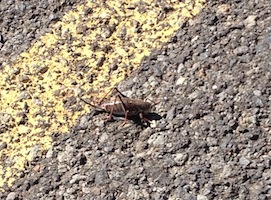 section of the climb, I heard Bob call out that he'd flatted again. There was no way I was going back down that hill so I figured we see him at the control in 20km or so.

Waiting for Gary and Ward at the top allowed me to snap some cool pics the of them climbing as well as shots of the dunes and these weird grashopper/cockroach hybrids that were all over the road. The things were huge and some of them were even cannibalizing their unfortunate mates who had come out worse for wear interacting with passing vehicles.

It was a fairly flat run to Mattawa after that and I was able to indulge my farm equipment obsession with a few photographs. It's probably a side effect of an urban upbringing, but I find myself captivated by all makes of tractors, irrigation sprinklers and hay balers. The party was broken up by a turn westward into the wind where I found myself feeling it and towing the group for long sections into the control. Gary was really having a tough go of it in the last 10km and even I was ready for a break when we hit the control (271km).

Cookies, cola and chips and a sandwich were on order at the control in Mattawa but the eye opening thing was the amount of Spanish names on the businesses in town-there were tiendas, taquerrias and mercados everywhere. A 10 year old boy with a BMX hanging around the control tent checking out the bikes and riders was asked if he ever rides on the road like we do.

"Nah, I'm not allowed. My mom says I'll get killed," he replied sheepishly.
"Maybe one day when you get a helmet she'll give you a chance," offered the female volunteer at the control. The boy nodded hopefully.

As we finished up our snacks another Rando in a polka dot jersey went flying by the control eliciting a chase from yelling volunteers. The 'King of the Mountains' turned around and joined us in the shade. "I though you were a fruit stand!" he laughed. We posed for a photo after he polished off a sandwich and we all left together. Gary saw Bob coming over the rise before the control as we left and although I was glad to see he was ok, I felt we'd spent too much time in the control already so I figured I'd see him at the sleep control. At the bottom of the hill the KOM took the turn at full speed and was gone. I was taking long pulls along the Columbia through a stunning gap when we hit a plague-of-locusts-thick cloud of insects in a marshy stretch of road.

Now I hate bugs almost as much as Indiana Jones hates snakes so I frantically zipped up my jersey and began breathing through a crack in my mouth that I oriented downhind but I could do nothing about the specimens seeping into my hair through my helmet vents. I resigned myself to finding and picking them out in the shower at Quincy.

When we turned off the highway onto Beverly Burke Way (285km) there was another SIR (You've Got'em, We Climb'em,) hill and I spun ahead of Gary and Ward. Gary rejoined me in the flats on top but Ward seemed done for the day. While Gary and I rode through some rolling hills and even under a sprinkler(!) he told me about his ShimErgo set up of 10 speed Campy leves and an 8 speed Smimano cassette. Eventually the unrelenting hills conspired to separate us and i was left to enjoy a setting sun descent off the Columbia Plateau towards I-90. As I bumped along the frontage road I passed our friend the KOM who was changing a flat. I was flying now and really enjoying the low light as I passed through a field of peppermint just outside Quincy.

When I got into the school and handed over my card I asked where all the other bikes were and they said that only four other riders had come in. Wow, I felt like I'd had a good ride but not that good! I did a solid 20 minutes of stretching and yoga, had a shower and enjoyed several helpings of chili to celebrate.

It turned out Gary had stopped for water and came in with Ward while Bob had changed his tire/tube 6 times over the last 120km of the ride. I was glad everyone was safe and hit the wrestling room for another night.
Go to: Day 3
---
Go to: Cascade 1200 Results
Go to: BC Rider Photos
July 13, 2012