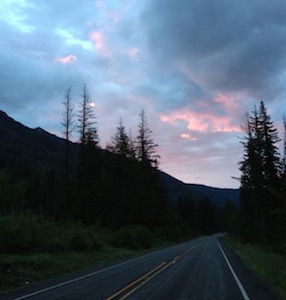 -
Cascade 1200 - Day 4
All By Myself: Finishing the Cascade 1200
June 23-26, 2012
by John Oswald

In four parts: Day 1 - Day 2 - Day 3 - Day 4
Apparently experience means you are up and moving before the wake up call; Keith and Nigel are up and almost packed before I figure out where I am. I had my stuff out and ready to go so I quickly dress and am crunching behind them on a gravel road to the dining hall on the other side of the property before I know it. Breakfast is a large group affair but the experienced efficiency of my ride partners from the previous day (which I am attempting to emulate) has us out on the road before most (if not all) riders who overnighted in Mazama.

Today I have my computer on (with satellites acquired!) when rubber hits the road. The familiar brisk pace kicks in as soon the the road tilts up. Nigel takes the first pull and we are cruising up the road for a good 8km before he passes the torch to Keith. When it falls to me a couple of kilometers later it has become clear that it is,"...when to fold'em." I hold a good pace for as long as I can, swing wide and say,"See you at the finish boys!"

As their tail lights bob off into the distance I begin to do the math on the distance remaining in the ride and the kind of pace I can maintain once the hill climbing is over--even though I have no idea of the terrain and weather on the other side. I figure I can maintain 20km/hr the rest of the way--even after 3 days of 300km rides getting me in around 5pm. Sounds great...now I just gotta get over this little hill called Washington Pass!

It wasn't really too steep but it was 29km long and quite beautiful. The switchbacks at the end kicked it up a notch but it was cool to turn around and look back down the road we'd just climbed. I could see a gentleman I'd passed 20 minutes ago as a yellow speck below me--we were getting pretty high now!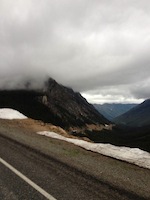 At the summit I put on all the clothes I have--and I have a lot because Nigel had warned me about how cold and wet the descent could be and headed into the misty abyss.

I got up some good speed and it carried me a good chunk of the way over the little rise of Rainy Pass 8km after the Washington Pass Summit and after that it was a long stretch of controlling speed on a twisty, wet descent. Control of the speed was handled primarily by a headwind blowing up the valley. This, combined with the views being socked in by clouds made for a sub-optimal downhill experience. At least I had the heads up from Nigel and was warm!

Below the cloud ceiling (aka: out of the fog) it warmed up a bit but was still wet. The terrain had become more of rolling downhill after Colonial Creek and into Newhalem; which turned out to be a King County Power Commission company town complete with cookie cutter employee housing and what was once probably the company store/canteen not appearing to be open yet. Hmmm, another hour to the control to the Marblemount Chevron...yeah, keep going.

The clouds were lightening up along with the rain and I began to have positive feelings about clear skies out on the coast. I had no concrete reason for these feelings--it was still raining, my map had disintegrated so I had no real idea where I actually was besides being 143km from the finish control--I just needed something to look forward to.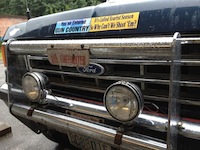 When I finally pulled into the Chevron at Marblemount it was raining pretty hard again (so much for the power of positive thinking!) and the food selection was decidedly thin on slow-burning carbs. I got some chocolate bars, a bag of chips and a chocolate milk from the man at the counter who appeared to be quite familiar with the control card concept.

As I began to load up my bike to head out the man with the mystical yellow shoes from Day 2 who's name, I'd learned from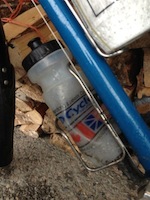 Nigel, was Mick and a guy I knew only as Chris pulled in. Chris had apparently been riding in the lead group at PBP last year before being lead off course by a motorcycle and Mick who, according to Keith Fraser, had once been on the Irish National Team.
These guys were serious riders...maybe I could catch a tow?

Chris was riding with only a jersey, arm warmers, shorts and a vest and was cursing the frigid downhill. Mick was a bit better dressed but neither guy had fenders on their carbon aero wheel equipped land rockets.

I sat crunching my Tim's salt & vinegar chips, studying the local bumper stickers and marveling at the pressure difference at low altitude which had imploded my bottle when Chris came out I asked if I could tag along with them--after all they had at least eight passengers the last time I'd seen them. He said ok.

It took about 47 seconds to realize this wasn't going to work.

47 seconds is the amount of time it takes for the un-fendered spray from a dura-ace deep section wheel with 23mm tires to saturate the water repellency of an MEC Derencho jacket and make me as uncomfortable as Chris was on arrival at Marblemount. Great.

The water wasn't the biggest problem though. No, the biggest problem was engine trouble--notably the fact that I had brought a four cylinder to a Turbo Charged V8 party. I was pushing myself to the limit just to stay on Chris' wheel. When Mick pulled off and it was Chris's turn I could barely hang on and had to get out of Mick's way so he wouldn't lose the draft. I caught back up on the other side of the rise but when the road tilted up again I had a decision to make, try to hang on and risk blowing up or just do my own thing (and stay drier and warmer).

Given that the decision would be made for me sooner than later I decided to cash out and sat up after 15km. I was now all by myself again but a lot wetter this time. We had just turned onto WA-530 which was a two lane tunnel of trees and I began to see lots of logging trucks heading for Darrington.

This was my least favourite part of the whole Cascade experience. I had 1000km with lots of climbing in my legs, I was living on junk food instead of the high quality fare of the controls on the first three days, I was soaked, it was still raining and the shoulder-less road surface was cracked and shared with an increasing number of pickup and logging trucks...

But like all (ok, most!) challenges in randonneuring, you just ride through it. I passed on some gas stations in Darrington and only stopped for a single nature break until I got off WA-530 43km later. In that time it the clouds lightened up, the temperature increased in concert with my average speed.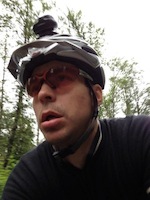 The rolling country roads into Granite Falls improved my mood to the point that I was jacked up for the final 35km after an efficient control/meal at Subway. The ride into Monroe was quick and I even peeled off the arm/knee warmers and once I was on the road around Lake Roesinger. I was taking selfies and thinking about sunscreen (but didn't bother).

I pulled into the Safeway parking lot just after 4pm and cruised into a pizza/beer feast at the hotel--SIR really took care of us. With a microbrew or two I ere hashed my ride with some of the volunteers and heard that Nigel and Keith had actually finished after Chris and Mick due to a navigational mishap) then got Nigel's room key and showered up. I helped the volunteers welcome other finishers for a few hours and then Mexican restaurant feast within capped the evening and a really positive experience in my first 1200. I can't wait for the next one!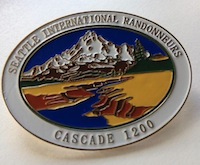 ---
Go to: Cascade 1200 Results
Go to: BC Rider Photos
August 9, 2013