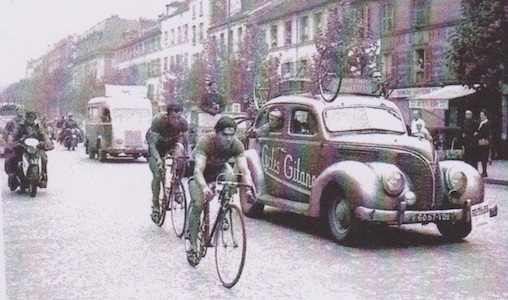 PBP 1951
"Diot Croque Le Dernier Paris-Brest"
Author: Serge Laget
Article found by Jean-Francois Mermet
Many thanks to Jean-Francois Mermet for finding and forwarding this jem. It's a 2011 article in Velo Magazine about the Paris-Brest-Paris 1951 race. The four page offering is now in the articles section of our PBP hub:
Diot Croque Le Dernier Paris-Brest
par Serge Laget
From Vélo Magazine No. 492, Decembre 2011 - January 2012
Jean-Francois has also provided us with a digital copy the 1991 official event video [link] which includes BC Randonneur content, and PARIS-BREST-PARIS RANDONNEUR Le grand marathone - an article about PBP 1983 [link].

---
Go to:
PBP Hub - Home

Go to:
PBP 1951 Race Results

March 20, 2019