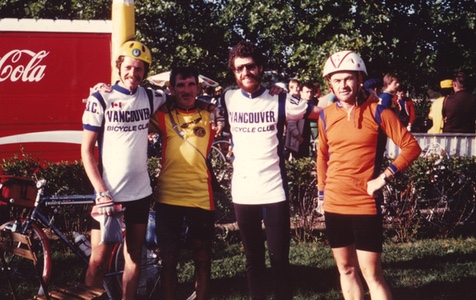 Wayne Phillips, John Hathaway, Gerry Pareja & Dan McGuire before PBP 1979
Remembering Wayne Phillips
1949 - 2021
Assembled by Eric Fergusson using content from Verni Brown, Danelle Laidlaw, Eric Phillips and archival writings of Harold Bridge.

There's some more sad news following Dan McGuire's passing in December 2020. Wayne Phillips, another one of the original four Canadians to ride PBP in 1979, has died at the age of 71. He was BC Randonneur member #4 (database).
Born July 25, 1949
Died July 9, 2021
Here is the obituary, published in the Vancouver Sun on September 13, 2021, and also an expanded obituary brochure for Wayne's Celebration of Life. All were written by Eric Phillips, Wayne's brother.
Obituary - link to Vancouver Sun/Province
Obituary [PDF] on this site
Expanded Obituary [PDF]
Wayne's Celebration of Life was held on Saturday, September 18, 2021 at Richmond Funeral Home.
---
Few current BCR club members will have known Wayne. His last brevet was in 1985. I only met him once. It was at John Hathaway's Celebration of Life in 1997, another of the original four Canadian randonneurs. (Hathaway remembered by Harold Bridge.) Here are a few things that we know about Wayne.
It was John Hathaway's Trans Canada cycling record that Wayne broke so decisively in 1977. Hathaway's record of 24 days and 13 hours had stood for 20 years. (Go to Harold Bridge's Trans Canada Records info page.)
Cross Canada Records:
1977: Wayne Phillips (Richmond, BC), 19 days, 22 hours, 57 minutes (unsupported).
1982: Wayne Phillips (Richmond, BC), 14 days, 22 hours, 47 minutes (supported by Louis Bernhardt & Henry Hulbert).
During Race Across America (RAAM) 1985 Wayne was struck by a hit-and-run driver in New Mexico. He was left paralyzed from the midchest down. The accident date was July 25, 1985, Wayne's 36th birthday. He continued to have an active physical life, mainly as a wheelchair athlete. Eric Phillip's obituary observes that Wayne competed in about 50 marathons and many 10 kms including the Sun Run over 25 times. He also competed in the grueling 6-day, 430 km Midnight Sun Ultra Challenge in Alaska. He twice carried the Olympic torch (1988 and 2010), and he loved to sail.
From Danelle Laidlaw: "He was an incredible athlete in all his endeavours - cycling and wheelchair. Wayne downplayed his accomplishments in wheelchair sports. He told me one time that he wasn't very competitive because his upper body strength wasn't that good. Truly accomplished and very humble."
Wayne died peacefully on Friday, July 9, 2021.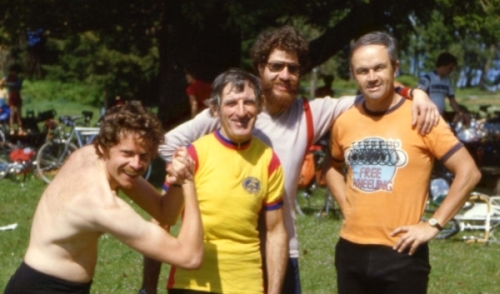 -
Wayne, John, Gerry & Dan
Photo: Harold Bridge
At the Maple Ridge Wheelers Club picnic and ride on Gabriola Island (1980?)

---
Go to: Cross Canada Records by Harold Bridge (Newsletter, 2008)
Go to: BC Randonneurs History
Go to: Paris Brest Paris Photos from 1979 (Photo Archive)


September 15, 2021