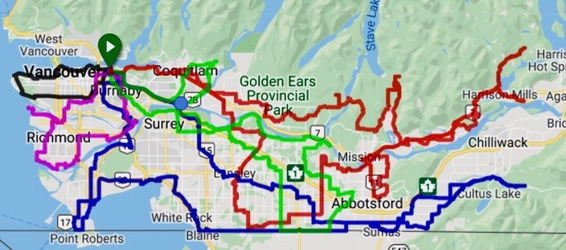 Loopy Lower Mainland 1000
Ride Date: September 19, 2021
by Mike Hagen

The Lower Mainland Fall 1000 starting September 19 was designed by Mike Hagen as a proof of concept: was it possible to do a reasonable 1000 km brevet without leaving the Lower Mainland? Could a multiple loop route with a central control hub work?
There turned out to be challenges. Riding at fall equinox meant riding in the dark to finish each day, and the weather was mixed. Cold and wet, rain at times heavy, on Day 1. Day 2 was perfect: cloudy but cool and dry. Day 3 was sunny, and hot in the afternoon. Little wind, happily.
Overall, the concept was a success. The route will be tweaked and scheduled as the Spring Lower Mainland 1000 for May 2022. Make your plans now!
Below is Mike's debrief to Lower Mainland Regional Coordinator, Nigel Press.
[Editor]
---
Hi, Nigel:
I put this LM fall 1000 together in a real hurry. It's a complicated route and, while Anna and I managed to pre-ride the most uncertain bits, there were still stretches that were, if not questionable, just not sure how they'd work. 1000s are like that anyway, of course. I didn't get Info questions for all the controls beforehand, so made up questions on arrival. Also, 24 controls is too many; will reduce to 20 for LLM v 2.0.
Two registered, Dave King and I, and we rode Day 1 together before Dave withdrew at 353 km due to a wrist injury and a mechanical -- his shifting was not happening.
My overall impression: I managed to tie together a lot of new and/or unfamiliar roads with a minimum of high-traffic/no shoulder sections. That was the plan; but the hills, gravel, and navigational challenges made for slow going. I'm biased, but with a few tweaks I think this is a winner.
First thing is that the 350 km first loop to Cascade Falls and Woodside then south to the Langley Regional Trail is quite challenging for the first day of a 1000. Dave and I were still on the Olund Trail when it got dark. Olund Trail worked in the dark, and the alternates (west on Harris Road, or climb Olund Rd from Bates to Hawkins) have their cons as well. So I'll keep it. The South Langley Regional Trail between 232 and 224 Streets is a great trail: the surface is smooth, and it winds gradually up and down and around the trees. It's narrow. It is, I think, too difficult in the dark, certainly it is for me, and others may also be concerned about solo riding for a mile on a trail like that after dark. So v 2.0 will have an alternate permissible routing: north on 232,west on 8, north on 224, west on 16, and back on course north on 216. That is how Dave and I went, and I put the control at 16th and 216. It's actually a Morton Fork: the road up to 8th is quite steep, and we still walked. The sections of the trail between 240 and 244, and on 20 between 212 and 208 were fine in the dark.
Loop 2, to UBC, may have an issue in that, while it is quick for an urban route, it is still slowish. Slower riders doing it on Day 2, if they leave after a sleep break with no time in the bank (as I did), are only a flat away from not making the closing time at UBC.
Loop 3 was, overall, really nice. The main thing I didn't like was the high traffic/no shoulder along Lefeuvre and Huntingdon. There are better ways to get from Aldergrove to the Birchwood, and I'll fix that for v 2.0. But the main thing here is that it's overall an easier loop than Loop 1. Anna and I still need to decide this, but we want to make Day 1 easier by putting in some speedy, flat sections that allow riders to bank some time. I'm thinking of swapping loops 1 and 3, decreasing Loop 1 to 300 km by removing some hills, and increasing Loop 3 by routing around Chilliwack Prairie.
Loop 4, Richmond, is standard fare. There'll be a few tweaks, but nothing major. Loop 5 was terrific. I pat myself on the back. I think I will propose to use it for the Spring 2022 200. The only issues I faced were that the trail through Williams Park was being resurfaced and I had to walk (just bad timing,that's all), and I was on the short gravel section of the Riverview bikeway after dark, which was hard. But Minnekhada after dark, and the climb up Pollard and Crouch to David in the dark, was actually quite engaging. And Abbotsford's Discovery Trail earlier in the day was a treat.
That was the slowest 1000 I've done (yikes!) but one that I'd do again.
M

---
Go to: Event Page (Database)



September 25, 2021