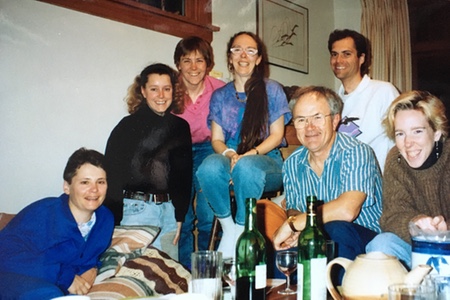 Joan Gallagher, Karen Smith, Anna Bonga, Deirdre Arscott,
Dan Mcguire, Mike Hagen and Judy Morrison
Fall 1991?
Dan and Friends
photo from June Gallagher
(text Eric and Deirdre)
Here's one more photo of Dan McGuire, with some of the BC Randonneurs who were around in the early 1990s... and they're still around. Deirdre says that this photo was taken at Deirdre and Bob's house on Windsor Street (Vancouver) "a starting and ending point for quite a number of brevets at the time." But this is not after a ride. "Just a get together. No special occation."
I'm guessing, looking at people's hair from PBP 1991, that this was fall 1991. Maybe.

---
Go to: Dan's Main Info Page (Newsletter)




February 6, 2021