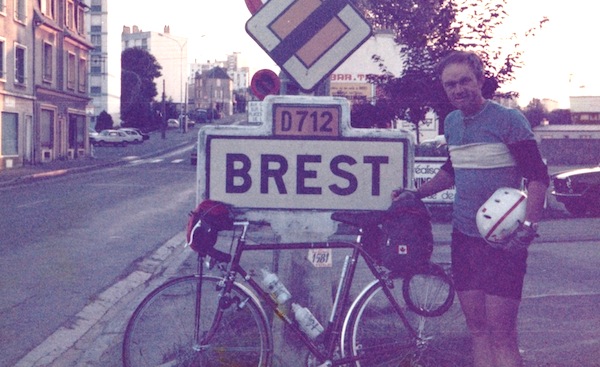 PBP 1979
Member #2 Dan McGuire Dies at 88
December 12, 2020
by Deirdre, Tara, Ralph, Leo, Barry, Manfred
It is with a sad heart that I heard of the passing of Dan McGuire, one of the founding members of the B.C. Randonneurs who died yesterday of COVID-19, just three days after testing positive. He was 88.
He had Parkinson's Disease for many years. For the last year he lived in Lakeshore Care Home. His mobility had declined. Though he had difficulty speaking he was able to listen to people and he enjoyed music.
Dan has always loved cycling and switched to riding a recumbent trike as his Parkinson's progressed. You may be interested in reading about Dan's bicycle ride across Canada in an effort to raise money for Parkinson's.
http://taramcguire.com/a-man-rides-into-a-cafe-dads-journey-the-vinyl-cafe/
As you read, you'll recognize the "randonneuring spirit". Unfortunately I can't find the podcast of the CBC radio podcast of Vinyl Cafe that honoured Dan.
For years Dan volunteered for the BC Randonneurs. It was through his communications with France and their trust in him that the BC Randonneurs were allowed to hold the first Fleche event outside of France. He and his wife, June Gallagher, were great mentors to me and many others. He could be gruff but he was also very generous. I rode many kilometres with Dan and June and I sampled lots of wine in their company!
Because of COVID-19 there is no celebration of life planned at this time.
Deirdre Arscott
December 13, 2020
---
On Twitter:
My dad just passed into the light from Covid-19.
So when you hear the stats on Monday please remember these numbers are people's beloved family members and friends.
Tara McGuire
December 12, 2020
Additional from Tara on December 21, 2020:
Hi Everyone,
Here is the memorial page for Dad. This is a central place for people to share any photos, videos, memories, stories etc.... I encourage you to upload any photos you might have as they will be also used for a slide show during the online ceremony on Jan 23. I put up a few photos today and it's quite easy. Details about the service, Zoom link etc… will be posted on this site after Christmas.
Please share this link to all of those in your circle. There are also buttons at the bottom of the page if you would like to post on your social media as well. I haven't done that but it seems pretty straight forward.
We are looking for a few speakers for the ceremony, please let me know if you have any stories or experiences you'd like to share.

Please let me know if you have any questions or would like to change any of the content on the site.
https://www.gatheringus.com/memorial/daniel-james-mc-guire/6114

Thanks,
Tara
---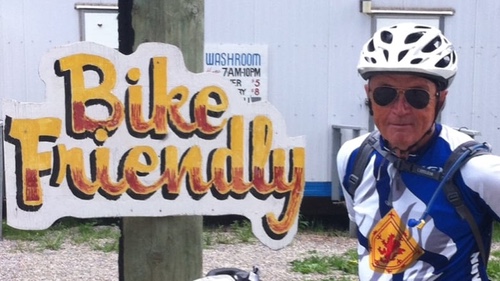 Link to the CBC report on Dan's passing. It's also archived on this site here.
---
2014 Interview with Dan, archived HERE. It was reprised on CBC Radio's "As It Happens" on December 16, 2020.Thanks to Karen Smith for finding this.
---
Dan's 2013/2014 Cross-Canada Jouney as told by Stewart McLean in a 2015 episode of the Vinyl Café. Internal link to newsletter page, where it is archived, or direct link to the MP3 file.
Dan McGuire on the Vinyl Café
(MP3)
The CBC radio link had disappeared so many thanks to Walter Piovesan for finding this.
---
A Message from BC Randonneurs member #11 Ralph Maundrell
December 14, 2020
Hello, Steve, Carol, Deirdre, and Bob.

I was so sorry to hear of Dan's passing. I've put a few memories down about the wonderful man that I hope you might share with others if you like.

All the best! Stay safe!

Ralph
-----
Dan McGuire's passing is a huge loss to BC's cycling community. His love of the sport, his ability to promote cycling, and his encouragement will be missed by all who knew him.
I met Dan in 1982 at a Vancouver Bicycle Club meeting at Kitsilano's Bayview School. Besides commuting to work every day by bike, I had recently started running. I was a little awe-struck with Dan upon finding out he had run several marathons. We chatted, and he mentioned I might also try endurance cycling. Dan's easy-going manner and total lack of pretense inspired me to kick things up, and I completed my first marathon and Super Randonneur series the following year. Dan had the ability to instill confidence in people.
Dan and I were always comfortable riding together, whether doing randonneur events, Vancouver Bicycle Club rides, or tours. I feel fortunate that I was able to learn so much about cycling from him - he was always willing to share his vast knowledge of cycling with others.
The tour across northern BC that Dan organized in the early eighties will never be forgotten – it was a once-in-a-lifetime opportunity to bond with over one dozen other cyclists that included his son and sister, as I recall. I know that anyone else who was on this tour has many fond memories of the two and a half weeks spent together.
If Dan wasn't riding himself, he was always ready to support others in endurance cycling events, from Wayne Phillips ill-fated Race Across America in 1985, to organizing and handing out muffins at Lower Mainland randonneur events, to travelling to France and offering encouragement to BC participants in the Paris-Brest-Paris.
Unfortunately, as my randonneuring came to an end, I lost touch with Dan, but I continued to hear of his ongoing battle with Parkinson's Disease and his ceaseless riding exploits from others who knew him. Dan strength of character and love for all things cycling will be missed all.
Ralph Maundrell
Nanaimo, BC
---
From Leo Boon:
December 14, 2020
Sad to hear about Dan's passing. We have lost a wonderful human being, a tough old guy, a great cyclist. Blessed are we who had the opportunity to meet, cycle, talk and laugh with Dan.
I had that luck to cycle with Dan, June, Gerry, Luis, John, Wayne in the early 80s. As I moved around the globe a lot I lost touch with the group, but when I reconnected with Gerry Pareja, I finally managed to sit down again with Dan after 30+ years in Vancouver in 2015. Although his speech was hard to understand, together with Gerry Pareja we looked at some of the old cycling magazines, old Vancouver Bicycle Club newsletters and other mementos I had among my travel diaries from the early 80s which I had brought for Dan to look at. It was a good visit to the memories of the early era of randonneuring in BC. We had a good laugh about some of our trips, that day.
As we talked I heard the story of Dan's cycling trip to the 4 dirty corners of the Canadian landscape towel. Dan had still one corner of the Canadian towel to finish at the age of 82, the section of Dempster Highway to Inuvik in the Yukon and NWT. It weight heavy on his mind and he wanted to finish the journey, no matter the Parkinson disease that slowly had crippled him over the years. I told Dan I would use my contacts to help organise the road support for Dan's second attempt. Getting Dan a motorhome rental so late in the season was a hard task but I managed to convince the CEO of Fraserway RV rental division with whom I worked for a number of years to get him a vehicle. Timing however was difficult. And as we know, Dan could focus intensely on an idea and the tasks that lay ahead.
Loved to have been there when Dan finished that journey in Inuvik. My thoughts are with his daughter Tara who lost a great dad and to all of us who were blessed to have journeyed, even if only briefly, with Dan on the same road and in the same gear.

Here is a picture before of the 1982 Triple Mountain Challenge on the top of Mtn Seymour with Dan, Gerry and the rest of alumni of the BC Randonneur Club.
LB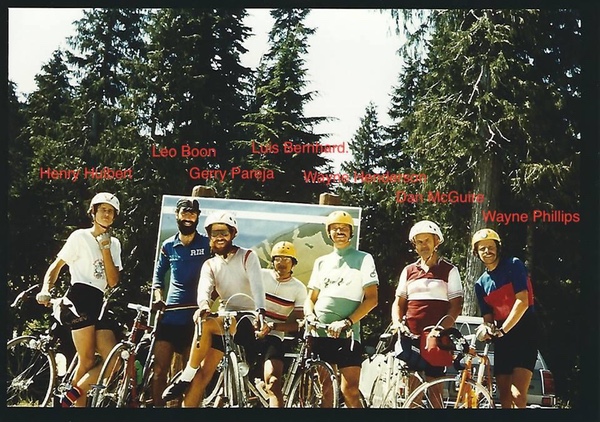 ---
From Barry Bogart, member #31
December 21, 2020
I must have met Dan in '78 through VBC, although we both worked at Hydro at the time. I saw him a lot on VBC rides but not so much on Rando rides because Dan was always ahead of me, figuratively and literally. But I saw him often when one of us were volunteering. When I learned of his cross-Canada exploits I was so impressed and inspired. If I get to the Yukon next year I will be thinking of him.
Although I saw Dan a lot at scheduled events, my favorite encounter with him was unplanned. It happened when I was riding out the Crowsnest Highway heading for Alberta and Montana on a bike tour. I was crawling up to Allison Pass when he drove by and recognized me. He stopped. He was heading out to help Danelle on Tour BC I think. I told him where I was headed and he INSISTED that I go up to Nelson and take the ferry rather than take Kootenay Pass. I will never know but I am sure he was right about that! I did follow his advice. He is my hero. It is so sad that Covid took him after all he accomplished. RIP Dan.
Barry Bogart
---
From Manfred Kuchenmuller, member #175
December 23, 2020
As a fellow Randonneur I always admired Dan's devotion and commitment to our club. While we had an occasional disagreement, he was always respectful, encouraging and generous with me. I will miss him.
Manfred

---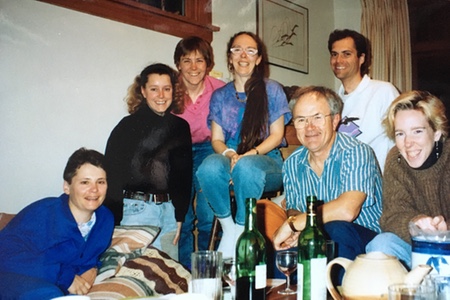 Dan & Friends ~1991
(photo details HERE)

---
Go to: ------------

December 14, 2020