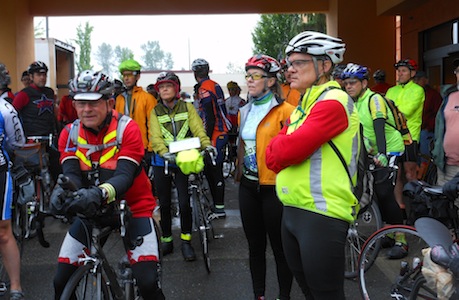 From the start:
Can you spot Ken Bonner, Deirdre Arscott, Ron Himschoot and Keith Nichol?
(Click)
Photo uncredited
More event photos on SIR's flickr

19 BC Randonneurs Signed up for Cascade 1200
by EF

Good luck to all the BC riders signed up for the Cascade 1200, June 23-26
Deirdre Arscott
Ken Bonner
Barry Chase
Will Danicek
Graham Fishlock
Mark Ford
Keith Fraser
Bob Goodison
Andrew Hartline (DNS)
Ron Himschoot
Bob Koen
Keith Nichol
Ross Nichol
John Oswald
Ed Person
Nigel Press
Gary Sparks
Guido Van Duyn
Theo Wyne
19
And four other Canadians:
Henk Bouhuyzen ON (DNS)
Willi Fast AB (DNS)
Chester Fleck AB
Stephen Kenny AB
The rest of us look forward to whaching everyone's progress. From the event web site, here's the Full Rider's List - I think in the past this has become the rider tracker link. I'm not sure about this. Nope I'm wrong. Here's the RIDER TRACKER file.
Here's the event web site: 2012 Cascade 1200 Home.
The event results have frequently been dodgy... I'll post my own version of the results here: Cascade 1200 Results.
---
Additional:
Report from Dewain Emrich who was Ken Bonner's support.
posted on event blog ~noon Tuesday, June 26, 2012

June 20, 2012