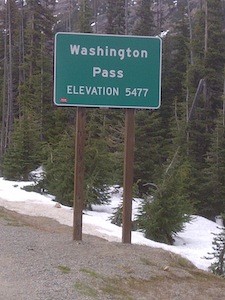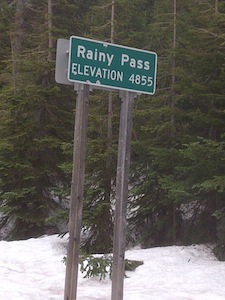 Twin Passes:
Ken sent these 2 photos to the newsletter editor from the road.

Ken Bonner
by Dewain Emrich
Posted on the Cascade 1200 blog today (July 26) at Noon. [Source - SIR]

Ken Bonner arrived in Monroe Tuesday morning around 02:00, June 26, 2012
Here is a report from Dewain Emrich, who drove support for him.
Bravo Ken!
Ken finished the 1200km ride at 2am this morning with details of the route at and comments from the organizer [on event blog] about the ongoing riders.
He left Monroe Washington Saturday at 6am, rode the first day in several hours of freezing rain which luckily stopped as he was climbing the 1st big mountain pass (white pass) [link] that afternoon and then cycled up another mountain road into Mount Rainier National Park [link] in clear weather at night where the temperatures dropped to 1C.
He got into the first hotel in Yakima at 530am Sunday took a 1 1/2hr nap then was on the road again. The temperatures on Sunday went up to 24C and the skies were mostly clear with beautiful puffy fair weather clouds occasionally providing a bit of shade. He had the pleasure of fighting strong head winds and enjoying them again as tail winds as he road back and forth across the high desert.
He stopped for a 1/2 hr nap at about 1am on Monday morning in Malott [link] before starting a long climb up several mountain passes with temperatures going down to 3C and then stopped again at 7am in Mazama for another 1 1/2hr nap where he told me one of his pedals had seized up while climbing Loup Loup pass. While he was sleeping I went back to a bike shop in Winthrop where I ended up buying him new pedals as his bearing in the pedal had seized up. Then I had to take him back to the bike shop because he couldn't get clipped into the new pedals where we spent several hours trying to get a set of pedals that he could clip into easily. So he ended up leaving Mazama at noon in 14C with clear skies for the climb up Washington and Rainy Pass [link] in clear skies and temperatures that dropped to 3C in the high pass.
Coming down out of the passes it started raining again but the temperatures came back up to around 15C as he left Marblemount for the final 160km of rolling hills. The rain stopped about an hour after leaving Marblemount and the temperatures remained a mild 10-14C during the night for the ride to the finish at 0203 Tuesday morning. From Mazama to the finish, his pace picked up considerably so I don't know how long he had been pedaling with the bad pedal but he hadn't noticed it until it started squealing while climbing Loup Loup pass so the pedal could have been slowing him down from the start.
My part in his ride was making sure I got to the control points (labelled "Hors Category" on the route sheets) ahead of him and get his drink, food and change of clothes ready for him. I also checked into any hotels he had booked so he could get in eat and get a shower, change of clothes and a quick nap before getting on the road again. At the controls, I had his camel back inserts filled and ready to change, water bottle filled and ready, his clothing appropriate for the next section laid out and a change of helmets between the day and night riding. The night helmet had an extra big light on the top powered by a heavy battery he carried in his jersey. I also picked up hot chocolate or chocolate ice cream to give to him depending on the weather. He was never quite sure what he would want to eat at each control so as he would arrive, he would let me know what food he had been thinking about along the way and I would get it for him while he was drinking. The massive chocolate chip cookies seemed to be a favorite and he had some pre-made sandwiches, plastic containers with mixes of various types of food that no one in his right mind would eat at a sit down meal but were fairly quickly consumed during the stops of less than 20 minutes.
I had a great time during the ride thanks to a chat with Mike Ellis before the ride where I learned about not following the riders circuitous route and just going to the next control which gave me lots of time for site seeing and napping in the van or at the hotels. The scenery was beautiful with photos to follow on facebook once we get back. Some of the most amazing scenery was the massive waterfall coming down off White pass, the high desert with the road covered in one section with what looked like some kind of massive grasshoppers squished on the road with others eating them (I have a movie of 3 grasshoppers tearing a dead one apart on the road). We thought they might have been locusts but they looked more like this grasshopper . The remnants of the massive floods caused by a giant mile high glacier that had had melted up hill from Dry Falls was outstanding. I did a hike up to the Wild Horse Monument and enjoyed the views in beautiful sunshine. I stopped several times along the route over Washington and rainy pass to take photos of the high snow banks alongside the road and chat with other cyclists that were touring Eastward across America loaded down with gear. I ended up filling the water bottles of one group at the top of Rainy pass that had nearly ran out of water while heading East over the passes. They asked me how far it was to the next water source and when I told them it was about 80km they almost panicked so I was happy to fill their bottles as I have been helped in the past by fellow travelers so it felt good to pass it on. The views coming down the pass near Diablo were amazing.
---
Go to: Results
Go to: Cascade 1200 Home
June 26, 2012