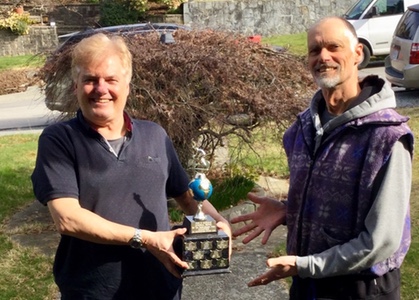 Barry Chase receiving the Iron Butt Award for 2020
from 2021 club President Mike Hagen
2020 Awards
Not Presented at a 2021 Spring Social
by Eric Fergusson

In normal times the major BC Randonneur club awards would be announced at the Lower Mainland spring social in March. Not this covid year. Let's do it in the newsletter...
Congratulations to Barry Chase for winning the 2020 John Hathaway Trophy, aka the Iron Butt Award, for the club member with the highest event distance total for the calendar year. His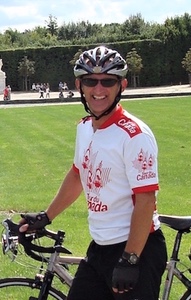 distance total of 3400 km beat out the 2020 All Butt (second place) rider Bob Goodison who tallied 2700 km. For obvious reasons Barry's winning total is the lowest winning distance since the award was initiated in 1997. This is the second time Barry has won the award. In 2009 Barry's winning total was 11,215 km.
Congratulation also to Graham Fishlock for earning his 40,000 "around the world" medal in 2020. He needed to travel to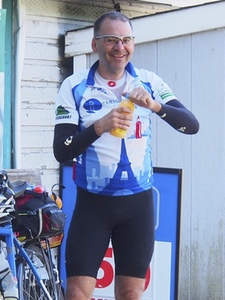 Kamloops in late September to add the final 200 that pushed him over the 40,000 km milestone.
And finally congratulations to Colin Fingler for being selected as the 2020 recipient of the Roger Street Award for exceptional club service. He lead us through Covid-19 by keeping us safe, but also figuring out how to keep us riding. Thanks Colin! Be sure to check out 2019 recipient (Dave Macmurchie's) tribute to Colin HERE.
---
Go to: Iron Butt list 2020 - All Riders
Go to: 40,000 Medal Recipients
Go to: Roger Street Award Recipients
Go to: BC Randonneurs Awards Hub


March 27, 2021