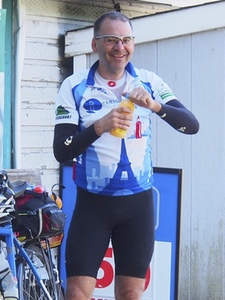 2020 Roger Street Award Goes to Colin Fingler
by Dave Macmurchie

Dave Macmurchie wrote and assembled this tribute to Colin Fingler. An abbreviated version of it is on the Roger Street Award page. [EF]
Colin Fingler, selected to be the recipient of the Roger Street Award for outstanding service to the BC Randonneurs Cycling Club in 2020, has done many things for the Club, and one of them is to enable us to come closer to the original intent of the award. Like the Nobel Prizes, the Roger Street Award is meant to recognize notable efforts in the most recent year, but also like the Nobels, it has often come to recognize contributions over time. Colin has been an active volunteer, including two consecutive years as president, but the Covid-19 year of 2020 was definitely unique, and Colin's stewardship of the Club was equally so. And the best thing is that Colin doesn't have to ride to Stockholm to receive his award.
Having spent 2018-19 working on a major revision of the club's bylaws and an update to our ride waiver, Colin was confronted in 2020 with the COVID-19 pandemic, resulting in cancellation of all rides. He acted early and took strong measures that were clearly expressed. As restrictions eased during the summer, Colin in his role of president led the efforts to restart events. He spent many hours in June developing policies for approval, designing and testing significant database changes, and finally, acting as the registrar for many of the new events. The changes implemented include on-line registration with on-line payment for brevets and variable start windows, with much of this work done through exhausting video-conferencing. Those changes will continue in 2021 to include club registration within our own database.
When riding resumed he spent many hours working with individual riders to maneuver them through the new system and get them out on their bikes, even going the extra kilometer to deliver water and other necessities to controls.
Colin joined BC Randonneurs in 2008, and has been an active rider as well as an active volunteer. He has completed 3 PBPs, 2 VanIsles, and 1 RM and he earned his 40,000 award in 2019. We've never needed leadership quite like we did in 2020, and Colin was the man for this moment. Thank you Colin for your leadership and dedicated work.


---
Go to: Roger Street Award page
March 27, 2021