Island Early Bird 200
Ride date: March 14, 2020
by Lorraine Nygaard
Just one week ago, the first 200km brevet of Vancouver Island's season took place. Called the All But Three: Esquimalt Start, the route meanders through all but three of Greater Victoria's 13 municipalities, through a great variety of quiet roads traversing through farms, lake shores, seaside, urban tranquility and more.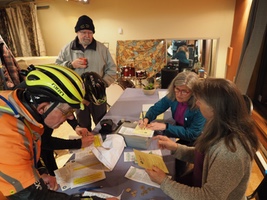 Good weather throughout the week created excitement, and eighteen people pre-registered on the Randopony.
As the event day drew close, the forecast for gale-force winds saw emails coming in with various excuses for not taking part. However, nine eager volunteers had signed up for the checkpoints and so, although the wind was howling and trees were swaying madly by Friday night, a last-minute post on Facebook stated that "Winds are bound to settle overnight. See you all in the morning".
Alas, by Saturday morning, the wind was worse than ever, and the pegs could barely hold the control sign in the boulevard's grass.
Three volunteers arrived by 6:30 a.m., urging me to cancel the ride. I felt that if riders showed and wanted to go after signing a waiver, it would not be my place to stop them.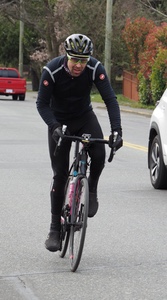 Chad Grice arrived at 6:40, keen to ride. Two other riders arrived and were easily talked out of going, convinced that it would be smarter to ride on a calmer day. Ken Bonner arrived at 6:50, noting that there was no rain, and signing his waiver, produced the correct change to our registration team. Let's note here that Chad had seen a piece of the Shell gas station sign fall in front of him on the way to the house, and that another rider had seen branches scattered on the roads.
The decision was made by the two men: they were going to give it a shot. Buddy Bhandar wanted to pedal along to support our two riders for the first leg of the event. The rest of us waved good-bye and good luck and hurriedly got back in the warmth of the house. The weather was brutal.
We can only imagine the ferocity of the challenges on this particular day. The morning was coldand winds were sometimes as much as 80 km/hour, and swirled in every direction. It got slightly better by noon, but was still a very hard slog, winds continuing throughout the day, and getting fiercer again for the finish. The courage of both Chad and Ken is to be commended. They both came back in an exhausted state, but with smiles, and finished! It is a ride that those of us on event day will never forget.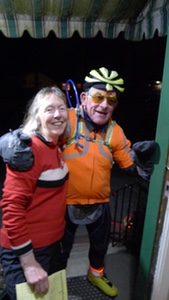 All this said, I believe that it is because there was a volunteer at every checkpoint to give a smile and said "You're doing great", and the riders knowing that there was someone waiting at thosecheckpoints, that might have provided a little extra courage that day. If I am wrong, they can call me and I'll edit this. In the meantime, I offer a very grateful shout out for giving up many hours ofyour Saturday to support this and other successful rides. Many thanks to Mark Payten, route and multiple deliveries; Stephen Hinde, strategics and paperwork; Rob Scrimgeour, photography; and to Sarah Gallagher, John Little, Roxanne Stedman, Melissa Haynes, Buddy Bhandar, Mark Ford, Dave Macmurchie, and Deirdre Arscott, excellent and supportive hosts at the controls. This event may hold the record for the greatest number of volunteers for the least number of riders.
The event also served as a great source of pondering throughout the week. The outcome of those thoughts are in the next writing.
Congratulations one and all for the many milestones.
---
Go to: Results
Go to: Pre-ride Report
Go to: Rob Scrimgeour's Photos (39 Images - Flickr)

March 23, 2020