Dave Macmurchie Wins 2019 Roger Street Award
[EF]
At the March 7 Spring Social in Vancouver it was announced that Dave Macmurchie had been selected as winner of the Roger Street Award. To learn more about he award follow this link: Roger Street Award page. Below is the official statement put together by Colin Fingler with input from Eric Fergusson, Graham Fishlock and Stephen Hinde. The photo was taken by Jim Runkel in April 2010.
---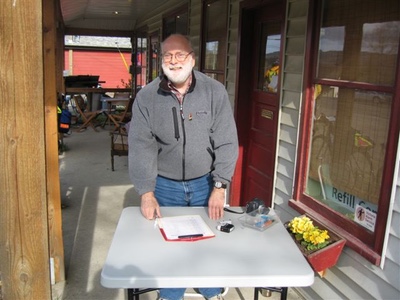 The 2019 recipient of the Roger Street Award for Outstanding Contribution to the BC Randonneurs is Dave Macmurchie.
Dave has volunteered for 48 events, more than twice as many as he has ridden! He has a reputation on Vancouver Island as that volunteer who is the first to help out a brevet organizer. He is fondly regarded by many a former Hell Week rider for his well-stocked late night Shawnigan Lake control. Whether it be to organize a control or provide technical assistance in preparing route sheets or control cards, Dave is the go-to guy on the Island.
Since 2013, Dave has been the creator, the organizer and indeed, the face of the Cowichan Valley Populaire, aka the "Cow-Pop". His careful attention to the details of route, food, volunteer management, and even arranging local sponsorship, have crafted a well-loved BC Randonneurs classic event, enjoyed by hundreds of locals and tourist riders alike. His event reports are a model for all organizers to follow, both informative and entertaining.
Congratulations Dave and thank you for your many contributions.
---
Go to: Roger Street Award Recipients 2003-2019
-

April 8, 2020