Vancouver Island Early Bird 200 Pre-ride
Ride date: March 12, 2020
by Lorraine Nygaard
There are many reasons for riding: Boundless snacks are just one...
Becoming the organizer for the first 200 km brevet of the year gave me an opportunity to support *local cafe owners. Borrowing the newly-created "All But Three" route from Mark Payten, it was fun zooming in on Google Maps to find enticingly worthy control points along the way. Stephen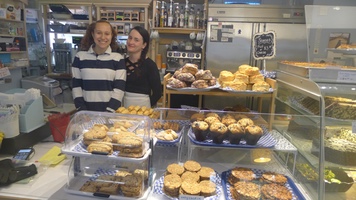 Hinde has printed the revised start and controls and printed enough for the many riders expected for the start.
Tonolli's, on the corner of E. Saanich Road and Island View Road is outstanding for our 50km checkpoint. Their spinach and ricotta cheese pastry was happily devoured, and I wished I had room in my handlebar bag for more. At 150 km., Beauregarde's vegan brownie was exactly what my body needed, so I bought another, saying it was for a family member. (my legs! Ha!)
The opening hill on Lampson is a perfect example of what will be required of one's legs in the final 20km at Lagoon Road, so riders are encouraged to pace themselves throughout.
The forecast for wind is throughout the night and is expected to calm in time for the majority of Saturday's ride. Do not worry about fast times, as that is not why we do this. Ride and enjoy the fabulous scenery, give your body a start-of-the-season wake-up/shake-up, and experience the euphoria of giving it your best shot. Like taking part in yoga, showing up is 90% of the journey. See you in the morning.
---
Go to: Pre-ride Photos (6 Images - Flickr)
Go to: Event Page (Database)
March 14, 2020