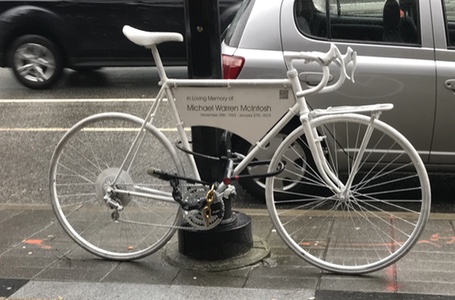 Michael McIntosh Memorial Ride
Ride date: January 26, 2020
Information and photos provided by Colin Fingler
About 60 riders, including 13 BC Randonneurs, participated in a memorial ride for Mike McIntosh this past Sunday. The ride started at the Kickstand Community Bike Shop in East Van, where Mike volunteered, and wound its way to West Esplanade in North Van where Mike was killed a year ago, on January 27. With the riders, was a trailer carrying a white ghost bike that was then locked to a post on the Esplanade beside the site of the fatal accident.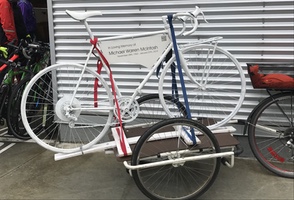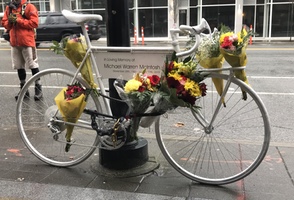 Ghost Bike on trailer and on West Esplanade
Mike's wife Kim Brooks was featured in the CBC news cycle the following day advocating for safer bicycle infrastructure and urging drivers to be more mindful of cyclists. Here is a sample from the CBC News web site:
'Take cycling safety seriously': Widow of North Vancouver cyclist calls for better bike lanes.
---
Go to: Remembering Michael McIntosh (Newsletter - February 16, 2019)
Go to: Mike' s randonneur stats page in the database
January 30, 2020