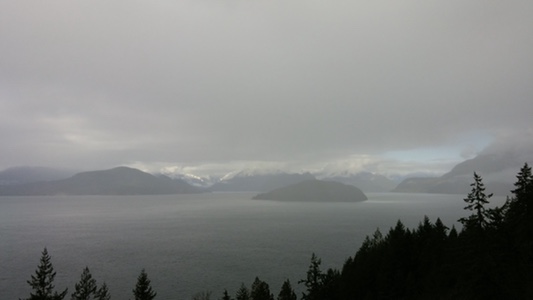 A Hazy Shade of Winter (Permanent Brevet #205)
Ride date: January 28, 2020
by Barry Monaghan
After a bumpy start to the new year, starting with a full blown head cold and 14 hours in bed on new years day, plus being locked into a cold snap it was now time to suck it up and get out there! January was running out!
Tuesday the 28th was as good as it was going to get weather-wise. Scattered showers I could live with and that's what we got.
My fitness was down somewhat so take it easy was the order of the day. Don't touch that big chainring!
I designed this new ride so as to avoid horrible stretches such as Alex Fraser Bridge, or the 'H Bridge' as Harold would call it, as well as Mary Hill Bypass, Hwy 7, etc.
Taking a page from Mike Hagen's book I named this one after a song, Simon & Garfunkle's,
A Hazy Shade of Winter. A nice song to hum to during a long ride.
Starting at the civilised hour of 9:15 am I rolled away from Starbucks at East Hastings and Kaslo with cool but so far dry weather.
The first of the scattered showers promised would appear soon enough though especially the bike wash I got on the little bit of Hwy 99 I rode on.
One of the main features of this ride was that all the grey and the showers had it's own beauty. On 99 the sight and sound of waterfalls was a joy to experience along with the beautiful grey curtain over Howe Sound.
My job on this ride was to keep the pace reasonable and just take everything in and it didn't disappoint. Rainfall, waterfalls, blue sky, a rooster crowing and a sunset peaking through the gloomy clouds over Richmond amongst other treats made it 11 hours well spent.
This ride indeed seemed like 'A Hazy Shade of Winter' and a good way to kick off the year.
---
Go to: Permanent Results
Go to: Permanent #205 Route Page (Database)
February 4, 2020