Our First Social Audax
Vancouver Island, 75 km
Ride date: April 13, 2019
by Mark Payten
The morning of Saturday April 13th started just as forecast. At 8AM it was drizzling. Fortunately, our event registration started under the cover of a picnic shelter at the south end of Beaver Lake.
Nine riders arrived before the appointed starting time. Memberships were paid, waivers were signed, and the $5 fee for goodies was collected. We welcomed John, our newest BC Randonneur.
The pace was relaxed as we made our way down Pipe Line Trail to Colquitz River Trail towards the southernmost point of our journey, the control at Saxe Point. After a brief stop here, we carried on toward the new Johnson Street Bridge.
Near the corner of Esquimalt Rd and Catherine Street we had our only mechanical mishap of the day. A thin wire caused a flat in the rear tire of Stephen Hinde's bike. Luckily the Trek shop was just around the corner. The puncture was repaired by a professional as we admired their new and collectable bikes. (Stephen reports the flat fix was really expensive, but it came with a free Madone SLR 9 disc. Carol was not happy when it required a quick visit to the bank to arrange funds—"Couldn't you have fixed it yourself?" "No dear. Everyone would have had to stand around in the rain and the cold. And wasn't it nice of them to throw in the bike? You can have a flat next year.")
We crossed the bridge and traversed Beacon Hill Park as we moved toward our nutrition break at the Mystic Market in the University Centre.
Bike parking at the university was in a beautiful heated space below the building. Mikael Jansson volunteers at Spokes, an 'organic bike share' at the university. We received a brief tour before we ate.
https://www.uvic.ca/sustainability/involved/spokes/index.php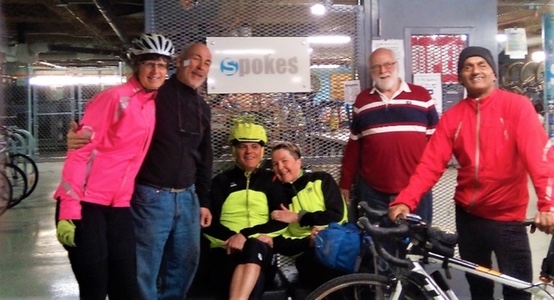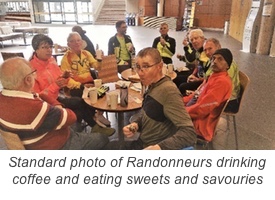 Ken Bonner and Dave Macmurchie joined us here to regale us with their riding experiences and join in the conversation. The benefit of this style of riding truly came out during the ride as well as during the ride on the quieter stretches.
It was great to ride with those who we might never see on a normal ride because they would be too far ahead or behind. There was no passing of the ride leader and we waited for those who had a slower pace up the hills. Our average overall pace was close to 15 km/h. Our moving pace was 17.5 km/h, 0.5 km/h slower than we had calculated.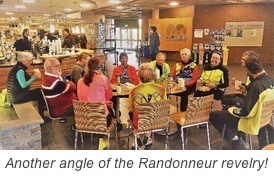 And that was all great! We set out on our excursion back to Beaver Lake by way of many side roads and trails staying a tight knit group. The sun even tried to appear for a while before realizing that it shouldn't do that as we were still riding.
Dave M was at the picnic shelter to greet us as we finished to ride. He had warm coffee and treats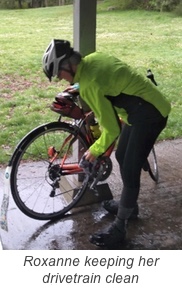 waiting.

Thanks go to:
: Dave Macmurchie for being there for us at the end of the ride.
: Roxanne S. for being the 'lanterne rouge' and keeping us together.
: Stephen Hinde for helping me to understand Audax a little more.
: all the riders for making sure that I could follow my own route sheet and GPS track. In my defence, the conversation was going so well that the occasional U-turn was necessary. (Stephen says he now knows why he had to "fix" the pre-ride gps with all it's little bobbles.)
---
Go to: Social Audax Event Page (Database)



April 17, 2019