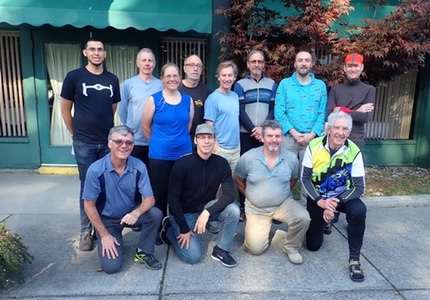 2018 Randonneur Committee
Annual General Meeting: October 15, 2017
by Editor
Here's your new committee. Standing, left to right:
Étienne Hossack, Gary Sparks, Anna Bonga, Jacques Bilinski, David King, Peter Stary, Maciej Szarecki and Chris Cullum.
Kneeling:
Stephen Hinde, John Oswald, Will Danicek and Mark Ford.
Missing from photo: Colin Fingler, Cheryl Lynch and Jeff Mudrakoff
Executive positions:
Étienne Hossack - President
John Oswald - Vice President
Anna Bonga - Secretary
Jacques Bilinski - Treasure
Outgoing committee members:
Jodi Caddick
Darren MacLachlan
Nigel Press
---
Go to: Photos from AGM Weekend: 200 km brevet (Saturday), AGM ride & brunch (Sunday).
October 20, 2017