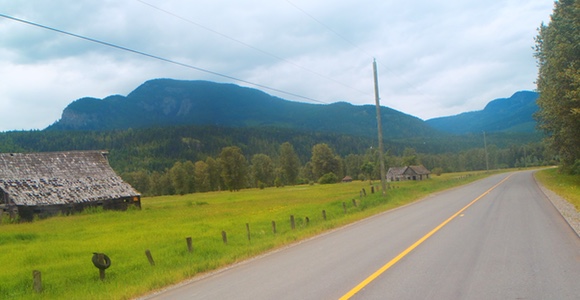 Photos: Bob Goodison & Sandy Stedman
Mabel Lake 400
Ride Date: May 28, 2016
by Bob Goodison

The report is long. So was the ride.

As ride lengths increase, it can become more of a challenge to put together a route that is interesting, fun, and scenic, while maintaining reasonable access to services and trying to minimize climbing and highway use. Here in the Interior, the highways run up narrow valley bottoms, and secondary roads run up and down the sides, often going nowhere and usually with stores, if there are any, having limited hours. I kept all this in mind while tweaking the old Cherryville 400 into something more appealing - the Mabel Lake 400. The result is, I believe, the best 400 route we have run in the Interior (possible exception being the Midway-Republic route,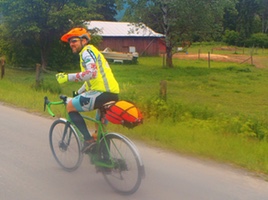 which is more suited to stronger climbers, with 3500 m of climbing, versus Mabel's 2700m.

Weather forecasts leading up to the ride were discouraging, so I was thrilled to see moon and stars while driving to the start. We had an excellent turnout of twelve riders- Three Interior (if you count Jasper, Alberta as BC Interior, which I do), eight Lower Mainland, and one Vancouver Island. It was six degrees C when we rolled out at 05:00, but by the time we reached Monte Lake after the long Hwy 97 climb it had dropped to two C. Daniel disappeared off the front, the rest of us forming small groups, and playing leapfrog with clothing adjustments stops. The sun made a brief appearance, but mostly it was overcast and cool.

Roxanne and I dropped behind Gary, Robert, Rick and Will when we stopped at a rest area south of Falkland where I had a slow leak. I also noticed my back tire was going flat, so I fixed that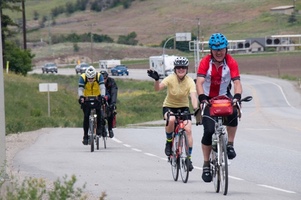 while we were there. After a nice ride through quiet back roads to Enderby, we caught them again at the Tim Hortons Control. The next bit is the worst of the ride, as Highway 97A has horrible shoulders with frequent sinkholes, and heavy traffic. All went well, and we even made it through almost every traffic light in Vernon. Once onto Highway 6, there was much less traffic, and beautiful new pavement with good shoulders. It got even better after the turn at Lumby onto Mabel Lake Road- near zero traffic, lush green farms, and rolling hills. The only glitch was a very aggressive dog a few kms past the dam. I remembered it before Roxanne and I got there, but I had forgotten to warn the others. The clouds were closing in, but still we were dry. For now.

The planned information control at Mabel Lake had become a staffed control when Randy and Jill Benz volunteered to run it. Sandy Stedman and my wonderful wife Susan were there to help out as well. We spent over 40 minutes there, being spoiled with Jill's excellent minestrone soup, buns, fruit and cookies. Robert was next to arrive, going as fast as he could to catch up with Gary and the rest, who coincidentally, were behind him. We were in no hurry to leave, but the temperature was dropping, and I felt the occasional raindrop on my face. Away we go.

Before Lumby, we met Daniel coming towards us. He should have been at least an hour ahead by this point, judging by where we had seen him on the turnaround. Due to some mixed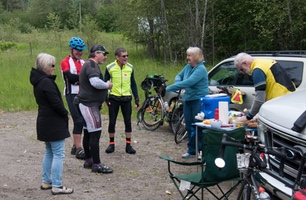 communication, he thought Robert had been expecting him to wait. We assured him Robert was fine, and the three of us rode off together. Daniel was pulling us at a strong 35+ kmh. After a while I pointed out that this was fun, but not sustainable, and told him he should go on ahead. Instead, he reduced the pace to something we mortals could maintain. The raindrops were more frequent. By the time we entered Vernon, it was a steady rain, but not the deluge we experienced as we were leaving town. The next section was definitely un-fun, especially the descent from the Salmon Arm Airport to the control at the downtown Tim Hortons, with grades of 12% and 7%. We were soaked and close to hypothermia as we pulled in. Through chattering teeth, we all said Hot Food!!!, and headed in the door. We warmed up there for about a half hour. Roxanne bought a Rrrolll up the Rrrim t-shirt to add an extra layer. By pooling our clothing collection, we left there feeling quite a bit better. It didn't last. The descent to lake level after Sorrento was our undoing. Totally frozen, we were quite unimpressed when a passing truck felt the need to "roll coal". We stopped at Little River to see what we could do. I remembered I had a garbage bag in my Carradice, which we installed under Roxanne's jacket. Daniel produced a toque, and away we went. One more stop to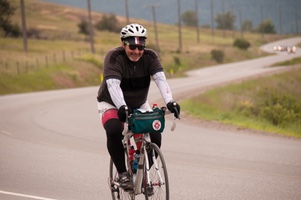 dig out more calories, and we continued to the finish, where Sandy was waiting to sign our cards. Fini. Talking to the finishers as they came in I learned that all of the riders had virtually the same experience that we had. And yes, we did have some headwinds, but the extra work to generate body heat was (almost) welcome.

A few observations: The route could be run with an info control, as it is a relatively easy 70 or so km from Lumby to Lumby, but having Randy and Jill's control there was sooooo nice. Without them, I suspect some of us may not have finished. The route is very good, with the exception of the highway between Vernon and Grindrod. It's a keeper. The weather- that is what made this an extremely difficult ride, reminding me of the 2012 Rocky Mountain 1200, and giving me fonder memories of the 2003, 2004, and 2005 Cherryville 400's, and the 40 degree C. temperatures that I cursed at the time. All that aside, I will remember this ride as one of my most enjoyable 400's ever. Why? The company of great friends, old and new, at the controls and on the route.
---
Go to: Results
Go to: Bob Goodison's Photos
Go to: Sandy Stedman's Photos
Go to: Event Page


May 31, 2016