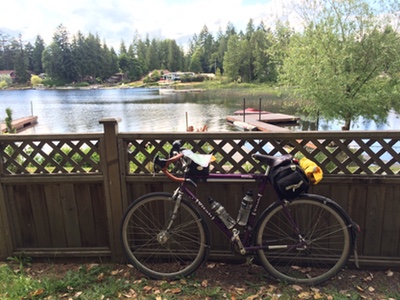 Beautiful Rain Forest and Riding Long with an Old Friend
Renfrew Ramble Takes a Wrong Turn - 600 km, May 28, 2016
by Jaime Guzman

Was it beautiful? Undeniably so. Was it wet? That's the only way you get a rain forest.
Did I enjoy it? I know it makes me a masochist, but I did.
I had never ridden on the west side of Vancouver Island and when I signed up for the Renfrew Ramble 600K I knew I would be riding mostly alone; so I called on my good old friend, my purple Vitali, to keep me company. She did not disappoint and stayed true thru our world famous west coast drizzle, showers and pouring rain. The ride reminded me of the Rocky Mountain 1200K four years ago when the steady rain in the first half decimated riders and machines alike. My Vitali was there for me too.

A Beautiful Route Made Better by the Rain
My ride started a little off. I arrived 5 min late at the Croy's residence after missing a poorly marked bike underpass under the TransCanada Highway. As I was arriving, I saw the last rider leave, Ken I believe (wait a minute, no, I was the last rider!).
It was great to see Brynne. I have good memories of enjoying the Croy's hospitality before a ride years back, and drafting behind their tandem. Anyway, after a brief hi, I left promptly but there was no way I could catch up with the other riders; besides the Galloping Goose trail was so beautiful and fresh in the early morning under our World-Famous West Coast Drizzle (I should trade-mark that!).
My good friend imparts her own rhythm and feel to the ride, saying: don't rush, be happy. Without the stimulation and pacing of other riders, I almost took it too easy and nearly missed the first control in Port Renfrew. The espresso at Pilgrim's Coffee before leaving Victoria, and the one at Serious Coffee in Sooke whispered my name so sweetly that I had to stop. Add to that marvelling at the Galloping Goose trail in the morning mist, the showers when coming to Jordan River and the pouring rain half-way to Port Renfrew and you will see why I had less than 15 min to spare.
After a hot soup for lunch at the Port Renfrew hotel (and leaving a poodle of water on their floor) it was time to tighten up the pace. So, I climbed the west side of the central Vancouver Island mountains, and descended the east side, at a steady pace. What a beautiful ride, even though the pavement was fairly broken. Fairy Lake in the mist really makes you believe in fairies and seeing a river turn back is really something. Somewhere there I crossed paths with the only other randonneur I saw during the whole ride (That's not true! I honked my horn to a couple of randonneurs as they were coming back from Courtney).

Serendipity or How I Ended up Riding a Girlish Bike
Let me tell you something about my old friend. I love my purple Vitali, but it was not love at first sight. It was the hard-earned labour of seven years and three grande randonnees.
Sometimes the best things in life happen by serendipity. I bought my Vitali thinking it was a different size, it has never been "properly" fitted to me and I almost sold her because people said she was wrong for me. But after seven years in randonneuring and some 12,000 K behind us, I may flirt occasionally with my other bikes in the 200K or 300K brevets, but when it comes to serious randonneuring I will always reach for my old friend.
I bought her second hand from a lady in Pitt Meadows who had the bike built for her by Giuseppe Cramerotti at La Bicicletta, when they were still an Italian bike shop. She said she had three requests: the bike had to be purple, had to have a chrome fork and had to be good for long rides. So they put her together with a hand-made Italian touring lugged frame made of Columbus steel and a non-touring, but matching, chrome fork and dressed her up head to toe with beautiful and sturdy "bottom tier" Campagnolo Mirage parts.
I came to see the bike thinking it was a size 52 (I had been told by a veritable road-bike fitter that that was my proper size). But when I checked, the Vitali was actually a size 56, clearly much too large for me. I went for a test ride anyway. She felt instantly comfortable while riding, but, I have to confess, very awkward when mounting and dismounting.
It was definitely a girly bike. According to any roadie I asked she was clearly "not cool", with that granny gear, the "sky-high" bars with a swan neck touring stem and room for 28 tires and fenders. To add further insult, when I called her into duty I added an old-school Carradice bag, reflective tape all over, the over the top bike horn (souvenir from a dollar store in Kamloops) and the definitely cheap and un-matching recycled Powerade plastic bottles. She definitely screams: I don't give a damn what you think!
I have to confess though that I have my limits, I did change the purple handle bar tape and the purple computer that came with her.
She won my heart when the weather turned South during the 2012 Rocky Mountain 1200K. All sorts of bikes and riders were breaking down left and right, but she brought me safely home without a hitch. Actually, we did have a flat tire just before Beauty Creek that almost cost us the ride. But, flat tires are the only "mechanicals" I have ever had to stop and fix during a brevet with my old friend.
There you have it, serendipity and all, life gives you gifts but you have to be attentive to not let them pass by because of what other people may say. Yes, I ride a girly purple bike and quite frankly I don't give a damn what anybody thinks.
How Lucky We Are Living in Cycling Nirvana

Some may say that Southern California is cycling nirvana; I beg to disagree, I like my cycling varied. In BC, I have ridden beautiful rain forests, deserts, farmlands, beaches and all sort of mountains (snow-capped, rocky, misty, green, etc.) in the dry and in the rain. Take this weekend: I literally saw millions of trees, hundreds of mountain streams and mile after mile of ocean views.
If you haven't done so, at your next opportunity come ride the west side of Vancouver Island. Just remember to book some rain (not hard to do) and bring your best friend.

Stay well and remember: Enjoy the ride. Never Quit.
---
Go to: Results
Go to: Event Page


May 31, 2016