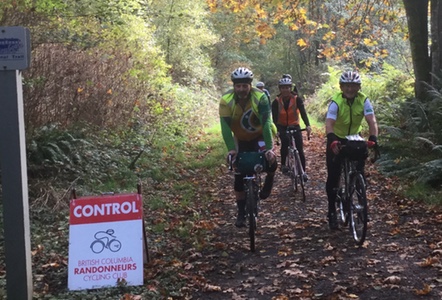 Photo: John & Sarah
Secret Conrol near Sooke

Fall IsleLander 200 Organizer's Report
The "Somewhat Familiar" Route
Ride date: October 18, 2015
by Lorraine Nygaard
October 18th saw 20 riders leave Esquimalt and enjoy a ride north to Sidney, out west to Sooke, and back to Esquimalt. The day was cloudy and calm, and gorgeous autumn foliage welcomed the riders on both the Lochside and Goose trails. Robert Sexton came all the way from California to take part, as did several of our mainland members; the finale back at the Halloween-decorated house made for a very festive time. We heard stories of a wipe-out by David White on the Goose Trail, with a bloody arm photo to prove it; extreme extra kilometres by Joshua Hazelblower, who started at 7:45, but persevered to finish in good spirits as he carried the Lanterne Rouge; Deirdre Arscott and Mark Ford being motivated by the vision of pie at the finish; and Ken Bonner finishing the last several kilometres with only one foot clipped in as the other cleat was toast. As the host, I simply enjoyed the camaraderie of everyone. For having finished a very difficult 200 km that included a lot of climbing, there was a lot of laughter and story-telling at the finish.
Thank you for the brilliant route revisions by the talented Stephen Hinde and Dave Macmurchie, that now include the E & N Rail Trail in the last leg of the ride. Everyone loved this addition, though we did hear a few murmurs about cues, and extra kilometres. I will contact CRD/Victoria/Highways, to try and get some nice signage on the trail, as it is impossible to describe on a cue sheet how to "look for a pedestrian crosswalk to the right of massive bush, but kind of hidden, and to make your way just to the right of the overpass, but not quite under it, and then find the trail pick-up, once you've you've bumped up and over one lane of highway, an island, 2 lanes of highway, and another 10 feet of sidewalk." @all rights reserved.
Congratulations to Stephen Hinde that reached his 40,000 km mark, with the 200k volunteer pre-ride the week previous. Thank you to both Stephen and Dave Macmurchie that worked so hard on getting the new route refined. Thanks also to checkpoint volunteers Dan DeFeu, Rob Scrimgeour, Holland Gidney, Brynne Croy, Sarah Gallizin and John Little. Because of your efforts, all the riders felt supported, and had a fun time. Thank you also to Kemp Lake Store that received our riders.
Please put this ride in your books for next year.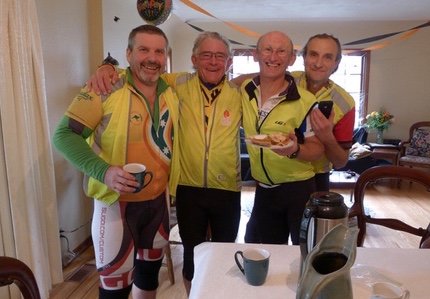 Photo: Lorraine
Finishers enjoying the organizer's fresh homemade pie
In photo: Will, Ken, Graham & Michael
---
Go to: Results
Go to: Lorraine's Photos (Photos in reverse order - Includes preride photos) (Flickr - 21 images)
Go to: John & Sarah's Photos (Flickr - 27 images)

October 28, 2015