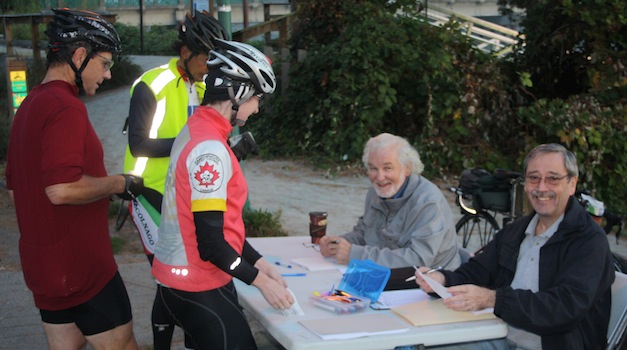 Larry working the registration table at the 2012 Fall Flatlander. (Keith Fletcher on the right.)
Photo: Craig Premack

Larry Voth Dies at 68
Selected from e mail messages from Ron Stewart and Allison Voth (Larry's daughter)
[Go to: Larry Voth Randonneur Photo Gallery 2002-2015]
[ Larry's Memorial Service was on Saturday November 21: Details . This page now contains an obituaty and link to a 75 image gallery of Larry's life beyond Randoneur cycling.]
Hi Ron,

I am writing to let you know my dad Larry passed away yesterday Nov 14, on his 68th birthday. He died in his sleep. Very unexpected as he was in good health. We were supposed to go to cirque du soleil yesterday.

Please let the Randonneurs know and soon as we have made arrangements for a service I will let you know when it is so anyone can come pay respects. He was a good man. His last mileage log entry for his Marinoni is 93,000 kms. His bike kept him going in life and I always admired his endurance.

Allison Voth
_________________________
from Ron Stewart to Allison:
....I have not seen Larry since we went to the Island to ride around Shawnigan Lake on a spectacular day in June - just around the time you were wrapping up your Customs training, I think. In total we rode about 1600 km together, and they were all good rides. I owe Larry a huge debt of gratitude for helping me to get fit enough to finish brevets of up to 600 km...
_________________________

from Ron to the BC Randonneurs discussion list:

Larry's first ride with the club was a 200 to Williams Lake in September 1999. In the early days he rode a mountain bike. His fastest 200 was an 8:30 Flatlander in 2005. He completed Super Randonneur series in 2001, 2002, 2004 and 2006. He did fleches and traces. His final brevet total is over 22,000 km.
Larry was a good friend to me, and my first and most important mentor in our sport. We rode together about 1600 km, starting with the preride for the 2012 Flatlander. Our last rides, and Larry's last club events, were a 200 km permanent in February, and the 100 km Cowichan Populaire in June this year.
My friend Larry was a modest man who lived a modest life. He spent a great deal of time with his adult children, and often spoke of them when we rode together.
I am going to miss him.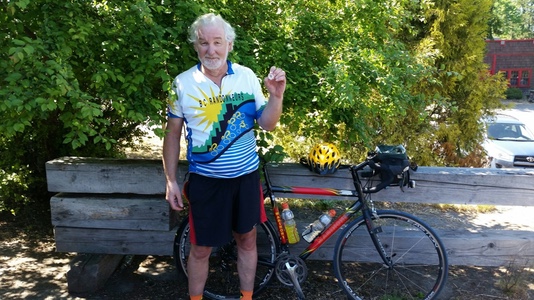 Larry in June 2015
---
Go to: Larry Voth in the Database - Member #793
Go to: Larry Voth Randonneur Photos 2002-2015

November 15, 2015