2015 Fall Flatlander 200
(aka- the squallander as Darren called it)
Ride date: September 20, 2015
by Gary Baker
This definitely was nothing like most of the Flatlanders of the past. First the pre-registration was very low ( only 10), low even by post PBP standards. The weather forecasts were terrifying at best and indeed lived up to their worst predictions. Being a Valley resident I know that the worst weather is always as one crests the high point between Mt. Lehman and 264th St. The windshield wipers were essentially useless as it was raining and blowing so hard. About .5 of a kilometre after I turned off Hwy # 1 onto 232nd there was a tremendous 'BANG" and sparks showering onto the roadway from the power lines above the road. I thought a hydro transformer had just shorted out; perhaps there was one less crow in the world. Then it happened again….wind. I drove slowly up to the spot where a very large branch was suspended across the Hydro lines. I stopped and called 911 then proceeded onto the Lions Hall where the caretaker was concerned as the power was out. We could hear the fire trucks roaring up the hill towards the location I had provided. We quickly learned the power was out for most of Ft. Langley.
Eight of the ten riders who pre-registered rolled in, the brave, crazy or desperate ones ( only 400km to get that 40000km pin). After a short pre-ride briefing to highlight the route changes, to avoid construction and the gravel sections of the original route (which would have been pure mud with all the rain) off they went. I thought Mike H. might be riding with Anna B. on this one. No, he indicated he was aiming for a sub 7 hr. ride. The conditions proved to make short shrift of that plan. When he rolled in 7:58 later, he proclaimed that was one of the hardest rides he had ever done. Riding from Yarrow out onto the Sumas Prairie he said he was down to 10kph and it was so gusty that he dared not take a hand off the bars to take a drink. Darren M. rolled in approx. 1 ½ hrs later. For a while all he could talk about was how wet he was.
Keith was manning the Yellow Barn control and reported, as did Karen and Michel from the Popkum Control, the other six riders were riding as a group, self defense, or perhaps misery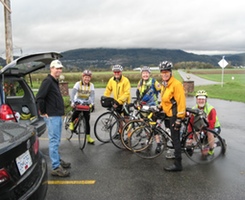 loves company. The good news was they were all in good spirits…..denial (?)
Keith had moved from the Barn to Birchwood to insure there was food as regular food services shut down at 3pm on Sundays. They were still all together ( individually and as a group) and cleared Birchwood at approx. 4:30; all things considered they were doing well. As they pushed on towards Ft. Langley the volunteers converged at The Fort Pub to welcome them in. It was also Paul's birthday, so a double celebration was in order – a birthday and their successful completing of one of the most challenging Flatlanders in many a year. We anticipating their arrival at about 7:30pm; they finish at 7:39pm together. Great effort folks. Cards signed , beers ordered, we sang Happy Birthday and all enjoyed a slice of chocolate birthday cake.
A big thanks to my fellow volunteers and to the riders who braved the elements in the true spirit of Randonneuring. May you enjoy a day of sunshine on your next brevet. You desire it.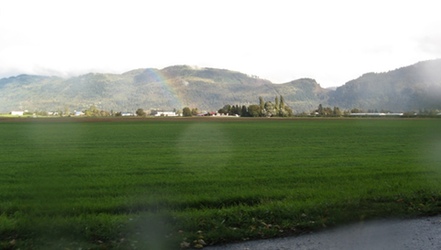 ---
Go to: Event Page (Route, etc.)
Go to: Results
Go to: Photos (8 Images - flickr)
September 27, 2015