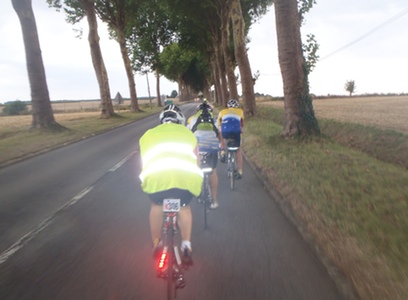 PBP Story
Ride dates August 16-20, 2015
by Bob Goodison
"He went to Paris, looking for answers to questions that bothered him so" (Jimmy Buffet)
"Lately it occurs to me what a long, strange trip it's been" (Grateful Dead)
"It's great to be a part of something so good that's lasted so long" (Nitty Gritty Dirt Band)
I first learned about PBP in 2001 from the BC Randonneurs brochure, but I had no idea at the time that it was something I was capable of. I figured it was only for elite cyclists. It wasn't until I rode my first 600 km in 2003 that I realized I had not only qualified, but that people who had struggled far more than I to finish that 600 were on their way. Although there was no way it could happen that year (no money, no passport), the seed was irrevocably planted. I also qualified in 2007. By then I had a passport, but the funds were still lacking. I faithfully bought lottery tickets until entries closed. I made plans to go in 2011, but before the spring series was over and I had qualified a third time, I had decided I still couldn't afford to go. At that time I started a PBP 2015 fund. This was really going to happen. Looking back now, I believe that if I had gone in 2003 or 2007 I would have been unlikely to finish. Since none of the jumble of memories of the ride fall into any kind of logical sequence I thought that, instead of a long, detailed ride story, I would just share the standout memories and impressions in whatever order they come to me. Here goes:
The long, long lines for the bike inspection and package pick ups were a great experience. Most riders were wearing their national or club jerseys, which made it easy to spot old friends. I've never seen people waiting in a long line so happy to do so- I heard not a word of complaint.
Ron and I had a language limited conversation with an Italian gentleman who was sitting on the balcony of the motel shaving his legs- not something most randonneurs bother with.
When the ride actually started the emotion was overwhelming. Riding through the streets lined with cheering crowds brought first goosebumps, then almost tears. This must be what it's like for riders getting their first taste of the Tour de France. I felt proud to be wearing the red and white Canada jersey.
It became obvious that there are many different approaches to this ride. A small group of Philippine riders who had apparently missed their start time started half an hour late with our group. One of them had a boom box on his rear rack, which was playing loud music when we passed them a few kms in. I saw one rider on a coaster brake single speed, wearing denim cut offs. Tough, foolish, or both? It was fun to see the elliptigos, the tricycles and tandem trike, all the velomobiles and the antique bikes.
The French drivers are fantastic. They waited patiently until it was safe to pass, then gave us lots of room. I saw a number of really dangerous moves by cyclists, but none by drivers. I never felt threatened. Judging by odour, every large truck, particularly after dark, seemed to be hauling pigs
I had chosen the first wave of the 90 hour group for my start time, to avoid long lines at controls. It worked flawlessly, and I never had to wait more than a couple of minutes for anything. I enjoyed riding the first hour or so with Michael Tilitzky, until suddenly he wasn't there. Not sure if he slowed or I sped up. Later I rode in a group of about a dozen riders from at least five different countries. A strong Swiss? rider had wordlessly assumed leadership of the group. Some riders dropped off the back, to be replaced by new riders we overtook, until they too fell off the pace.
I managed to assemble my bike with the saddle a bit too low, and by mid morning of the second day I had a really sore left knee. By the time I figured out the problem and fixed it, the damage was done and it plagued me for the remainder of the ride, compounded by the fact that I had used the big gears too much early in the ride. The up side of this was that whenever I wanted to partake of the local hospitality (crepes, soup and/or coffee at the roadside), I simply did so. Any time not pedaling made the knee feel better, and I was unconcerned about my finish time.
I modified my original plan of sleeps at St. Nicolas and Quedillac en route when I figured out that it would have me riding through both nights (although it was fun to be riding in the dark through some seemingly deserted village, only to hear clapping and shouts of Allez! from unseen spectators). Instead I continued to Brest for my first sleep, arriving at dusk for a beautiful sunset. The dorm I was in had only two beds, and was pretty quiet- until they came in for my room mates wake up call. I just got back to sleep and they brought in my new room mate. Now wide awake, I left after only two of my planned three hours sleep.
I consumed huge quantities of food at the controls- pasta, croissants, pain au chocolat, yogurt etc. I also enjoyed the availability of beer at the controls. Anything for more calories. Beer caps in France do not twist off, no matter how many times you twist them round and round. The Overstims table at most controls were selling energy cakes- sometimes caramel, sometimes chocolate chip, sometimes both, that were an excellent supplement between controls. I felt bad later, reading some peoples ride reports, when they talked about the controls having run out of food. That was my fault! One of the best things I did was to take a little nylon shopping bag in my jersey pocket. It folds up to the size of a Clif bar (and probably tastes better). I used it to carry my water bottles and food purchase in and out of controls without juggling, and to carry clothing and overnight stuff to the showers and dortoirs.
Coming out of Brest, I kept thinking I must be off route, expecting to see the bridge, not realizing we took a different road out of town. It wasn't until I reached the crepe stand at the top, where I saw a very sleepy Eric Larsen, that I was totally confident I was on the right route. Climbing Roc Trevezel on the return was an unforgettable experience. There was an unending stream of oncoming bike headlights. Many of the riders were singing, probably to help them stay awake. Daylight came, and with it a cold, dense morning fog. The endless parade of westbound bikes became more sparse as I progressed eastward. Carhaix was a zoo, overwhelmed by riders still going west, as well as those on the return leg.
It was obvious that I was not the only rider hurting. I kept seeing a French rider who never sat on his saddle. Occasionally he would stand, but mostly he pedaled sitting on his top bar. Saddle sores? I hope he made it. Another French rider I spent a lot of time near had Shermers Neck, but was still somehow making really good time. As the ride continued I saw riders sleeping anywhere and everywhere. My best sleep of the ride was on the side of the road on the way into some little village, with my feet up on the rails of a fence. So refreshing.
I was hoping to get to Villaines (1009 km), before my second sleep but I hit a low point in my reserves and was plodding along slowly between Tinteniac and Fougeres when Alan, from England, rode up behind me and started a conversation. Diverted from my discomfort, we had a really pleasant ride into Fougeres together. We were both getting sleepy and it was getting dark, so we decided to sleep there before continuing to Villaines. It had taken almost 17 hours to cover 303 km. We went through the control, planning to meet in the restaurant (the lasagna and flan tasted great), but it had two separate rooms and we missed each other. We met again the next day, when he was entering a control I was just leaving, and again just after the finish. Hopefully we will ride together again in the future.

The sleep in Fougeres was on mats with about a dozen people in the room. This was when I realized I had left my earplugs all the way across the parking lot in my handlebar bag. Not so bad, until someone snuck in an unmuffled Harley and started it. Seriously, this snorer was cartoonishly loud, and there was obviously only one person sleeping in that room. I gave up after less than two hours of my planned three, had spaghetti and more flan for breakfast, and rolled out. I paid for it later.
I had taken along a number of small Canadian flags, as well as a zip lock bag of flag pins. I gave the flags out to small children along the route, especially those helping with food stands. The pins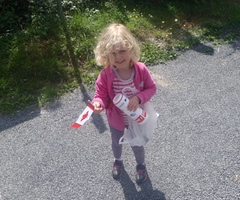 were given to some control volunteers, but mostly to the people along the route who gave me soup, crepes, coffee etc.
Just after dawn on day three when my lack of sleep had caught up with me, I was riding along trying to decide whether to stop for a nap, or dig my caffeine tablets out. As if by magic, around the next corner a call of "Cafe?" . That person will never know the value of the service provided at the perfect place and time. The beauty of this ride is that you can stop and sleep anywhere, any time, safely. This is very unlike other 1200s I have done, such as the VanIsle and the Rocky Mountain. I remember sitting in a cafeteria with a couple of other riders, watching a rider at the next table. He was sitting up, sleeping. Every few moments, he would tip over to his right, almost fall over, and jerk upright. Lying down would likely have been safer, but less amusing for the rest of us.
At one point, riding in the dark, I was convinced I was riding through a tunnel. Apparently I was not the only one to have this hallucination. I managed to get off the route just once, but only by a couple of blocks, before a helpful local steered me right. After the ride was a different story- I got lost and it took nearly two hours to get from the finish to the hotel only seven kms away.
Fatigue works exactly like alcohol in removing any trace of self consciousness. By the second day I was speaking French much more confidently, if not capably.
Due to the somewhat overwhelming scale and hilly nature of this ride, I would hesitate to recommend it for a first 1200. I was grateful to be able to fall back on lessons learned at the other 1200s I have ridden. That said, if you are only ever going to ride one 1200, this is the one!! The amazing support of the locals, constant interaction with other riders, and the ability to rest anywhere, any time make it much easier than it would otherwise be. If I am financially and physically able, I will be back in 2019. Join me. You know you want to.
---
Go to: Bob's Photos (flickr)
Go to: BC Riders' PBP Stories Hub Page
September 21, 2015