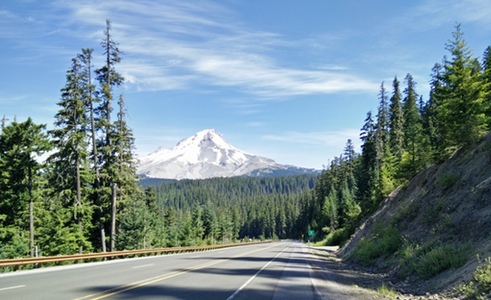 Unfinished Business with Mt Hood & a visit to the Sisters
Ride dates: June 20-23, 2015
by Will Danicek

These ultra brevets can comprise the four seasons sometimes, even on the first days of summer.

Had been looking forward to this route, another attempt on the roads east of Portland southward. The first stage heads for the Chuckanut, I rode with Ed person for a few kms through Ferndale but he was long gone by Fairhaven. First controle Haggens, grocery stores make for grand snackaterias. After the Chuckanut Dr, Bob got rolling into a good pace with Bill, myself, then Rick in tow, across the flatland on the way to Burlington. At the 150 km mark I must have been snickering at the rando gods, so off with the chain they said. Turned out the idea of oiling my chain in Fairhaven was a big mistake, what a mess while putting it back on. Get on the move and the bang bang bang shifting up & down is gonna be a problem, decided to roll a little farther to find a wider place to effect repairs. A very good decision, there is a store at Lake McMurray and the boys are there eating ice cream. Located the bent link, and while Bob offers me a quick link my 9 sp chain is different than his 10 sp gear. No problems I say to myself, just an easy (lol) chain break to discard the trouble maker. No time for ice cream for me, grab some water and keep up with the group. Pretty soon we are on the Centennial Trail, 50kms of smooth pavement away from the rushing car/truck traffic.

I begin to fall off the pace of the group as Gary & Eric roll up, turned out they got stuck in a 30 minute processing stall at the border. Caught up to the group at the Monroe controle, feast time at the local 7 11 cafeteria. Still trying to find my pace I head off towards Ames Lake Rd, and the clatter of the cassette gets a little more noticeable. At Novelty Hill Rd a wide shoulder makes for a great work space. And there is the culprit, another bent link beside my previous repair. Turned out the repair I did was poorly done. Much better to find the issue now than to have to deal with it in the darkness.

Pressing on I get to the Cumberland controle a few minutes after the store closed, got a fella tinkering with his truck to sign my card and headed off to Buckley. Now it's not a good sign to be fighting off drowsiness on the first day of an ultra, I spot a knoll by the Middle school for a quick nap. On the move again through Buckley onto the Foothills Trail in the dark, (missed the turn at the spur, a few bonus kms returning from Orting). Realizing there was no way for me to make Eatonville, I spot a semi quiet place behind the now closed Kapowsin Ale house for a sleep. 4 hrs later feeling rejuvenated I head off for Eatonville and the real start of the climbing requirements of this brevet. Stops in Elbe then Randle would allow me to get enough supplies for Elk Pass.

Up then down, then up & down again and I was through Carson on my way to the Bridge of the Gods and an eastward direction this time as opposed to the westward trek I did last August when I abandoned due to the extreme heat. Wyeth Rd sure did have some steep parts to it, 26% according to the track (lol). An awesome view of Mt Hood for hours during the next climb got me ever closer to Government Camp with its much needed supplies. Here was where I should have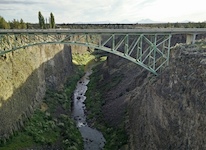 recalled the profile, for it's not all downhill to the next ascent, but a drop into then climb out of temperature trap of Warm Springs. Amazing the way the temp climbs 10+ degrees during the downhill. On to Madras where I was hoping to find calories other then gas station fare, but the Circle K was actually pretty good, an Angus burger & milkshake hit the spot. On leaving there I was beginning to look at the clock more closely, can I finish this ride or should I look for shorter and easier path towards a train ride home. I rode across the bridge at Peter Skene Ogden State Park and took a diversion into the park to see if there was a map showing the closest interstate or route hwy that would offer me a bailout. No such luck, but within a few kms I was at the route sheet turn towards Sisters. Maybe I can finish this brevet I tell myself. A little gravel road & a few kms of hwy and I was in Sisters. It was 3 hrs past the controle close, but Bob had said he would be lenient about the intermediate controls as long as the finish controle was achieved. 150 kms and about 10 hrs to get there, maybe I can finish this brevet I tell myself (stay positive until the sands run out).

But here I was, just like in Aug 2014, starting a substantial mountain climb in the late evening. It gets cold up there at night, the heat of the day runs away. Fatigue and cold caused me to not pedal very fast, I had the road to myself, but was using almost the entire width. This was not a good idea, the road pretty much cuts across the mountain, steep upslope on the left and drop off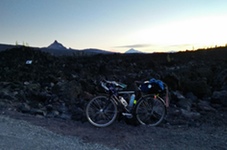 on the right. I think it might be a good idea to take a rest break. I crested the pass at daybreak, what a sight it is up there. The Dee Wright Observatory perched up on the lava rock was impressive. Now for the other painful part of mountain passes, the descents in the cold. No heat from the sun, and tree lined roads make for some pretty cold conditions. When I finally connected to Rt 126 I got off the bike and sat on the warm shoulder, felt nice. Then of course a car just had to pull over to see if I was OK, "Just takin a break" I said. About 10 kms down the road Blue Sky Market beckoned me in for sustenance, and a hot breakfast at Takota's was in order. They had wifi, and as the time had become 8am, I sent off an email to Bob Koen stating my current status, I guess an HD for me. I will ride through to Eugene after breakfast.

With about 80 kms to go, just about all downhill, this should be a nice finish. While I was on wifi, I pulled the train schedule from Eugene. I had missed my planned bus connection to Portland, the next possible was the 11:25 and that would be very tight to make it. There was the 12:30 Coast Starlight which was possible. As I rode along I spotted a transit bus stop, hmmmm, I wonder if they have bike racks and what the schedule is. A quick stop in Blue River revealed a schedule of one bus coming along in about an hr with about an hr travel to Eugene. I carry on down the hwy about 25 kms to Vida. There is a store, potties, and about 20 minutes before that bus comes along. I'm sold, if I take a few minutes here to clean up, eat something, then ride the bus to the train station I just might make the 11:25 bus to Portland and the Amtrak Cascades all the way back to Vancouver.

So the decision was made, no hors delay for me. I would take a chance on the middle connection. It was though not to be, road construction turned the hwy into a parking lot. I disembarked by the Eugene Saturday Market and made my way to the train stn. Up to the counter to begin the paperwork of cancelling tickets, rebooking and obtaining a bike box, when I look over my shoulder there is Rick. He, Gary & Eric were gonna get their bikes boxed for their journey the next day. I learned the train was 2 to 3 hrs late (so could have ridden, harrumph), plenty of time for a meal and reacquisition of some necessary electrolytes. I'll bet that bar across the street has AC. Had a great discussion with the boys about their ride, mine, and then the conversation turned to, Where next?

And to think a few hrs back I was done with this crazy idea of cycling for homologation numbers and pins. The numbers for this ride sucked, my on bike time of less than 55 hrs was good but the off bike was atrocious. Going in not rested and as Eric put it, a little high from the fibreglass work I did for a friend in the week leading up were stupid. Deficiencies noted.
---
Go to: Event Page (Route, etc.)
Go to: Results
Go to: Photos
June 29, 2015