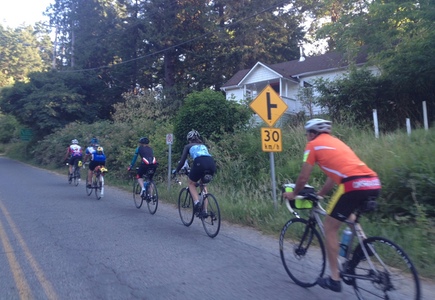 The Saltspring Surprise
Ride date: June 27, 2015
by Melissa Haynes

I was initially a little ambivalent about doing this ride. Sure, I love Saltspring and love riding on it, but the route looked daunting (2500km of elevation gain) and it was the first Saturday of summer so, with Saturday market going full tilt, I was pretty sure the island would be super busy. And, I was wary about the heat which was promising to hit towards 30 degrees in the afternoon.
However, all of that was all for naught. I have to say, this is one of the most enjoyable 200s I have ridden on…and that is saying something. This is a brand new route, created by the super team of Holland Gidney and Dave Campbell and a lot of time, energy and planning went into creating it. You see this right from the beginning.
The ride started at the ferry terminal at Fulford Harbour, so we had the 7:00 ferry ride to acquaint ourselves with each other and to register. In the future, I would suggest people buy and load an "Experience BC card"… you save $5.90 on a ferry trip…the total being $8.35. Holland had also gathered our email addresses so she was able to send us messages along the way about things for concern (for example, the 12:15 ferry being late).

I cannot say enough about the route sheet; meticulous detail went into it; everything was so clear…if I missed a turn, which I did, once, it was due to my own carelessness. The route itself was beautiful: somehow Holland and Dave managed to get us to sidestep the worst of the holiday, summer traffic and, so many times, it felt we were riding in "the land that time forget". Riding out to Ruckle park is spectacular and quiet and you can just feel the magic of the old Farm as you approach the gates and marvel at the ewes grazing at the side of the road. And going up Stewart is also so quiet and I particularly liked going around the Cusheon Lake area…so quiet and pastoral and the first of many "whee" roads on the ride. "Whee" road, for me, are roads that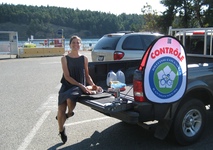 you can descend at a decent pace, not worried about traffic behind you, and a clear picture of things ahead. This allows you to "let go" and be like a kid on a bike shouting "whee" all the way down.
The next part of the ride took us through Ganges, just as people were setting up for Saturday market , and then off to Long Harbour. The road to long harbour is fairly flat, comparatively speaking, and the road surface is fantastic. Dave and Holland were there to meet us with delicious treats and warm smiles. After the control , we set off to the the Northeast part of the island and, this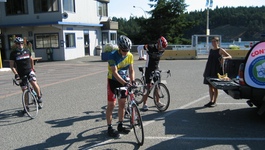 piece, until you get to Vesuvius, was my personal favourite. Lots of hill, for sure…lots of "whee hills". And, so pastoral and quiet.
From Vesuvius we rode the usual way back to Fulford but took a nice diversion off Lower Ganges which allowed us to circumvent most of the craziness of Ganges traffic and put us at the bottom of the hill out of Ganges.

We arrived at Fulford a little after 11…too late for the 1045 ferry (the fasties…Craig, Dan and David made it) but enough time to get a bite to eat and wait for the 1215 ferry. Unfortunately, the 1215 was running late so didn't get back to the peninsula until around 1:30.
The ride on the peninsula was, again, quiet. The ride on Land End's road allowed us another peak at Saltspring. Then we headed through West Saanich, up Mount Newton Cross road (another gem) and then made our way to the lovely, shaded Old West Saanich road. One of the things I loved about this ride is it introduced me to roads, right in my backyard, that I had never cycled on. And, they were inevitably shady. Goward was one, so was Wishart (I never cycled the full length of it).
But, we knew what was coming…Millstream Lake road. Surprisingly at around the 150km mark, the climb didn't seem so bad. Or, maybe we were just happy to escape the heat. And, it is a truly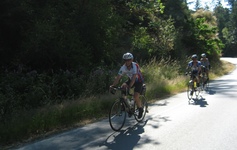 beautiful winding but stunningly lovely stretch of road…very narrow but maybe three cars on it. And, and the end of the climb, another amazing descent down Willis Point road.
The rest of the ride I was pretty familiar with but had never ridden the full "flight path trail" around the airport. It was nice as was the strategically placed water fountain part way around.
By this time I was feeling a little nauseous and headache-y…a by product, I am sure, of the heat. Luckily, I was in the company of Mark Payten, doing his first 200km brevet and he was unfailing supportive and optimistic. We had one last glance at Saltspring , a ride around Curteis Point and then off to the pub where Dave, Holland and my partner, Steve and Mark's wife awaited us. I was reminded of the sign I saw outside the restaurant in Fulford that said " I don't want to get technical or anything, but according to chemistry, alcohol is a solution". Two ciders was just what the Doctor ordered.
I would definitely include this brevet on anyone's "must do" list for next year. An exceptional ride with exceptional route developers and organizers, Holland Gidney and Dave Campbell!
---
Go to: Event Page (Route, etc.)
Go to: Results
Go to: Photos (Flickr - 40 Images)
June 28, 2015