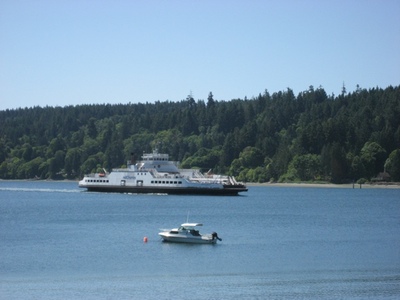 Salt Spring Surprise 200 - An Invitation
Ride date June 27, 2015
by Holland Gidney
Start Location: Fulford Harbour Ferry Terminal, Salt Spring Island, BC
Start Time: 7:35 a.m.
Event Page (route sheet, etc)
Pre-registration
Organizer: Holland Gidney
____________
Greetings, Randonneurs!
Would you like to participate in a fun and scenic 200-kilometre summer bike ride that involves a ferry ride, lots of climbing, and ends at a pub? If so, look no further than the Salt Spring Island Surprise 200, scheduled for June 27, 2015. It's a brand-new brevet route that begins in Fulford Harbour on Salt Spring Island and ends near the ferry terminal in Swartz Bay at the Stonehouse Pub at Canoe Cove Marina. If you're already convinced you want to participate, pre-register now (link above). Otherwise, read on for more details…
Generally, this route is rolling and fairly hilly throughout – while there are no significant long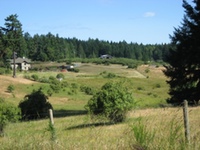 climbs like the Malahat, riders will be out of the saddle and climbing more often than on most brevets. As a result, the organizer expects times will be not as fast as for other routes and slower riders will need to watch the clock to avoid missing the closing times for controls. That said, it's a really fun route and for the pre-ride, two riders who are not the fastest riders (and who did the pre-ride on tired legs) were able to average about 19km/hr rolling speed and finished the 200km in just under 13 hours. For anyone planning to do PBP, this is a great training ride and for every uphill, there is a fun downhill to make up for it. In addition, a significant percentage of this route is on quieter, in-land, rural roads, which are frequently tree-lined and shady, and pre-riders found very little traffic compared to riding around the Cowichan Valley or following any of the traditional waterfront routes. Uniquely, this brevet is divided into 2 parts: riders first complete 80 kilometres on bucolic Salt Spring Island before ferrying to Vancouver Island for the remaining 120 kilometres.
Part 1 of this ride takes in some of the loveliest cycling roads Salt Spring Island (SSI) has to offer: riders will do an out & back to Ruckle Park before making their way over to Beddis Road, thenonto Fulford-Ganges Road to cruise downhill into Ganges (SSI's commercial hub and home to the bustling Saturday Market). From Ganges, the route goes out to quiet Long Harbour (ferry terminal to Lower Mainland and other Gulf Islands) and back before heading north and using Walker's Hook Road to access the quiet, oceanside North Beach Road (great views across Trincomali Channel to Galiano Island). After that, riders will wind their way through the farm fields of SSI's North End before a quick stop in Vesuvius Bay (ferry terminal to Crofton on Vancouver Island) and a second pass through Ganges before booting it back to Fulford along the appropriately named Fulford-Ganges Road, which is lined by farms, homesteads, and several vineyards. The fastest riders will catch the 10:15am ferry to Swartz Bay but the organizer expects most riders will be on the 12:15pm ferry. (If you have time to spare in Fulford, there are several options for snacks and ice cream!) A 35-minute ferry crossing is a chance for cyclists to rest their legs before tackling the remainder of the ride.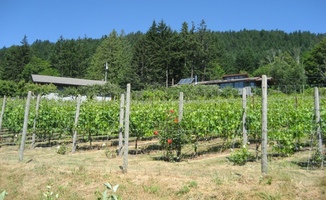 Part 2 of this ride starts as soon as riders disembark the ferry at the Swartz Bay Ferry Terminal but soon heads off the highway and away from the traffic, using the Lochside Trail access to get onto Lands End Road. From there, the route heads south along West Saanich Road before taking Mount Newton Cross Road to East Saanich Road, then Central Saanich Road, and Old West Saanich Road (sensing a trend?). OWSR is tree-lined and shady, offering some respite if it's a hot day. However, after cutting across to Prospect Lake Road, there's a chance to really cool off with the chance to take a quick dip in Prospect Lake (or wait until you get to Langford where you can swim in Langford Lake or Florence Lake). From Prospect Lake, the route uses Goward and Elk roads to access the busy but bikelane-lined Interurban and Helmcken Roads to eventually find the Galloping Goose Trail for a bit of car-free cycling. After riders enter Langford, there's a fast stretch along Veterans Memorial Parkway, which ends abruptly at Latoria, where there's a control so you can refuel at the Red Barn Market before turning around and tracing Wishart Road through Colwood. Many of the roads included in the next part of the ride are newer roads, stemming from the hyper-development of Langford over the last decade, with riders skirting Langford Lake before taking the Leigh Road overpass to weave through the Bear Mountain subdivision and avoid having to cycle along the busiest stretch of Millstream Road. The section from Highlands to Brentwood Bay to the airport will be mostly familiar to Island Randonneurs but the new Flight Path multi-use trail provides a car-free way to circumnavigate the YYJ airport. After that, it's straightforward cruising through Sidney and the last few special kilometres that deliver riders straight to the ride's terminus at the Stonehouse Pub at the Canoe Cove Marina. The pub has a great patio and the menu features plenty of vegetarian and gluten-free options.
Ride profile from pre-ride on June 13: https://www.strava.com/activities/325966981 (distance includes the ferry ride)
GPX file: http://tinyurl.com/SSI200-GPX (use at your own risk)
Thanks to Dan DuFeu for creating these ridewithgps maps for me (again, use at your own risk):
Full Route: http://ridewithgps.com/routes/8553868
Part1: http://ridewithgps.com/routes/8553931
Part 2: http://ridewithgps.com/routes/8553946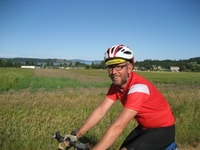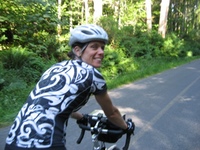 Dave Campbell and Holland on organizer's pre-ride
Addditional details:
Riders have the option of overnighting on Salt Spring Island OR taking the 7am ferry from Swartz Bay. The organizer will be taking that ferry and it's expected that registration for most riders will take place on the ferry.
Parking is available at the Swartz Bay ferry terminal – if you park in the "Long-term parking area" the cost is $12 for 24 hours. After the ride, there is parking available at the Stonehouse Pub (but only while you are in the restaurant).
____________
Thanks and hope to see a good turnout on June 27 for the inaugural Salt Spring Island Surprise 200. Invite your friends and be among the first to tackle this new route.

---
Go to: Event Page (Route Sheet, etc.)
June 16, 2015