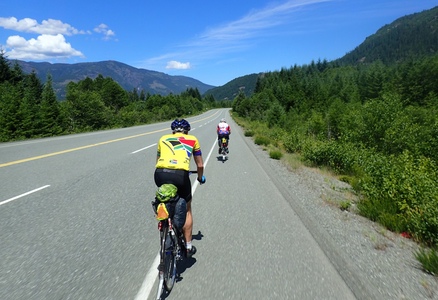 Gold River Eureka 1000
Ride dates June 13-16, 2015
by Jim Runkel
Well that was an adventure....

It always surprises me how much work it takes to get a ride ready...from all the route planning and adjusting, to the printing of the paperwork and finally submitting all the required elements at the end...many long hours are spent to ensure the riders have accurate and complete routes and especially control cards with no mistakes. But as a rider and organizer of this ride I was very happy with the results as the route was accurate and turns were as written (thanks Ken for finding a couple of mistakes before we set out). I loved looking down at the end and seeing my Garmin with EXACT ending KMs on the screen...1007! a sense of accomplishment both for finishing and in having a good route.

That was the end...1007 km done in just over 68 hours with ~ 30000 feet of climbing...and so lets get the elephant OUT of the room...this WAS a HILLY ride. In fact there a many hills we have done on other brevets in the "easy" direction...down...that we had to do both ways on this ride.

To get 1000 kms in without going to Port Hardy is a challenge. This route was designed by Ken Bonner and ridden by him in 2007. I got my chance to modify and send folks off on this route in 2012...and finally with a few more tweaks rode it this year. Think of a tree...the Island hwy roughly is the trunk and every possible right or left off that becomes the branches that make up this route.

We left my house at 307am and looped up and around the Saanich Peninsula. The sun came up and blue sky's appeared....I mentioned to Philip that it was amazing how blue the sky was...like NO clouds in any direction on many of the days...amazing. No trip up island can occur with out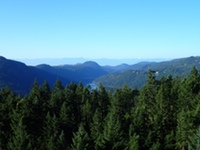 the first big climb and that is the Malahat but we had a good trip up and over and then off to find the side roads of the rest of the island. I took note that in Mill Bay the head winds started and continued for both Saturday and Sunday!

We made our way through many "Bays"....Mill, Cowichan, Maple,...then off through Crofton and Chemainus. Yellow Point with its couple of 12% kickers followed. The route then basically followed the 19A up to Courtney. I side trip around Comox took us out to the Powell River Ferry.

We had planned on getting to Strathcona Park Lodge but the wind and early start forced us to think about safety (falling asleep on the bike became the limiting factor) and so we bunked down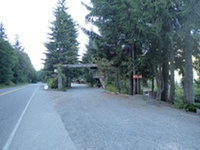 in Campbell River instead. This smart move allowed us to get rested and start early with renewed energy. And to ride to Gold River and back you need energy...lots of climbing including a wake up and smell the coffee climb right out of Campbell River. Because we still technically had our room at Strathcona Park Lodge we did stop there and grabbed some food and a short rest. That was the funniest part of the ride...the three of sitting in our untouched room, eating. The cleaners must have scratched their heads as to why the beds were not slept in...LOL...

Look at the pictures and you will see the amazing scenery on this stretch to Gold River...wow...till this ride I have never been to Gold River in day light...and sunshine...

We made it there and back to Campbell River via the Lodge for lunch. It was on this section we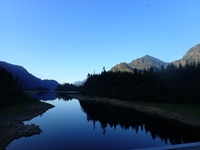 got the coldest temp of the ride at ~ +2C but as the sun came up the heat and wind arrived again.

Staying hydrated with enough electrolytes was the challenge on this ride as most days we saw temps of 25C + with a high on the last day of 35C on the Duncan Lake Cowichan section.

From Campbell River we headed down the island knowing we had completed half the distance already. We did the Comox loop as well as a trip to Cumberland and then back to Qualicum. An out and back to a gas station on the way to Port Alberni was next, followed by our next sleep stop in Parksville.

I had booked the Arbutus Grove Motel. This excellent motel was perfectly located and they allowed us to pick up our key for the room on the way UP the day before....so we arrived and our nice three bed room gave us a place for much needed rest and a nice shower.

Our final day (Monday) we left Parksville and headed toward Naniamo. Jingle Pot road was a treat (after the first big hill). We made it down to Duncan then all the way out to Youbou in the Cowichan Valley. The final two limbs on the tree were trips back through Crofton and then into Shawnigan Lake. As darkness came we headed up and over the Malahat and back home.
________________
We had no mechanical issues what so ever...not even one flat tire! A mishap on the Malahat near the end put a bit of a damper on our amazing ride BUT we all arrived home safely and completed this epic journey. Again I was blessed to ride with my two awesome companions...Philip and Graham...look at the one selfie I took and see the smiles on our faces...that tell the story of this adventure with three friends! Looking forward to and feeling better prepared for PBP after this ride...thanks to you both.
________________

Of special note I must mention Francis. I met Francis at the store where he works in Victoria...Fairfield Bikes...I was in getting some wheel work done and a bunch of other odds and ends...we chatted about Randonneuring. He would ask me from time to time last year about gear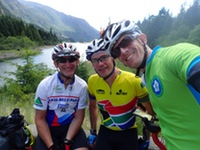 etc...This year he appears on the scene and rides and rides and rides...this being his very firstseason Francis has now completed a full Super Randonneur series (200, 300, 400 and 600) as well as a 1000....he may even go to PBP....awesome and amazing! great job Francis.

I am always impressed but John and Malou...they ride a tandem and still seem to smile most of the time...this route with its many challenging hills would have been especially difficult for these two but they finished strong and fast!

It was great to pass Ken and say hello. He gets through these rides one after the other and continues to be strong...awesome job Ken.

---
Go to: Event Page
Go to: Ultra Results
Go to: Photos (82 Images - Google Photos)


June 18, 2015