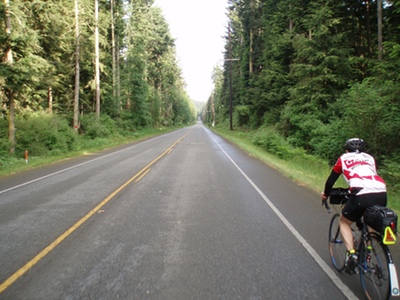 Whidbey 600 Preride Tale
Pre-ride dates: May 23-24, 2015
by David King
When Nigel agreed to do the preride with me, he indicated it was a "challenging" ride. Coming from Nigel, I wasn't quite sure what to expect, but knew it was far, far from "downhill both ways with tailwinds".
We left on a cloudy Saturday, and managed to find some rain south of the border (REMEMBER YOUR PASSPORTS). It was enough rain to keep the feet well moistened for the rest of the day, but by the time we reached Bellingham, the rain had stopped.
We did venture into Rocket Donuts, but the lineup at 11am Saturday was a bit daunting, and I persuaded Nigel to push on to the south end of Bellingham, to Haggens Grocery Store (1401 12 Street, just before the start of Chuckanut Drive). I enjoy eating reasonably good food on a ride, and my food mantra prior to this ride was "just say no to gas stations". Restaurants make for a longer ride, waiting for the food to be made, so the grocery store deli is a great middle of the road option.
The ride down the Chuckanut was awesome as always. As we rolled through Anacortes, I was looking to refuel my body, as the "challenges" lay just beyond the town. Make sure you have something to eat in Anacortes, and pack some stuff to carry beyond here. Two food options in Anacortes are The Store http://thestoreinanacortes.com/ which is 3 blocks (left) south on Commercial from 34 Street (address 919 37 Street). The route sheet has you turning north (right) on Commercial, but what is 6 extra blocks (think of it as 1 block per 100km) if it is going to mean enjoyable food. The other option (at no extra distance) is Safeway (corner of Commercial and 12 Street).
There are not a lot of food options for the next 100+ kms, and the hills are waiting for you!! Eat well and be happy.

Yes, the hills were waiting. Luckily the hills are on a lot of the side roads. Anywhere you look on the route sheet, if it says State Route (SR) 20 or 525, think flatter. Other road names, think perhaps horizontally challenged. The hills are not long, yet some are somewhat steep.
There are a few nice beach areas you will ride down to, and these make for nice eating/resting spots. Also, just past the Camp Casey Conference Centre at the Coupeville – Port Townsend ferry terminal, you can refresh yourself at the Keystone Café. They serve ice cream, which is easy enough to eat on your bike as you leave the ferry docking area, along SR 20.
If you are silently cursing the steep hill somewhere around the 257 km mark, do not worry. Your next food stop is at approximately 266km (by my computer). You will get on to SR 525 South, and after a few km's you will see the "Goose" grocery store on your right. Stop here. There is only a gas station at the control at km 272, and the gas station goodies paled by the selection offered at the Goose. Read on for cheesecake information.
I camped with my family on Whidbey last year, and when I told my kids I was going to the cheesecake place on Whidbey, they really wanted me to bring one of the cheesecakes back. I laughed at them (not with them) and said I would have their cake and eat it too.
http://www.jwdesserts.com/index.original.html
These cheesecakes absolutely rock!!
If you are in a group of four (or a hungry group of two), you may consider buying one of the cheesecakes and sitting in the shade out front the store, enjoying the fruits of your labouring. Nigel and I did not want to carry any leftover cheesecake in our bags, so we opted for the single serving size ones (made by Chuckanut Cheesecake or some such name). Some blueberries gave a delicious bite to the cheesecake.
Once you and your full belly reach the next control at 272, you may be starting to think of some rest time in Oak Harbor. At the north end of Saratoga Road, you can almost see right up to Oak Harbor, but you will then return south before actually making the final loop which sends you north again to Oak Harbor.
We did not realize we were pre-riding on the Memorial Day weekend, and both the Auld Holland Inn and Best Western were full when we arrived at 1130. The person working the front desk indicated other hotels were booked as well. We continued northward hoping for better luck in Burlington.
For your ride, there will be both a staffed control room, and a room available for you to get some rest. If you wish to get your own room, mention BC Randonneur group when you call. There were lots of rooms available for the May 30 weekend at the Auld Holland when I inquired on Friday May 22.
The hotel quoted a price of $69 US (Canadian exchange approximately 2.45 million).
The highway north of Oak Harbor was busy, even at midnight. It may have just been the long weekend, but riding late is a good thing when you have less traffic to deal with. That was not the case for the preride.
The route to Burlington was, in one word, dark. By the time we arrived in Burlington, we booked a room, went to Safeway, showered and went to sleep. Four hours of sleep made for a much easier final 200km. You can google hotel rooms in Burlington, and if you want to play it by ear, the important part will be finding a hotel that has a 24 hour registration desk. Because this is not a summer brevet, the rooms will likely be easier to find last minute.
Out of Burlington, the route did climb a bit coming up SR 9, but nothing like we had seen the day before. A few other climbs around Lake Whatcom and we rolled into the outskirts of Bellingham around 10am.
As we continued north to the border, the roads flattened again, and
we rolled past all the vehicles in the lineup and were through Customs in a few minutes.
Back in the Fraser Valley, we had nothing but flat roads to look forward to. At least until Vye Road!
A lot of familiar roads from that point, stepping to the north and the west until we rolled into Fort Langley for our last sit down meal. There was a little grocery/deli/market on the left (corner of Church and Mavis, one block after turning right off River Road) where we enjoyed a lunch before facing the last 60kms to Calhouns. The roads did start to get busy once we got to the north side of the Fraser, but nothing outrageous (spring vs summer brevet?).
The last part through Vancouver is along the bike route I use to commute to work. I had to make sure I didn't switch to autopilot as I may have ended up at my desk at Vancouver City Hall.
This route was a challenge, with enough navigation and steep (but not endless) hills. The scenery was awesome, the wildlife wild. Did I mention the two deer walking along the main street in Bellingham, and the second live opossum I have seen (last one at the Fleche).
I have been told this route is similar to the PBP, and I look forward to seeing everyone who is up for the challenge, this Saturday, at Calhouns, on the west side of Vancouver. There is ample free parking, south of 12th and north of 16th Avenues, anywhere between the 2800 and 3200 blocks. Just make sure you check the signs.
Route sheet updates will be done by Tuesday May 27pm, but, in the meantime, if you would like to look at the 2013 route (Route Archive on Randonneurs main page), there will only be minor modifications to that route. I will not post our route until the changes have been made.
If anyone has any questions, I will do my best to answer them. Email me daveking20@hotmail.com
Until Saturday..
---
Go to: Event Page (Route, etc.)
Go to: Pre-ride Photos (flickr - 40 Images)

May 26, 2015