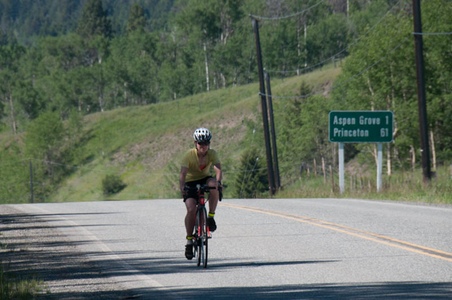 Islanders Invade Interior
Princeton Clockwise 600 - June 6-7, 2015
by Bob Goodison
Despite having only two riders from the Interior, we still managed a respectable turnout of eight riders for the Interior 600, due to stellar support from Vancouver Island and the lower mainland.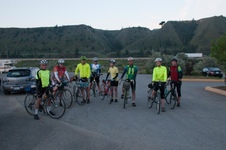 Daniel Simpson and Will Danicek made the trip from the LM, and Michael Tilitzky, Dave Campbell, Holland Gidney (3rd 600 this year!) , and Roxanne Stedman represented the island. The route was hilly, and the weather brutally hot, but randonneurs are tough and resourceful.

I began my adventure riding off and on with Daniel for the first couple of hundred km. I was having lots of fun, but once again I was pushing just a bit harder than I should have. I started having leg cramps between Peachland and Summerland. Knowing this was the first warning sign of dehydration, I stepped up the liquid and electrolyte input. It was probably a case of too little too late, because I failed to stop the dehydration bonk. In OK Falls, I told Daniel not to wait anymore, and had a good rest and more fluids. On the climb up to Yellow Lake it was obvious I hadn't recovered at all. I alternated between sitting in whatever shade I could find, and crawling at 7 kph in the granny gear. I had booked a cabin for Richard and I between Hedley and Princeton, which would be an easy ride, once finally over the top. In Keremeos I was able to get some beef barley soup at the subway, which went a long way towards my recovery.

Seven hours off the bike at the cabin didn't hurt either. I got up at 4:30, had some food and coffee, and thought about changing my rear tire, which had developed a slow leak, instead opting to just pump it up. At 5:20, Richard still had not arrived. With no cell service to try to track him down, all I could do was leave him a note. I was pleasantly surprised at Princeton to find all four Islanders having breakfast at the A&W. Daniel and Will were long gone. There is nothing available between Princeton and Merritt, so we all ate a hearty breakfast, filled all available water containers, and headed up the long climb towards Merritt. At least it was cool now, allowing us to enjoy the beautiful scenery.

I had left a little later, so it took me a little while to catch Dave, Holland and Michael. After visiting with them for a while I decided to try to catch Roxanne. That took a long time. Finally I caught her and we cycled together into Merritt. We crossed paths with Will on the 8 km out and back to Lower Nicola. It was now blistering hot, and he was wearing arm and leg warmers. We found out later he had gotten a badly sunburned the day before. Roxanne's husband Sandy was supporting her at the controls on this ride, and he was a great help to all of us, providing ice to stuff in jersey pockets and anywhere else we could think of (use your imagination). I also used this opportunity to apply more gnat adhesive (some call it sunscreen). Off on the final leg, it was getting hotter and hotter. At Roxanne's suggestion, we stopped at the rest area on Nicola Lake to cool off. I waded in and gave myself a good soaking. Roxanne dove right in for a swim. Once moving again the air flow through the soaked clothing felt wonderful.The dreaded Nicola Valley headwinds were absent, but not missed.

Just before Stump Lake we caught up with Will, and joined up with him for the remainder of the ride. I remembered a spot with easy lake access, so another good dousing was in order. I also filled an empty water bottle from the lake for squirting down our backs. Will already had two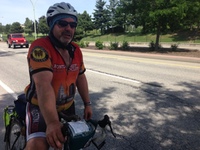 bottles dedicated to this task. Campbell Creek road was as rough as I have ever seen it, but with the end so near it was pretty easy to take. We rolled into the finish to enjoy a celebratory milkshake at Denny's.

Congratulations to all who finished, especially Daniel and Roxanne, completing their first Super Randonneur Series. By the time she was done, Roxanne had swum in four different lakes, as well as playing in a water park in Kelowna. Richard, unfortunately, fell victim to the hills, heat, and a control he didn't find in the dark, and called it quits at Princeton. Thank you to all for the support and great company.
ps. Remember the railway crossing that was the control question in Vernon? If all goes well, that will soon become a rail trail, at lake level, all the way to Kelowna. What a treat it would be to eliminate the climb on College Way, and all the traffic on Hwy 97!
Photo credits:
Top photo of Roxanne Stedman taken by Sandy Stedman
Photo of start group taken by Sandy Stedman
Final photo of Will Danicek taken by Roxanne Stedman


---
Go to: Results
Go to: Event Page (Route, etc..)
Go to: Photos (---)

June 9, 2015