Harold Bridge Memorial and Celebration of Life
Date: May 4, 2015
by Eric Fergusson
Family and friends gathered in Fort Langley on Monday, May 4 to remember and celebrate the life of Harold Bridge. Harold was one of the first randonneurs in BC, and in Canada. He was/is BC Randonneurs member #9. He had a profound effect on the club, and many if not most of the people in attendance where from the randonneurs.
The activities began at Derby Reach Park on Alard Crescent where cyclists gathered for a short ride to the Fort Langley Community Hall on Glover Road. The ride was lead by Harold's daughter Vanessa Cowley and her family: husband Steve, daughter Morgan and son Spencer. The photo above is the group just after arriving at the hall.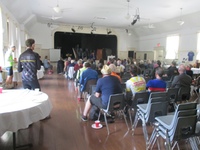 The memorial began with a short service offered by Nancy O'Higgins (United Church Minister in Skidegate, Haida Gwaii and CCCTS member who has ridden on some long tours with Harold), and a mini recital by harpist and randonneur Barb Henniger. A slideshow followed with images from all aspects of Harold's life - time trial racing in Britain, touring, family, friends, working life and of course randonneur cycling.
Following a break for food and drink (beer from randonneur Ben Coli's Dageraad Brewer) many speakers shared their stories and reflections on Harold and his life.
Harold had lived a long and full life and so there was really very little sadness in the room. There was nevertheless also a strong sense that Harold will be greatly missed.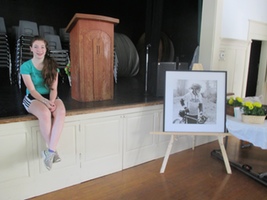 Morgan Cowley after the memorial
beside the photo of her grandfather.
---
Go to: Harold Bridge Memorial Photos (29 Images - Google photos)
Go to: Obituary (Full version - Tri City News)
Go to: Obituary (Shortened version - Vancouver Sun & Province)


May 9, 2015