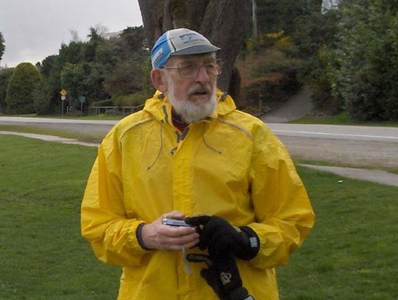 Harold at the 2007 Pacific Populaire taking photos of the 100 riders at Spanish Bank
Photo: Philip Neuwirth
Celebration of Life for Harold Bridge - May 4
by Vanessa Cowley
May 4 (Monday), 2015 - Fort Langely
Ceremonial Ride: ~Noon, Derby Reach Park
Memorial: ~1 p.m., Fort Langley Community Hall (Yellow heritage building on Glover Road)

From Harold's daughter Vanessa:
Join us for a beer in honour of Harold Bridge, long-time member of the BC Randonneurs and amazing volunteer for our club around the Lower Mainland.
Harold Bridge's memorial service will be Monday May 4th (the Monday after the Fleche) at the Fort Langley Community Hall, 9167 Glover Rd.

Those who are interested are invited to join the family at the Edgewater Bar parking lot of Derby Reach Regional Park for a gentle ride to the hall leaving at 12:30.

If you prefer to arrive at the hall directly, there is parking behind the hall. Harold would have appreciated anyone who made the effort to arrive car-less, even if only to walk a few blocks in his honour.

Memorial service to begin at 1:00 or shortly after.

Refreshments and open mike after the service. If you have good stories or photos, please do bring them. Dad was always very inclusive - anyone who wishes to come is most welcome. Please pass this information along.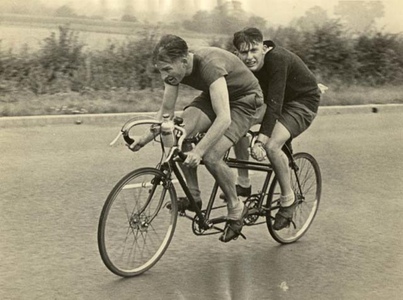 Harold as stoker in 1949 at age 22
Photo: (unknown)
Harold Bridge died April 4, 2015. He was 87 years old. He joined the club (before it was a club) in 1981 - he was member # 9. He was at the center of the club for many years, and an inspiration to many. Vanessa encourages everyone to come to the ride and/or memorial ceremony on May 4th whether you knew Harold or not. [EF]
---
April 15, 2015