From Super Slob to Super Randonneur in Three Years
by Ron Stewart

Preface
If you are thinking about taking up an endurance sport, you might be interested in this article. My message, which is hidden beneath 4500 words, is that this overweight, middle-aged, sedentary, lazy, pain-hating guy was able, in the space of three years, to get in shape and ride a bicycle 620 km (385 miles) over hills and highways in just 39 hours.

Some of this transformation is a testament to my persistence, some to the prodding of my friends, and some to circumstance. None of it relates to being gifted with an athletic body. To the contrary, I have never been remotely athletic. Gym was always my least favorite class. I was literally last picked in any team sport in elementary, secondary or post-secondary school. I barely met the military's minimum fitness standards, no matter how many miles I ran when I was 20. And I was always in the bottom few percent in any race of any length.

Here are the highlights of a journey that would be no big deal to many people, but which was enormous to me. The challenges were physical, mental and emotional, and I think the emotional ones were the hardest to get past. The prize? I have done a thing that only a few hundred British Columbians have done, and maybe only a few tens of thousands have done worldwide. My physical fitness is dramatically improved. I have made some good friends. I have experienced leaps in self-confidence.

The BC Randonneur's newsletter usually contains funny and entertaining prose. My apologies to those who will find the following dry or whiny. At least you didn't have to pay for it!

Prelude

In December 2011, Eleanor bumped into me on the Canada Line. Literally. I was 50 pounds overweight, and she was the same thin self that she had been when we were dating 20 or so years earlier. As we were catching up, she told me about a book called "Younger Next Year" by Chris Crowley and Henry Lodge. The premise of the book is that a middle-aged man who begins a good fitness regime will effectively become younger over the next few years, and will maintain an effective younger age for many more years. Regular, rigorous exercise will improve his quality of life in many ways.

I bought and read the book and I bought into the premise. The book has many recommendations for self-motivation. Author Crowley co-opted the nautical term, "kedge," to mean a physically demanding and desirable event that you need to get in shape for. I chose, as my first kedge, a hike to the bottom of the Grand Canyon at age 50.

In January 2012, a month before my 49th birthday, I started going to the gym and cutting back on the junk food. I told the trainer at the municipal weight room that I wanted to get to 180 pounds. She told me that at 5'11", I should weigh 170–175. I was at 224 pounds at the time and had not exercised regularly since leaving the navy in 1985.

The trainer had me pedaling a recumbent stationary bike. Thinking that I could do better, I hauled out a budget mountain bike that I had bought a few years earlier. My first ride was in early February: about 17 km around Tsawwassen, and took me an hour. Seven weeks later, I rode out again—this time to Westham Island. I astonished myself by actually travelling 36 km in under two hours. That ride taught me that I needed to carry tools. A kind farmer loaned me an Allen key to secure my wayward saddle.

That was the hook—I could go places on the bike, and exercise at the same time. This obvious fact came as a revelation from the heavens.

I put Endomondo on my smartphone. This is software that competes with Strava, MapMyRide and others. It uses the phone's GPS features to track my rides, and when I am within the cellular phone network, it allows my wife, Kathleen, to track me on her home computer.
Spring 2012 – Randonneur Cycling?

At about this time, I got to wondering if hub generators existed. A Google search turned up a conversation on the BC Randonneurs' Yahoo forum that had taken place in October 2011. What's a randonneur? I am pretty handy with Google, and soon determined that randonneurs are mad masochists. I wondered if I could be one. I noted that a brevet was going to pass my house that month (it was April), so I volunteered to work a nearby controle. I met most of the main characters in the Lower Mainland, as well as Ken Bonner, on that day.

That month, I put in 175 km total. One day, as I was pumping hard along the flatlands of Delta, two young women on road bikes zipped past me while chit-chatting. Chit-chatting! I decided that my mountain bike was holding me back. It was spring break at the private school where I worked, so I went shopping. I had a Norco Magnum GT 15-speed touring bike that I bought for $479 in 1985. I hated the bike because it hurt my sensitive areas. I took it with me to explore my options. I talked to three bike dealers who seemed to understand randonneurs, and who thought my bike should be okay for distance riding. I bought a Selle-Anatomica from one of them (who is no longer in business) for $250. That was worse than the original equipment. At the recommendation of a friend, I got a Terry Fly saddle for $55 at MEC. A miracle! I could ride my old bike, and all it took was a new seat.

In May, I took my first real ride on my old bike, managing 60 km, and experiencing my first ever bonk at 50 km. My total distance for the month was 200 km, including my first trip to Surrey. Now I had a new kedge. I was going to ride 145 km on the Canada Day Populaire. In mid-June I exceeded 100 km in a day for the first time, making it all the way into downtown Vancouver. June was another 200 km month.

The Canada Day Populaire was cancelled. I heard a few reasons for that, but the official reason was that the Fraser River was encroaching on the route. I rode the 145 km distance anyway, and wrote up my ride here: My Canada Day 145.

Summer 2012 – My First Brevet

Saturday, July 14, 2012 is the greatest day in my athletic history, and one of the greatest in my life. I finished my first brevet. This was a ride called Vancouver Safari. My notes from that ride:

My first 200 km randonnée with the BC Randonneurs Cycling Club. Beautiful weather - pretty hot in the afternoon. I lost the peloton after 6 km at a red light. Uneventful to Whytecliff Park. Pee break at Prospect Point. Almost passed by a jogger climbing to UBC. Sylvia Lee was waiting for me at Iona Beach which was great for many reasons, including her being equipped for navigation. I didn't have reading glasses. Still, we got lost very soon on Sea Island. Controle at Steveston. Nutrition break before leaving Richmond. Pee and water break at Nordel Esso. Lost trying to get on Patullo Bridge. Moderate climb through New West. Hellacious climb through Coquitlam with maximum temperatures. Lost at Rocky Point Park. Legs noticeably weakened. Sylvia got to all the intersections in Vancouver first, so I didn't have to slow. Last climb was brutal - 220 m to the Lynn Headwaters Park parking lot. Only 8 minutes to spare at that controle. All downhill to the finish, so had 12 minutes grace at the end.


Never would have finished on time without Sylvia.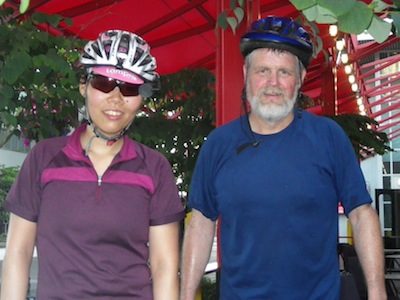 I treasure my first 200 km pin. I rode a total of 444 km in July, and half that in August. A few of those August kilometers were in The Bronx on a guided tour!

On September 9, I prerode the Fall Flatlander with Will Danicek, Paul Whaley and Larry Voth. Larry and I have become good friends, and have ridden together many times.

Then, I put the bike away.
2013 – Not Much Happened

Looking at my Endomondo files, I am chagrined by how little I rode in 2013, the year I turned 50. I only rode 1120 km, which was 370 less than the previous year. In March, with much optimism, I had Mighty Riders put modern components on the bike. It now has 27-speed mountain bike gearing, STI brifters, cross levers, and much better brakes. Ed at Mighty Riders helped me improve my pedaling form, which had left my right knee sensitive through the winter. Then I attempted to ride the Early-Bird brevet. Nope. Didn't even make 60 km before I was below 15 km/h. No exercise over the winter left me with no power or stamina.

But in April, I did hike the Grand Canyon, and it was everything I had hoped. You should all do this. Spend at least three nights below the rim, and take your time. In the summertime, I also hiked the Grouse Grind, which was okay, but which I don't plan to hike again.

I finally got riding in June. Most rides over 100 km I did with Larry. While on the Maple Falls 200, I received a phone call from my wife, telling me that when I got home, I would have three days to prepare a lesson for a job interview at BCIT. I was very preoccupied for the next 110 km, but the ride went well.

I got that job at BCIT, and the transition period kept me off the bike for a while. My wife also works at BCIT's Burnaby campus; so once I got settled in, I started putting the bike on the back of the car for the drive to work in the mornings. In the evenings, Kathleen would drive the car home, and I would ride the 43 km route. I did that half a dozen times before it got too dark. The route starts with a 100 m climb and includes 18 perfectly flat kilometres with frequent headwinds. My best time is 2:03, with favorable traffic lights and winds. It is a great training ride, and since I don't get home if I don't ride, one that I can't avoid.

I did the 2013 Flatlander preride with Gary Baker, David Lach and Sigi Palme. Since I was out of shape, they pulled me the whole way. That is how I was able to do 200 km in under 10 hours for the first time.
2014 – I Finally Got Serious

When 2014 dawned, I had high hopes of completing a super-randonneur series. My first kedge was to be the Ryder Lake 300. My training was going to be riding home from work several times a week. I tried once in January, but my battery-powered headlight did not last 90 minutes, and I needed at least 130 minutes. So I ordered a hub dynamo (SP – recommended) and some lights (Philips – not recommended). Once I got the new gear fitted, Kathleen broke her shoulder. That put the commute training on hold, and diverted a lot of my attention. I didn't even bother with the Early Bird this year.

In April, I got going again. I had a few rides before doing my first Pacific Populaire. I also rode the Buccaneer 200 with Larry. I tried to do the Ryder Lake 300, but was not in good enough shape, and DNFed at 100 km. A week later, I rode the Trace Pacifique with Larry, Karen Smith and Peter Pazdera. We took it easy, and I noticed that I am now able to take it easy on some 200 km rides. My new kedge was the Triple-S 200.

I finally bought SPD pedals and shoes for the trace. And I started falling over a lot—especially when I got tired.

Finally, in May, Kathleen was back at work. This was the turning point in my change from a dabbler in randonneuring to a super randonneur. I started the 43 km commute training rides. I did seven of them in May, and six more in early June. I felt prepared by then for Gary Baker's sadistic Triple-S 200. Although my time was an unimpressive 13 hours, I did not feel that the ride would have been particularly challenging had I not hiked the Stawamus Chief the previous day. But I did do the Chief and Triple-S in successive days, and they did leave me unable to easily descend stairs for a week.

I could feel myself getting stronger, and I could even see my quadriceps developing.

Three more commutes, and I was off on Randos Go Touring, a series of three 200 km brevets from Vancouver to Boston Bar, Pemberton, and back. These were very challenging for me, and I DNFed the second one. You can read my report here: Randos Go Touring. I would say that I learned more about randonneuring in those three days than I had in the two years since my first brevet. I learned how far 600 km was, and felt ready to try longer brevets. I finished June with over 1100 km, more than double my previous monthly record.

With the Randos Go Touring series finished, mostly successfully, I adopted a new kedge: Paris-Brest-Paris 2015. And that meant I should complete a super randonneur series in 2014 for several reasons, including early registration for the big event next year.
2014 Whatcom Wamble 300

I only managed to ride 200 km in July before Larry and I set off on the Whatcom Wamble 300 km brevet. I experienced something on this ride that was new to me: I was the fastest rider in the pair. Larry had not ridden a 300 in several years, and I wanted a workout to get ready for longer rides to come. I handled it poorly, and Larry told me that he was annoyed at the way I had been prodding him to get our time down under 18 hours. It was my first 300, but I was looking ahead two weeks to a much more challenging 400 in the Interior of BC. Sorry Larry. But at least you will admit that it was a spectacular day. Oh, and I broke my perfect streak of always being the last finisher on ride day.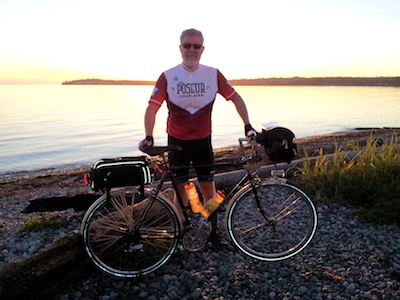 2014 Southern Interior Make-Up 400

So, now it was August. With no riding in the two weeks since the 300, I drove to Sorrento for the Southern Interior Make-Up 400, organized by Bob Goodison. Bob tells me that I am the only person who has ridden that route. It started with me leaving four minutes late because I couldn't find my backup headlight. I headed west on Highway 1, and 15 km later passed some police and eighteen wheelers. I learned later that one of the trucks had just stuck and killed a pedestrian. I continued west to a controle on the eastern fringe of Kamloops where Richard Blair signed my card and I saw Rob Neifer departing on the next leg of his 600. I retraced my route eastward until the Highway 97 junction, where I turned south, and climbed 300 m in 10 km. One of the lessons I learned in Randos Go Touring is that you never stop when climbing because restarting uphill with clipless shoes is perilous. I just go to full granny (remember, I have mountain bike gears) and pedal. With nobody looking over my shoulder to tell me to go faster, I just pedal, and slowly ascend.

The 100 km from the top of that climb, through Falkland and Enderby, to Sicamous was about the nicest portion of a ride that I can remember. The weather was very warm, but I was dressed for it. The roads were uncrowded, and the few cyclists I encountered were very friendly. The rural scenery was lovely. I amazed myself by averaging 20 km/h for the first 200 km without a tailwind. Bob had recommended that I stop for a real meal at least once on the trip, and Sicamous seemed a good place for it. I stopped at a family restaurant two doors south of the Shell station on Highway 97A. It turned out to be Chinese food which I don't like, and the only available western selection was a grilled ham and processed cheese sandwich. Bleah. I ate, and rode eastward on Highway 1 again.

Once rolling, I averaged 20 km/hr to Revelstoke. I did not enjoy this stage, as the Trans-Canada Highway in the region has heavy traffic, narrow shoulders, half a dozen bridges with no shoulder, and one shoulderless bridge on a blind corner. I spent half an hour in Revelstoke snacking and preparing for night riding, then turned westward for the final 135 km. At 320 km, I was congratulating myself for having completed my first double century. Two km later, I bonked harder than I knew it was possible to bonk. Now, I had several different food bars in my bag, but I wasn't thinking. It was 10 pm, and I knew that there were ten km to Sicamous and that there were places to eat good food there. But I was doing my math wrong, and ten km later I realized that I still had ten more to go! By the time I finally got to Sicamous, everything was closed, and I had to backtrack a kilometre to eat really crappy food at the Husky truck stop convenience store. But I got my strength back, and it remained with me for the rest of the trip. At a quarter to midnight, I started climbing out of Sicamous.

The last 60 km of my first 400 were fairly uneventful. It was my first real stint of night riding. I was very happy with my Gemini Xera helmet lamp. My Philips hub-powered headlight was much less impressive. It was a hilly stretch, I was tired, but I knew that I had plenty of time in the bank, so I toddled along at 15 km/hr, and completed the 400 in under 23 hours. It was a route designed to be finished, but it was 400 km with over 2100 m of climbing, so I am proud of the accomplishment. I awoke and confounded poor Bob at 3:45 am for his signature, then crawled into my travel trailer for some sleep. I spent a lovely morning with Bob and Susan, and with Paul Whaley who had ridden the 200, sitting on the balcony in the sunshine chatting about this and that. A splendid end for a splendid ride.

On loading the bike onto the trailer for the drive home, we found the front tire was flat. It seems the rim tape had walked to one side, and some spoke holes were exposed. I think that was the first flat of my life.
2014 Ripple Rock Ramble 600

Less than six days later, I was again late for the start. I had left my red riding jacket on the red bedspread of the motel in Victoria, and I got back to Jim Runkel's place just as he released the rest of the Ripple Rock Ramble 600 riders. A few frantic minutes later, Gary Baker and I set out.

Gary and I were the only two Lower Mainland riders of the 16, and Gary wanted to ride with me to help me ride better and improve my chances of success. He had hauled me through the Flatlander preride last year, so he knew of my shortcomings. Now, ours is a sport of subtle etiquette, and I have not really mastered it. I was uncomfortable with the idea of riding with Gary, because I knew that I would not be able to ride my way. But the man has shown me much kindness, and is the soul of generosity, so I agreed, despite my misgivings.

Once we got riding, I started showing off. I was going faster on the flats and little climbs than my better judgment called for. We agreed that if by the crest of the Malahat I was slowing him down too much, then he would carry on ahead. Gary waited eight minutes at the Malahat summit, and said that he was happy with that.

The route took us off the Trans-Canada Highway at Mill Bay for a few km, and again off the main highway for a tour of beautiful Cowichan Bay. Gary made a point of showing me the local sights.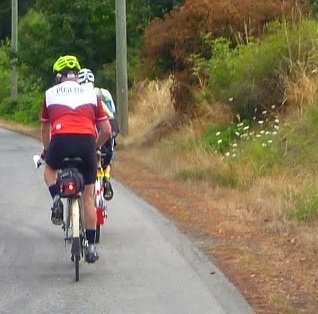 We had a nice stop at a Chemainus bakery that Gary favours, and set out again. And this is where I got really stupid. Long and short of it is that I got grumpy, we were accidentally separated, I made some stupid decisions, and I rode 20 bonus kilometres around Yellow Point Road. It was hot, and I ran out of water. In all this, Gary's only crime was being helpful and encouraging.

At least the extra distance on a lonely road gave me time to start to get a grip on myself. I called ahead a message that Gary should go on without me, got back on course, and headed for Chateau Hinde in Nanaimo.

Stephan and Carol Hinde are utterly gracious. They gave me nourishment, time and space to clear my thoughts, and calm, sincere encouragement. Stephen knew the math, and made me confident that my ride would be okay.

The remaining 440 km were pretty much like other brevets that I had ridden, with the exception of the sleep stop. Twelve km from the Hinde's home, I turned off the Trans-Canada/Island Highway onto secondary roads and the Old Island Highway, 19A. Very nice roads. Scenic. Plenty of convenience stores. Moderate traffic. I got some good vacation ideas.

I stopped into the motel room that Gary had booked us, and was quite concerned that there was only one bed. Oh well, I gathered that Gary is very comfortable with his masculinity. I quickly switched over to night mode in Comox. About 35 km from Campbell River, I started passing southbound riders. That was fun. Especially Brynne calling out that I was doing "awesome." Awesome? I was 70 km behind her! I was able to exchange news with Gary, so we knew when to expect each other to come and go from the motel room. Gary thought that I should skimp on sleep and ride with him and his new Island friends, but I told him that I would be riding on my own. He gave me some welcome words of encouragement, and we rode on.

The moon was rising as I entered Campbell River. Lots of young people on the beaches. A young native woman greeted me, calling me "Bra!" At my midnight arrival at the Tim Horton's, the town centre was deserted. Kid behind the counter was the worst fast food attendant I have ever met. Oh well, some carbs and a signature, and I turned around. My thoughts were clear and I was feeling fine for the 48 km to the motel.

The first thing I learned at the motel was that our room actually had a second bedroom in back. Whew! I tried to disturb Gary as little as possible. Oh, the shower was bliss! And the bed was The Most Comfortable Bed In The World. As planned, I had 90 minutes of sleep. I awoke at 5:00 am; Gary was gone, and I was rolling 30 minutes later. I managed nearly 20 km/hr into Parksville, where I momentarily caught Gary's group in the McDonald's parking lot. Gary told me that the porridge was good, and he was right.

After breakfast, there was a pleasant 15 km ride along Northwest Bay Road, and then the fun ended. The last 150 km took about nine hours. It was hot and noisy, with a lot of traffic or steep hills or both. I was persevering for the sake of persevering. I had tested my limits, but now I was not pushing any harder than necessary. I decided—and I am not sure that I can be dissuaded—that 600 km is too far. I saw fabled Shawnigan Lake for the first time, and took the road from the lake to the Malahat summit. The Sunday evening Malahat descent was frightening. I would like to meet the engineer who designed those shoulders and called for rumble strips. And the moron who put orange barrels on the shoulder to force me into a confrontation with a semi-truck should be fired. The trucker, on the other hand, deserves a medal.

Then glorious Goldstream Avenue took me off the Trans-Canada for the last time, and I just had to make it back to Jim's. The last 15 km took a bit less than an hour. I had gone to college in the area in the 1980s, but I could only recognize three landmarks (the Six Mile House being one, of course). I was having troubles with my cleats, and there was an awkward turn at Interurban and Marigold, so I dismounted, and pushed the bike the last 40 metres. Gary was the only person at Jim's house, so he signed my card, making me a super randonneur. I was one of five new super randonneurs that day. Five of the 16 riders had never completed a 600, and all 16 finished!
I had a quick shower, and we squeaked onto the 9:00 pm ferry home. Gary overnighted at my place, and was on his way after breakfast and a good chat.
Looking Back and Looking Ahead

Some statistics:

                                 2012   2013   2014 (so far)

Total km cycling:                1544   1200   3739

Qualifing brevet (or trace) km:   400    400   2305
I have managed personal totals over 1000 km in two calendar months this year, too.

Clearly, 2012 was a decent start, 2013 was forgettable, and 2014 has been the year in which I can really call myself a randonneur. I am reluctant to call myself a super randonneur.
What has made all the difference was finding a way to ride real distances mid-week, from work to home several times a week, and then really doing it. Almost as important was the Randos Go Touring series that Susan Allen put together. It gave me a ton of knowledge and confidence that I needed on the 400 and 600 km rides.

I have strong doubts that I will learn to enjoy rides longer than 400 km, but it is possible. I can remember hating 200s less than a year ago. I will always hate riding on busy freeways.

Riding with other people is a bit of a mystery. What seems clear is that if you plan to ride with somebody for the whole brevet, you need to really agree in advance on your plans or be willing to be very flexible.

On reflection, I realize that in any sport, balanced mental and emotional states are crucial for success. I need to develop strategies for mentally coping with sub-ideal conditions of all sorts. I suspect that just being aware of that is going to help me a lot in the future.

Looking forward, I intend to complete PBP next year. If it is half the event that people describe, it will be worth the time, effort and expense.

Of course, I'll need to complete an SR series in the spring, and I expect the rides to be considerably more challenging than those I faced this year. I plan to ride home from work at least three times a week, and do at least one 200 km permanent per month all through winter. I hope that there is a 1000 km brevet around the summer solstice. I'll be seeking advice on how to spend the last two months before the big event. Also, I'll be looking for a Fleche team that will take me.

I want a new bike. I don't know if it will really be worth the expense, but I would like to try. Too late for a custom machine from many builders if I want to use it next spring, but I wasn't going to commit to a new bike before I finished a 600. Sigh.

A new bike won't help nearly as much as losing weight. I have lost 25 pounds since I started this, but I still have 25 to go. I have to get there by the Early Bird, but Gary wants me to get there by Christmas. Gary is pretty smart about these things.

When PBP is done, I think that I will be content to be a 200 km specialist, and ride a 200 km brevet or permanent each month, year-round. Seriously, a 50-something guy who can do that is reasonably fit, which was the original point of all this.
I am looking at my yellow 600 km pin. I still am having a hard time believing that I actually went out there and earned it. And I am going to get a medal from France! What happened to that fat slob I used to know?
---
September 1, 2014