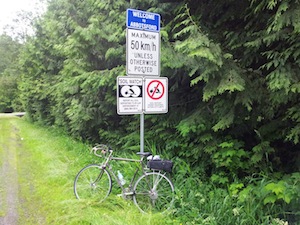 My Canada Day 145
by Ron Stewart

I am in complete awe of John Oswald who went from zero to 1200 km in three months. I went from zero to 145 km in five months, and I feel like I have accomplished something.

I suppose that there are as many reasons to ride as there are riders. I am 49 and have never been remotely athletic. Recently I have become convinced that physical fitness is important for middle-aged guys. I dusted off my comfortable bike and rode around Delta. In February, my first 18 km ride was pretty tiring. In March, I was impressed that I could cover 36 km. In April, 43 km in 2:43 was my limit. In May, I was bonking at 50 km.

At about this time, I stumbled over the BC Randonneurs Yahoo group, and learned about this segment of the cycling sport. I liked what I read, so I volunteered to man a controle in April. I met a lot of nice people, and decided to set my sights on the July 1 Canada Day Populaire.

After some expensive experimentation (anybody want to buy a Selle An-Atomica?) I found a Terry saddle that made my 1985 Norco 15-speed touring bike rideable. I took the toe-clip pedals off and replaced them with $12 mountain bike platforms that let me position my knees comfortably.

I managed a 100 km ride in and out of Vancouver a few weeks back, so I felt ready for the CanPop. Then, on Friday, a message was posted on the web site announcing that the ride was cancelled due to a risk of flooding. I was very disappointed, but decided that I would ride the distance anyway, and that the ride would include the planned start/finish location in Fort Langley.

I left Tsawwassen at 7:30 on Canada Day, heading for Surrey's Wild-Flower Greenway. By the time I got to Surrey, there was a warm and constant drizzle. With the poor weather and it being early on a holiday, traffic on 96th Ave was light. During a stop at McDonalds in Port Kells for pie and hot chocolate, the rain stopped. I got into Fort Langley at about 10:30, and saw a lot of bicycles, as one might expect.

There was some water on River Road east of Fort Langley. It was not enough to completely cover the road, but enough to justify the decision to scrap the Populaire.

Then, Holy Heck: the hills on 272 St and Nathan Ave got my feet on the ground. The gps says I climbed 130 m, but it felt like 500!

The big emotional moment of the ride was when I got to a road sign that said I had made it to Abbotsford. For those of you who have ridden to Newfoundland or completed a 1200 km brevet, riding 77 km to Abbotsford is a mere trifle, but to me, a very big deal.

I got to Bradner Road, headed south to the Fraser Highway, and home via Highway 10, Coleman Road and the Boundary Bay dike.

Strangely, even though it felt like I was travelling slowly, my fastest 10 km of the ride started at 100 km. On the dike, with a moderate headwind, I was passed by a 60-something lady on a nice road bike. She was out of sight in two minutes.

When I got to Tsawwassen, I had a stop and sit before I took on the 45 m in 4 km final climb. I was that tired.

But I made it. 147 km in 9:07. Very sore butt, and nothing left in the tank.

200 km on Bastille Day? Sign me up!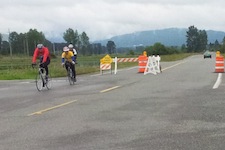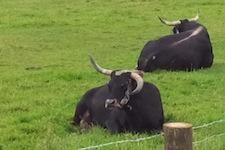 Other riders on flood watch. Spectators.
---
July 2, 2012