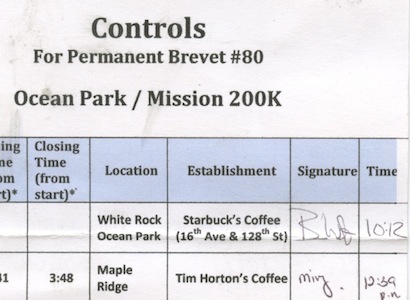 My Brain Walton Permanent
Permanent #80: Ocean Park / Mission, July 6, 3012
by Eric Fergusson

I was in a bit of a hurry to get out of the Ocean Park Starbucks. It was after 10 a.m. already and I wanted to be back for a big family dinner. There was line up at the till inside so I asked a group of three guys who were sitting and sipping in the courtyard if one of them could be my witness for a bike tour that started here. One guy grabbed the card - his friend said "you know it's ironic that you would ask him to be your witness. He's an olympic silver medallist." I asked the guy signing my card which sport. He said track... points race.
I guess my brain wasn't working right. I thought he meant track and field. I said wow, thanks, glad to meet you, and was on my way. I few clicks down the road it dawned on me that he was referring to track cycling. That's what his friend found ironic. Then the penny dropped - it was Brian Walton. I pulled over and checked the signature on the card... sure enough.
I remember watching Walton's career fairly closely in the 1990s when he was on the Motorola team. I think he may have been only the third Canadian in the European peloton I would have liked to chat a bit, or at least acknowledge I knew who he was. It's actually the second celebrity moment I've muffed in recent years. At a reception for medievalists I talked briefly with Terry Jones (Monty Python) and had no idea who I was talking to until clued in afterwards by my wife Siân.
Nigel Aspinall's permanent #80 is and enjoyable varied route taking in the Dewdney Trunk / Stave Lake Dam road and a nice selection roads criss-crossing the Valley. Maybe there's a detour that could avoid the short truck-heavy section of Brunette in New West. The road through Matsqui Village is shut down completely at the moment, and there's a 6 km + detour.
---
Go to: Permanent Results
July 7, 2012