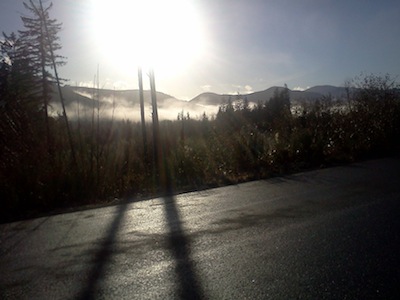 Coastal Inspiration
Permanent #97, November 25, 2012
by Eric Guillemot
I had been looking for a day with no rain for a few weeks and while I knew the Sunday was going to be cold, I took my chance and went for it.
Since I knew the Chemainus Utopia bakery was open from 6AM to 6PM, I started early so I could use the bakery as my start and end control point.
Everything went according to plan except that the surface was icy at the highest point of Pacific Marine Road.
On my way downhill to Port Renfrew, I didn't want to take a chance on the icy road so I rode most of it on the shoulder at a slow speed.
The Coastal Kitchen Cafe is closed for the season and will reopen sometime around April.
I went to the hotel and had a bowl of soup. Port Renfrew is definitively a beautiful and quiet place at this time of the year.
Since most of the morning ride was in the fog, on the way back I barely recognized Marine Rd. Thanks to the GPS for reassuring me I was on the right track.
I will certainly do that ride again in summer and will bring a better camera.
Thanks to Graham Fishlock for creating this permanent.

---
Go to: Permanent Results
December 3, 2012