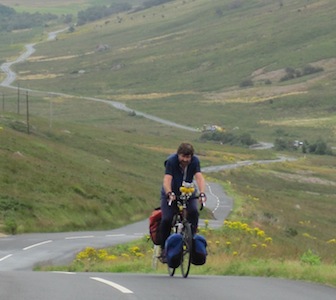 The LEJOG chronicle
Bike Britain: Cycling from Land's End to John O'Groats - Paul Salter
by Keith Nichol
Some photographs:
http://www.flickr.com/photos/kpn_photos/sets/72157631709272695/
• Day 0 or we've got to get to the start somehow?

The logistics of packing three adults, all their cycling and camping gear into a small car plus strapping two bikes securely on the borrowed rack on the back took longer than planned. At the same time we were saying farewell to Matt, Helen and the kids who were holidaying in Norfolk and trying to go out for the day as well, chaos.

The first part of the drive was pretty slow as we were on back roads but as soon as we got onto the motorway things speeded up along with having to deal with the nightmare super roundabouts, I'm just glad I wasn't driving A lunch break was declared at a truckers' stop in the middle of the fields and after getting tea and coffee we proceeded to finish of the bits and pieces from the fridge that wouldn't have survived our absence. It was good to take a break and lie in the sun. Little did we know this was going to be the last time for several days we would be so spoilt by the weather?

Once back on the motorway we made good progress except for one more coffee stop to revive the drivers, the dread Starbucks invasion sometimes is welcome. The closer we got to St Buryan, the closest campsite to Land's End, the greyer and wetter it got. We put up the tents as the rain really started to settle in and headed off to the local pub for supper. Pints of Sharp's Doom Bar and Skinner Brewery's Betty Stogs, along with a good meal got us ready for bed and whatever the next day had in store.
• Day 1 Land's End to Goonhaven

The day's ride - http://connect.garmin.com/activity/216776618

It was a clear night, but by the time the alarm went off at 6:30 the rain was drumming down and the tents flapping in the wind. Luckily the games room at the campsite was open so we could brew up some coffee, have breakfast and remain dry, at least for now. Nell was going to hike that day and meet us at the campsite that evening so we only had one pannier on the bikes, luxury.

By the time we arrived at Land's End the rain and wind were pretty miserable. Land's End itself has become really commercialized and so we didn't want to dally. We got our photographs taken by Nell, signed the official book and then headed off as fast as we could. This was helped by a strong tail to cross wind, which was thankfully going to be pretty much the norm for the whole ride. This is the reason why most cyclists go from South to North, as it's the prevailing wind direction. The squalls chased us for the rest of the day, sun then rain and ha, you missed! We were going through old tin mine territory with the ruins of pump houses and the strange round venting pyramids for the shafts dotted around us. The road was along the coast, so we had a grey sea and cliffs on our left and the hills rising on our right. I had to take a picture of the St Ives road sign, John Surman's record 'The road to St Ives' has been a favourite for years. We bumped into Nell and had a brief break in St Ives on the beachfront.

We stopped for lunch in Hayle, delicious bean burgers, salad and a decent cup of coffee. Finally you can find such a thing in England! We were still honing our route finding skills, so we had some creative detours to get us back on course but we were soon on the home stretch for the day. Nell caught up to us just before Goonhaven and we found a descent campsite just out of town. We got the tents up just in time before the rain came pelting down again and luckily we were fairly sheltered from the wind as several tents around us had already collapsed.

We took a drive to Newquay to get provisions for the next day and to see the famous 'surf'. It has a very similar vibe to Tofino, with surfers wandering around and the same rather anaemic waves. Then it was back to Perranporth for supper, which took quite a while, first finding parking and then the first three pubs we went to were disasters. We finally found this rather sleazy one, which was obviously the local, but a pint or two of Skinner's All hands on deck and a delicious bean burger, number two for the day, hit the spot.

• Day 2 – Goonhaven to South Zeal

The day's ride - http://connect.garmin.com/activity/216776572

It was a wild and woolly morning with rain and wind battering the tents, which obligingly died as we broke camp. Again there was a little room where we could brew up our coffee and have breakfast in shelter. We bid Nell farewell as she was now off to do more hiking, but not on the same route. This was our first day with the full touring load and the constant rolling hills were going to be a bit more of a challenge.

We made good time and reached the official end of day two at one that afternoon, so we decided to push on to Okehampton. There were lots of tors with the obligatory ruins on top. The road was flattening out a bit, more rolling, not short and steep, but we did record our worst climb so far after the Camel Trail, long and slow. We had delicious cheese and onion pasties (when in Devon, eat locally) and chocolate milk for lunch. I finally persuaded Malcolm that chocolate milk was a better fuel than coke. His favourite ended up to be banana milk, no comment!

We got to Okehampton, only to discover that we'd passed the only campsite in the area five miles back. Luckily a really helpful local directed us down the old main highway and mentioned two pubs where we might be able to persuade the publican to let us camp out behind the pub. By now the rain was pretty steady and we were getting cold and tired. We got to Sticklepath and had a choice of which pub to try first, the upstart newer one or the original with an elderly couple, he of one leg and her of extreme vintage, we choose the original of course. She was behind the bar and after ordering a pint of cask Dartmoor IPA we broached the idea of supper, one has to be subtle. 'Oh no, I only serve meals on Friday and Saturday'. We then asked about the possibility of campsites nearby, knowing full well there was nothing. 'Well the only local campsite is closed, but there was a music concert nearby and there are still some people camped in the field behind the pub, maybe they'll let you camp there to? She then phoned the pub and asked if we could come over, describing us young men, in our wildest fantasies!

Success, so off we set up and over the hill to South Zeal and the local pub. A pint of Otter bitters fortified us enough to set up our tents in the field behind the pub. The rain was horizontal, so it was prudent to face the tents into the wind before retreating to the pub for supper and more ale, in this case fish and chips and Tamar black stout. There was not going to be a shower for us tonight, just brush the teeth and be thankful we found a place to pitch the tents.
It was an interesting, Malcolm had done LEJOG seven years prior and had found lots of campsites at very reasonable rates. Now many are closed, the rates are nearly triple and many no longer accept tent campers, only RVs or maybe they are prepared to rent you a cabin. Unfortunately this is mostly because of legislation, which requires the campsites to comply with EU regulations on fire codes, etc. and it's easier for them to just ignore tent campers and provide for the motorized folk.

• Day 3 – South Zeal to Bath

The day's ride - http://connect.garmin.com/activity/216776500

Well it was one of those nights when you were glad to see daylight, albeit bleak, the wind and rain were ferocious and at times we thought we might either become airborne or failing that, drown. Luckily there was a hole in the hedge were we could shelter from the wind and rain, so after clearing out the cow pies, we brewed coffee and had breakfast. We retraced our steps over the hill to get back on course and spent most of the day getting progressively wetter. Not a very memorable day except for Penn hill, which was the longest climb so far. We didn't bother hiking up to the scenic point on the top of the hill. At least we had a good descent to make up for it. Once we got into Bath the battle to find a campsite ensued. Malcolm wanted to find the campsite he'd used last time and after much questioning of passers bye we got directions in the general vicinity of the site. Luckily we found the Boat House pub on the way for refreshments and sustenance, more fish and chips and pints of Brains Brewery's The Rev James ale. Further directions from a fellow dinner got us to the campsite by an easier route. Of course they were full and we didn't have reservations, but they squeezed us in, which meant we ended up camping in a swamp. It was a cold and clammy night.

• Day 4 – Bath to Ledbury

The day's ride - http://connect.garmin.com/activity/216776463

A slow start to the day, everything was damp and we smelt like wet dogs, so when we heard they had industrial driers we washed and dried all our smelly gear. Then we planned to ride back along the canal to Bath only to discover the gate out the campsite was locked, so that was more time wasted, but worth it to avoid the traffic. We quickly found ourselves back in Bath and on the way out of town discovered a bike shop, so the tires got pumped and we stocked up on gels and electrolytes. A young girl dressed in a banana outfit was advertising god knows what outside the shop next door. I gave her ten out of ten for enthusiasm and creativity.

The climb out of Bath and then out of Gloucester were both long, but at least it had dried up a bit and the scenery was great, Herefordshire is really pretty. We were starting to work out how to navigation to the route sheets by this time. We'd double checked each other and stopped sooner if we thought we were off track. The directions we were using are seven years old and things can change, especially around the towns. Also there are quite a few unsigned turns, or turns with very obscure signs. It was also our Good Samaritan day. A poor bird bounced off a car and was flapping in the road, so I stopped and carried it to the side. After a few minutes it shook its feathers and flew off. Probably a bit stunned but alive and unharmed.

We arrived in Ledbury and got direction to a really pleasant campsite with dry sites. At least the sun was shining, because the tent was really getting damp by this stage. We'd be on the road before it got a chance to dry out every morning and most nights it had been raining. The view across the valley from the campsite was stunning, a lake with swans down below and a hot air balloon lazily drifting across the blue sky as the sun set. We saw our neighbours with their tent on top of their Land Rover, so we asked if they were bothered by the local wildlife, they were not amused. Under a blaze of stars we set off to a recommended pub, The Trumpet, which was excellent, good food and a few pints of the local cider from the Stamford Press.

Day 5 – Ledbury to Ellesmere

The day's ride - http://connect.garmin.com/activity/216776420

After a clear night the dew was really heavy, but as usual we packed up the tents wet and set off smartly. We were rolling through Shropshire and it was one of our best days, easy riding and really scenic. As usual we stopped at the first pub we saw in town to ask for directions to the local campsites. It turned out to be the oldest in Shropshire, the White Hart, and they also had a good pint, the Salopian Brewery's Darwin's Origin, which went down well. We stopped around the corner for the proverbial newspaper wrapped cod, chips and mushy peas, absolutely delicious. The first campsite we got to was for caravans only, but he phoned down the road and we got into another site on his recommendation. People were so friendly and helpful.

Day 6 – Ellesmere to Croston

The day's ride - http://connect.garmin.com/activity/216776369

Just as we were going to get up it bucketed down, but thankfully not for long. The normal breakfast of coffee, muesli and yogurt, with no fridge or stove this was the easiest and quickest option. We'd made quite a detour the previous night and to our joy got back on route a hundred yards after leaving the campsite, some days the travel gods smile on you.

Our navigation was spot on today and there was a fair bit of cycle path until we were forced on to motorway hell. The bike path petered out and we weren't sure how to get across so that was our only option. There was a decent shoulder, but it was full of debris and the first thing that happened to me was a failed boot in the front tire. I fixed this and then promptly got a pinch flat as Malcolm disappeared into the distance. I'd just finished fixing flat number two when he came back after realizing I was no longer behind him. We carried on for several miles until we got to Runcorn Bridge and realized we were on the wrong side of the road to access the cycle path, with no visible way of getting there. The most immediate option was to push the bikes over the bridge using the narrow pavement and praying nothing would hit us. This we did and it wasn't fun, especially for Malcolm who didn't notice four bolts sticking out of a sign and bruised and gashed his thigh and tore his shorts.

It was still a busy road and only once we'd got past Widnes did we relax and have lunch. Most days lunch consisted of rolls, the local cheese, red onion, tomato and fruit, all washed down with flavoured milk. Drinking was for the end of the day. When we got to Croston we decided to call it quits for the day, relax and dry out the tents. We also finished off a nip of single malt that was waiting for a day like this. It was a very disappointing pub, meal and pint, Banks's Bitter, probably the worst of the trip.

Notes made in diary –

Avoid nettles at all costs when going for a pee!

What must people think with various items of clothes hung off the panniers to dry?

Finally getting the hang of what goes where in the tent to minimize confusion in the morning.

Noting the position of the markings made by the ram's 'crayon' on the ewes and speculating as to what really was going on!

Day 7 – Croston to Brotherswater Inn, Ullswater

The day's ride - http://connect.garmin.com/activity/216776336

An early start and apart from some tricky navigation through Lancaster we made good time. Lancashire is really pretty but as we hit the Lake District and the Dales so the hills started in earnest. We got to Windermere and had a serious coffee to fortify ourselves for Kirkstone Pass, the highest pass in the Lake District open to motorized traffic. It's 6 miles of 13 to 18% climbing and in our case drizzle and cold wind. The cattle grids had started and you had to start watching out for sheep on the road. We got to the top and didn't hang around for long, just enough to layer up and start the 20% drop. It was hairy with the wind gusting and fully loaded bikes on twisty wet road. We looked ahead as far as we could for traffic and went as straight as we could rather than burn out the brake pads trying to slow down on the bends.

With some relief we saw the Brotherswater Inn and campsite and promptly stopped for a pint, Wychwood Bountiful, which went down well. We organized our campsite and we warned not to leave anything edible in the tents, they had a serious badger problem and they would shred tents to get any food, makes a change from bears! We scouted around for a vaguely dry spot, but I still ended up pitching the tent in a bit of a lake, as I was later to discover. A good supper made up for the dismal one the previous night and we were soon abed.

Day 8 – Brotherswater Inn, Ullswater to Glen Midge

The day's ride - http://connect.garmin.com/activity/216776273

Well we woke up to heavy rain and sogginess, quickly packed up, and found a bunkhouse kitchen where we could at least have breakfast out the rain. We also dried everything we could in the driers before we got too mouldy again. Off we went into the rain and warmed up pretty quickly with the long climb out of Ullswater away from the lakes. After that it was rolling roads through really scenic countryside for most of the rest of the day and the sun even came out briefly. Today was one of the few days with a head to cross wind, which made us appreciate the mostly prevailing tailwind. We met a fellow end to ender doing his second JOGLE in Carlisle, a pretty little town. He was enjoying the tailwind. Dumfries saw us entering Scotland and the battle to find a campsite. What with various misleading directions from fellow travellers, unmarked turns, etc. until finally we met a local cycling home after a failed hare hunting session, with his rifle slung over his shoulder (for his dog he assured us)! He directed us to one of the best campsites of the trip, a small spot with a big communal area, stove, power for charging things, washing lines and a table and chairs. We cleaned up, toasted our day with single malt and cooked one of the few meals we actually made on the road. Luckily Glen Midge didn't live up to its name and there were only a few midges around, nothing to worry about. There was a youngster at the same site doing LEJOG supported, wimp!

Day 9 – Glen Midge to Brodick on Arran

The day's ride - http://connect.garmin.com/activity/216776226

We made an early start to the day as we had a ferry to catch and didn't want to miss the last sailing. Rain, dry, more rain, several steep climbs and really scenic descent down a valley next to a river. Just a pity the road was chip seal deluxe, my fillings felt lose by the bottom. This is where we detoured from the official route and headed towards Ardrossan to get the ferry to Arran. We got a bit lost and then had to take the A78 to make up time, a very busy highway. The first bit was awful, lots of debris and narrow, a bit like the Malahat on Vancouver Island, and then thankfully it widened out, there was very little debris and less traffic.

We got our tickets and even had time to have a quick cup of coffee, Malcolm by now a confirmed addict. Got the bikes stowed away on the ferry and found the bar for a pint of Isle of Arran dark, tasty. We also had supper, as we didn't know quite what to expect when we landed, which turned out to be a good move. The ferry was similar to BC ferries except you can drink and the prices were more reasonable.

We disembarked and got directions to a campsite, which was a bit of a battle to find, no signs and then trying to find the owner and final directions. We went down the road after paying and finally saw some tents in a field next to a stream. We wondered why there was no one around and this question was answered the moment we stopped to pitch our tents, midge central. It was the fastest tent erection of the whole trip and we spent the next half hour killing midges on the inside of the tent. There must have been several hundred black specks all over everything by the time we finished. We had an early night, as we weren't going to be spending time outside. There were no facilities apart from a toilet and even then we had to 'borrow' toilet paper from the ladies side. It certainly earned its cheapest and nastiest campsite of the ride award. We subsequently discovered wild camping is very common in Scotland as there is no Crown land and lots of areas are pretty desolate so who is going to be checking anyway?

For those who have not experienced midges take black fly and no see ums, put them in a swarm and let them start biting. The worst thing is they even work their way through your hair and bite your scalp. They seem impervious to any known deterrent, probably even Agent Orange.

Day 10 – Brodick to Lochgilphead

The day's ride - http://connect.garmin.com/activity/216776166

The midges were still bad in the morning as there was no breeze to keep them to ground. If the wind's over 4 miles an hour you're safe, except if you're wearing sandals as I discovered, they'll bite the hell out your feet. We had a quick wash in the stream, as there was no one around. We suspected the other tents in the field might have been put there to make you think there were other campers! We packed up and headed back to Brodick for coffee and breakfast. The coffee was Nestle instant, but the pastries made up for it. We decided to take the coastal road, which was a good decision as it was really scenic and quiet. I stopped to photograph a medieval harbour carved out of the rock and was surprised when two swans swam out from below me. Later there were seals basking on the rocks, probably availing themselves of any escapees from one of the many fish farms we started to see.

The climb over the spine of the Island was a grunt, but the descent on the other side well worth it. We stopped at the Isle of Arran Distillery to take the tour and have a dram. We chatted to an American tourist about the merits of SPD sandals when touring and he told us about the warm showers web site, there you go Trish. Malcolm discovered he had left his bankcard in Brodick, mini panic. We got a coffee while waiting to get the ferry off Arran and luckily there was a handy bus stop as it started to pour with rain. The rain followed us nearly all the way to the mainland, luckily stopping before we disembarked. Another long climb and then a drop down to the harbour town of Tarbert, where Malcom managed to find a pay phone and cancelled his bankcard, so at least he didn't have to worry about that. The ride along the coast road to Lochgilphead was wonderful, tailwind and a decent shoulder. We easily found a campsite as we came into town so we decided to hang our tents up to dry in the stiff breeze, wash ourselves and all our smelly clothes, bliss. When I opened up my panniers the midges were flying out in a cloud. Our neighbours, Douglas and Alison invited us over for a G&T, which we couldn't refuse. It turned out he had done LEJOG a few years before and we got some very helpful advice. Then to town for supper, fish cakes, which were a nice change from fish & chips,' and a pint or two of Belhaven's Best.

Day 11 – Lochgilphead to Fort William

The day's ride - http://connect.garmin.com/activity/216776123

Malcolm discovered he had a puncture when he started packing his bike, his only one for the trip, but being at the campsite and dry meant it was an easily fixed. As we left the campsite I had my only wrong side of the road moment on the trip. As I turned right onto the main road I wondered why the traffic was coming straight at me before I swerved onto the pavement and shook myself awake.

We held a steady pace all day, cool but no rain until we were already at the campsite. We were on a national cycle trail for a lot of it, which was a treat, very little traffic human or cycle and really scenic. The alternate would have been an A road which was not much fun. We spotted Ben Nevis quite a way from Fort Williams, a big lump. Stopped in Fort Williams for a beer, Tennet's Ember, not bad after a long day. Met up with another LEJOGGER, Dave from Germany, who was taking his time and doing it over 5 weeks. It was a good excuse to have another beer, especially as he was kind enough to buy. He decided to camp, only for the second time on his trip, basically because there was nowhere to stay in town. The ride out to the campsite at the base of Ben Nevis was ugly with a lot of traffic on a narrow windy road. It's a huge site because of all the hikers, but really well organized.

We cleaned up and after some difficulty found our way to the restaurant and it wasn't the pre-dinner drinks, all tents look the same at night. As it was dark we could see the hikers' headlamps as they descended Ben Nevis, little trails of fireflies on the black mass. Some were pretty high up still as they must have been slow or started too late, it's quite a climb. It was cold and wet and I wouldn't have liked to have been in their shoes.

We had probably the best ale of the trip here, Cairngorm Highland IPA, as well as a delicious meal. The walk back was much quicker as we now knew the way. We made a quick trip the laundry to dry clothes in the driers and then to bed after giving my toes some TLC, the first few really wet days in sandals had really chewed them up, I should have worn Gortex socks more often.

Day 12 – Fort William to Inverness

The day's ride - http://connect.garmin.com/activity/216776072

It was midge central when we got up, so a speedy breakfast and then on the road as fast as we could. Dave joined us for coffee but retired to his tent to escape the midges and get some more sleep, he was not an early starter. While waiting for Malcolm at the entrance to the campsite there was a cute robin hopping all over the bike, but it wouldn't stay still for a photograph.

We had planned to go to two more islands and do the West Coast of Scotland, but we ran out of time so we had to do the Great Glen route straight across to the East Coast. The first leg was on the A82, which was busy and was the only time we got yelled at by some yobs. It was a long climb out of Fort William with the Commando Memorial as a reward at the top. They trained in the area during the war. Fort Augustus arrived sooner than we thought and we had lunch next to the Caledonian Canal watching the boats go through the locks. Then we took a detour on a B road out of Fort Augustus, which started with an hour-long climb, during which flies plagued us. It roller coasted up for the next while after that, but the view was fantastic and the traffic light. There were road closed and detour signs, but luckily for us it was Sunday, so no one was working and we could get through.

Every time we thought we'd got to the top there was more until we finally really did plummet, nearly all the way to Inverness. On the advice of our G&T friends in Lochgilphead we found the railway station and checked on the trains back from Wick, the closest station to John O'Groats. There are only three trains a day from there and they only take two bicycles each. The woman behind the counter was an absolute gem and informed us that the noon train was full, so we'd better book seats on the morning one if we wanted to get back that day. Several pounds later we had our tickets for us and the bikes on five different trains, starting at eight in the morning and getting back to Kings Lynn around nine thirty, hopefully before closing time.

Malcolm knew where the campsite was and on the way we found a pub, which was changing hands, so pints were two pounds apiece, we had to have two. Unfortunately they were not serving food, so we tried at a hotel further down the road. After going down a long driveway we found a very posh hotel, so we didn't even bother stopping, two smelly cyclists would have gone down like a dead fish. Got to the campsite and the office was closed so we headed down to find a spot and lo and behold there was a small concession stand which was still open. The woman behind the counter was a complete character and she took our orders and told us to come back in half an hour, which was perfect timing. After pitching the tents and cleaning up we had a delicious poached salmon and veggie supper. We had to wait for the office to open in the morning, so it was going to be a late start, off to bed early in anticipation of a long day.

Day 13 – Inverness to Brora

The day's ride - http://connect.garmin.com/activity/216776020

Gorgeous sunrise lighting up the bridge we would be shortly crossing. I fetched bacon for the concession stand lady from the office when I went to pay for the campsite, so we got a deluxe breakfast and coffee at reduced rate in return. The first stretch was on the A9, but at least they had a decent shoulder and then we were on a cycle path next to the road for a long stretch before going back to B roads. We saw a golden eagle next to the road but, I didn't recognize it as such at the time, they're not as noticeable as bald eagles.

We just missed the ferry at Cromarty, but we found a spot out the rain to wait for the next one. Cromarty's claim to fame is it's mentioned on the BBC shipping weather forecast every morning. It's also a pretty little seaside town. There was a shoal of fish near the jetty and the gulls were so satiated some of them couldn't even fly. The ferry was the smallest yet, a two car front loader and the cars park on a turntable. There were only two crew and we had a great chat with the deckhand all the way across. We were back on the A9 for a while, so when there was a brief respite from the rain we found a layby and ate our lunch with the traffic rushing by.

Finally got to Brora and decided not to take the Helmsdale Valley route and wild camp, the mountains were shrouded in clouds and mist and didn't look very inviting. We stopped off at a pub with probably the biggest and most obscure collections of single malt yet. We just settled for a McEwan's 80/ instead. The campsite was a bit out of town but we got the tents up pretty smartly as the rain came down again. We washed our gear, but the drier wouldn't work and I lost one of my leggings. Then a real tragedy Malcolm realized his good glasses had fallen out of his pocket coming from town. When we rode back for supper we looked closely all the way, but no sign of them.

Day 14 – Brora to John O'Groats

The day's ride - http://connect.garmin.com/dashboard?cid=4670139

We were up early and headed back into town for one last look for the glasses but to no avail. We did find a store open and they had a cheap reading pair that would at least help. We decided to continue on the A9 and not do the highland route up Helmsdale Valley. The road had a good verge, there was a screaming tail wind and the sun was out, what a contrast to the day before. Also the traffic wasn't bad for an A road. The climb out of Helmsdale went on forever but the reward was a 13% plummet to Berriedale followed by a short 13% climb, the famous Berriedale bumps or braes, as they are called locally. On the climb up the bump Malcolm had his photograph take by a photographer. He was waiting for us at the top and gave us his contact information to send it on. He had written a book on hill climbing in Scotland and was researching another, interesting.

We got into Wick, our final destination, at one, way ahead of schedule. The wind was really pushing us along. Lunch was had and we started the last leg to John O'Groats. It was a long climb through an old crofter area, lots of peat cuttings, some even looked fairly recent, then another long decent to the finish. We got some tourists to take our photograph and wandered across to a coffee shop and had Americanos and huge slices of carrot cake. No major celebrations yet, we still had to ride 20 miles back to Wick into the same screaming wind that had pushed us all the way out. We chatted to a busker who'd done the trip on foot in 10 weeks playing along the way to support him self.

The ride back was challenging, but we just kept it slow and steady. Once we were back up over the hill out of John O'Groats it wasn't too bad and we knew where the campsite was, so no problems when we got to Wick. Finding campsites is a major issue, as a lot of them are not adequately signed. We pitched our tents for the last time after shooing away the rabbits and checking for droppings. The showers won the award for the hottest and wettest of the whole trip, what a treat. There was a path along the river back to town, so we didn't even have to venture on the road. We also checked out where the station was for the next morning. Supper was had at one of the Wetherspoon's pubs, cheap and cheerful, but we were pretty tired so it worked out well. A few pints of Deuchers IPA helped as well.

That was it 1,880kms and 14 days later, lots of rain, wonderful people and the best riding companion I could have asked for, thanks Malcolm for making it happen.

Day 15 – getting home

I suppose this wouldn't be complete with the getting home. Seeing the train was leaving at eight in the morning we were up at sparrow fart to get everything packed away, have a cup of coffee, breakfast and get to the station on time. We were armed with our block of tickets, one for us and two for the bicycle for each of five train journeys, a busy day. We loaded our bikes on the small rural two-car train and soon were on our way. This train went back along the Helmsdale Valley, so we got to see the alternate route to John O'Groats after all. Desolate highland moors with ever changing scenery, bleached broken wooden fences soldiering by the trains windows, a golden eagle on the telephone wires, salmon fishermen casting hopefully into the pools and the constant narrow road we would have travelled winding next to the railroad tracks.

Soon we were in Inverness and we upgraded to an express train to take us to Edinburgh. The train in was late so we had a mad rush to get from one to the other and work out where the bikes were to go. The scenery outside the carriage was a blur as we rushed south far quicker than our trip North. Edinburgh to Peterborough was soon over and finally we were at Ely catching our last train of a long day to get to Kings Lynn. We were going to ride the last 20 miles home to East Rudham, but our plans of making it to Great Massingham for a celebratory pint before closing time were dashed by Anglia Rail having problems. The ride back was still an adventure as Malcolm was using back road short cuts without being able to see any of the familiar road marks. We made it in a bit after one in the morning and had to have a celebratory single malt or two before finally getting into real beds for the first time in a while.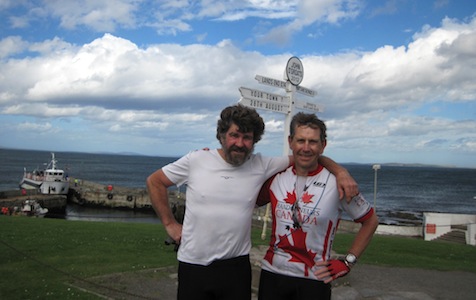 December 14, 2012