Randonneur Rite of Passage
Permanent #41, November 13, 2012
by Fred Rockwell
When I set out to ride a permanent this week, I had only one thing in mind – to notch Number 6 in a year of monthly permanents – but there were early signs that this ride would be different. At one point, I heard the sound of hard plastic hitting the road. I looked back to see my tail light on the pavement and at the same time realized that the bike was slowing rapidly. I couldn't get my cleat free of the pedal and soon I was on the pavement too. Artie Johnson would have been proud! Then somewhere along Maple Bay Road it happened, "Ka-thump, ka-thump, ka-thump." I had a flat and it was on the rear wheel!

I had been dreading this day. When I bought my bike about a year ago, it took so long to get the new-fangled disc brakes working properly that I thought if you even looked at them crossways, they would go out of adjustment. Now I was about to find out.

I remembered Dorothy at Pacific Rim Bicycle turning my bike upside down on the floor and saying this was a good way to work on a bike at the road side. So off came the computer, handlebar bag, rack pack and water bottles, and over went the bike. Also at the bike shop, Bob had mentioned that he puts the rear derailleur in a certain gear before removing the back wheel. I couldn't remember which gear, so I ran through them all and found one that seemed a good bet. With a bit of a struggle I had the wheel off and only at the last minute remembered to note of how the chain wraps around the cog.

I needed to be sure there was nothing sharp stuck in the tire because I only had one spare tube. I couldn't find the hole in the tube, so I ran my finger over the inner surface of the tire – nothing sharp. Looking at the outside of the tire, I found several deep cuts. One was about 1 cm long. My 15 year old tire boots wouldn't stick to the inside of the tire, so I crossed my fingers and finished the job. Much to my relief, the brakes were no problem at all!

It took an hour, but when I got back on the road, I felt like a real randonneur. My first roadside flat repair was a success and my disc brake anxiety was history. Later, I even managed to finish the permanent in the allotted time.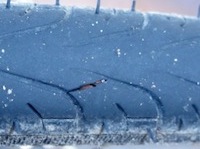 ---
Go to: Permanent Results
November 15, 2012