Birthday Binge
Ken Bonner's Continuous Permanents ...Thing
8 x 202 km
by Eric Fergusson
I thought Ken must have been taking some time off the bike. He hadn't reported in for a while - usually there's a permanent result to register and post on the web site. But no, Ken was keeping very busy...
Turns out Ken had come up with an unique way of celebrating his 70th birthday - 70 hours in saddle.
Here are the stats:
8 x Permanent # 96 Peninsula Wiggly Worm = 1616 km
Over 5.5 days
Total brevet time (elapsed time) = 79:14
Total saddle time = 71:25
Total elevation gain = 40,000 ft
56 controls (not counting the starts & finishes)

November 7 [#1]  (8:58)
November 7 [#2] (10:44)
November 8       (9:48)
November 9 [#1] (10:06)
November 9 [#2] (10:52)
November 10     (10:06)
November 11     (10:52)
November 12      (9:53) 
        
------------
Here are some thoughts from Ken:
"After 3 attempts, I did it! The first effort was just after the Victoria Marathon and I only completed about 12 hours when I got sick (possibly food poisoning from the café where I had breakfast). The second attempt netted 48 hours in heavy rain and strong winds."
"The folks at the convenience stores and DQ got to know me really well! At the Royal Oak Tim Hortons there was always a line-up so I accosted their customers for signatures (this worked well, as most thought I was going to ask for money!) "
"Lots of rain, wind and sunshine. Relatively mild temps for some of the time, then an abrupt downward shift usually dropping to freezing or below within about ½ hour. Never again. Give me a 2000k brevet any day! "
------------
Happy 70th birthday Ken !
---
Additional:
Ken has received some news coverage about this. Click image: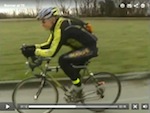 ---
Go to: Permanent Results
November 17, 2012