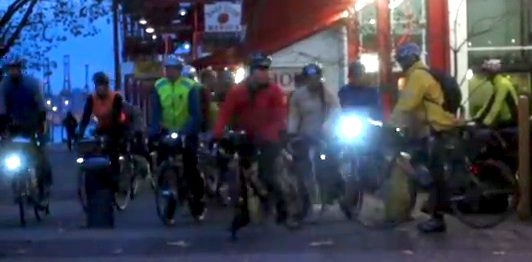 Ron's mini-vid from the start
[30 seconds - youtube]
(click)
11th Hour 200
Remembrance day ride organizer's report
by Tracy Barill
The details:

· 201k - approximately 1800m climbing
· Weather: 2-5 C all day with rain beginning around noon; winds - gusty at times - a mix of head winds and tail winds
· 19 cyclists - 17 finishers
· Ron Stewart – Iona Control Volunteer (best soup served today – a common claim of returning cyclists); equipped with homemade soup, homemade cookies and Nanaimo bars
· Andrew Hartline – Prospect Point Control Volunteer – rode the farthest to attend the event (from Port Moody)
· First riders in were Ryan Golbeck and Nigel Press at 8:14 and the last in was the veteran trio of David Gillanders, Manfred Kuchenmuller and Bob Koen at 12:44
· Jason Bond rode his first 200k ACP brevet !
· Eric Guillemot travelled from Victoria with his spouse Cecile for the ride – drove the farthest to participate
· Cynthia (Cindy) Wood and Dave Robar called the ride short as the weather changed for the worse – they both began the ride fighting colds – they did get a good ride in to Porteau Cove return though
· Bean Around the World at Lonsdale Quay continues to impress with great service all day – and opening an hour early for BC Randonneurs – thanks!
· Another memorable, positive, hard-earned BC Randonneur event experienced by all!
-----
Thank you to Andrew and Ron for volunteering much of their day to the ride. I found great enjoyment and inspiration through the day – at the start, Porteau Cove and the finish – reconnecting with fellow Randonneurs and meeting some for the first time.
---
Additional from Ron Stewart, Iona control:
I would amend Tracy's comments by striking the term veteran trio, and replacing it with comedy trio. I had the pleasure of listening to their verbal jockeying while they worked on Bob's tire in the heated restroom at Iona Beach. Photo attached.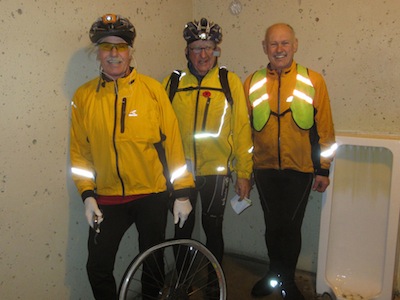 Manfred, Dave, Bob
Iona control...

---
Go to: Results
November 12, 2012