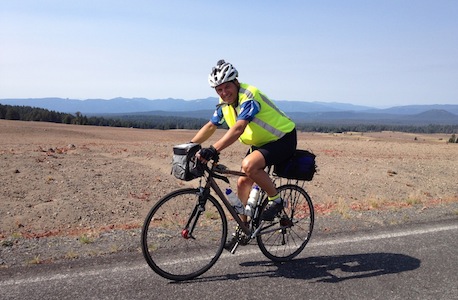 Barry Chase on Crater Lake 1000
Photo: AK Ted
Ultras Up-date: Barry Finishes 3 Fall 1000s
by Eric Fergusson
Barry Chase has just finished his third 1000 since September 1:
Rivers & Ranchlands (BC Interior, 72:55)
Crater Lake 1000 (SIR: Washington State, 70:42)
Big Sur California 1000 (Pacific Coast Highway Randonneurs: Southern California, 67:05)
All three were on challenging routes.
Here's a little tidbit from an e mail message from Barry. I had asked Barry for details on how he and Maciej Szarecki managed to keep pace with the time limit after Little Fort on that tough Rivers and Ranchlands 1000 route.
"That section was tough. We only left 30 minutes before Little Fort closed, so didn't have a cushion, then an almost two hour climb got us to the top with a 6.9 km average. We then had to ride hard for the next six hours to gradually lift it to slightly over 15 average, and got to 70 Mile House with 45 minutes or so, sat outside drinking etc, then had to leave 30 minutes after closing time to do an all nighter to Lillooet, then again an immediate departure on the Duffy and on it went for a second successive all-nighter. There was no relief from the clock."

This has been a big year for the 2009 winner of the Iron Butt award. With this fall surge Barry has finished five ultra distance brevets (1000 or 1200km) this year. He won't quite catch up to Ken Bonner who has completed six.
Other names to highlight here include Bob Goodison, Bob Koen and Gary Sparks, who all finished three ultras.

He runs too... Ken Bonner, Victoria Marathon
Photo: Steve Mahovlic
---
Go to: Ultra Results
Go to: Out of Province Results
October 18, 2012