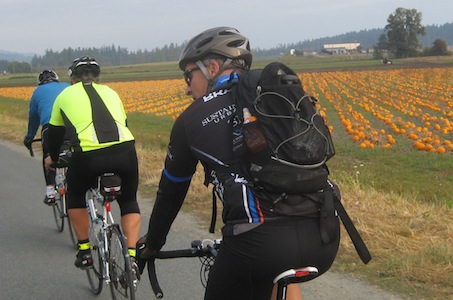 Mark in a paceline on Lockside
Photo: Eric Fergusson
My First Brevet
by Mark Shepard
Sitting at coffee after my regular Wednesday morning group ride, I mentioned wanting to do one more Fondo. It had already been a great season for me, a newbie road rider at the tender age of 54, but I wanted to cap it off with something special. I'd managed to complete the Ride to Conquer Cancer from Vancouver to Seattle in June, followed by the Tour de Victoria, Penticton Medio Fondo and finally the RBC Whistler Gran Fondo at the beginning of September. One of the riders mentioned a 200k ride he had heard about the following weekend. 200k? Are you nuts?

Well it turns out I am nuts. Checking the forum, I saw "Call Mark Conway" for more information. We connected - he assured me the pace wouldn't be too crazy and that I would likely find someone to ride with. And the best part – the whopping $15 entry fee. Now let me tell you, I thought something was up at this point. Fondos are typically between $200 and $300 but you get a FREE T Shirt and beer after!!! And if you fork out the really big bucks for the Whistler Fondo you get a big honking medal and live entertainment that you are too tired to listen to not to mention spending the price of new bike for one night in a hotel room. Hmmm the $15 sounded pretty good. Online I went and preregistered.

The BC Randonneur website provided turn by turn directions and a GPS profile done by one of the volunteer preriders. Wow these guys are organized I thought. I was familiar with all the roads except the last bit by Otter Point in Sooke, but a bit surprised by the amount of climbing – almost 1900 meters. I predicted the climb out of Esquimalt Lagoon would be painful with 185 km under the legs. Time would tell . . .

Start time was 7 AM, fairly respectable. First step was to navigate to the Cottage Pirouette BB where I would sign in, pay the registration fee and get my official "Control Card" and directions.

A note on navigation. It would horrify many to know that I actually hold a Watchkeeping Mate Certificate which theoretically allows me to navigate freighters across large bodies of water with only a sextant and paper chart. Apparently this does not help one find a Bed and Breakfast with a clearly designated address in a city in which I had lived for a mere 32 years. OK so I turned the wrong way and remembered the address incorrectly but I did arrive with a whopping 10 minutes to spare.
I arrived and was greeted by the cheerful innkeeper and ride organizer Lorraine. I signed my life away, paid the entry fee and rushed to get the bike off my car. The sun was just coming up as I joined the rest of the riders – close to 20 in total. Now I have heard the expression "like a fish out of water" but never personally experienced anything like that moment. The group stared silently at me with my flashy "Brainiacs" Team kit and Carbon Fiber road machine. Someone mumbled something about no fenders; another with wool tights questioned my naked knees. Thank goodness I had left my lights on from my Friday morning ride, required equipment apparently. It wasn't until much later I found out this group of unassuming cyclists with nary a logo to be found on bike nor clothing were actually SUPER humans!!! This 200k ride was but a Sunday trifle. How about riding from Victoria to Port Renfrew and back via Qualicum in 28 hours with no sleep (a mere 600k). Or Victoria to Gold River and back (1000k) with one sleep in under 61 hours. Such are the randonneurs.

Luckily the awkward moment was short lived as it was time to roll! The group stayed together, riding at a moderate pace to start. It was a spectacular morning, the ocean glassy calm, the sun a crimson red as we cruised along Dallas Road. I had studied the route the evening prior, but still managed to take the first of many wrong turns turning down to do a loop of Clover Point. Mark C muttered something to me about my route sheet as I rejoined the pack. Oh yah that paper folded in my jersey pocket. Most of the riders had either a clipboard attached to the handlebars or a handlebar bag with a place for the map. We then proceeded along the coast, and through the farmlands around Martindale Flats enjoying the perfect riding conditions. We ran into my regular riding group on Island View Road. One of them piped up "only 170k to go Mark" Ah yes nothing like support from your peers.

We soon approached Sidney and our first Control at about 55k. This was a "Your Choice" Control. Following the lead of Guido I went into the 7-11 and had the clerk initial and time stamp the card. Guido kept asking if I was going to do other Brevets. "Let me finish my first one!" I retorted. A note on Guido. This guy was like a tractor – steady as they come and loved pulling the peloton. On his wheel I kept asking "are you OK?" as he motored on. I finally had to surge past him so I could take my turn at the front. By Sidney we had formed an alliance of 4 riders including Eric, Ed and Guido. We soon came upon the … wait for it . . . .SECRET CONTROL. In addition to stamping our Control Card we were treated with some delicious homemade brownies which had incredible performance enhancing qualities. I found out later there was some sort of caffeine in there. By the time I had finished savouring my snack Guido had shot off. No rest for the wicked. Not wanting to lose my super domestique I charged after him. Ed and Eric were quick to follow. Once again relying on my memory I turned up Cromar instead of Downey. I heard Ed and Eric calling but paid no attention until I got to the top of the hill. GROAN, I had climbed for nothing and had to return to Madrona and then up Downey.

I had lost some valuable time now as I knew how important having a team could be on a long ride like this. I charged along West Saanich trying to catch the other riders. Somewhere along the way my Route Sheet flew out of my jersey, I had to go back and find it. Sigh. I finally caught up to Eric and Ed coming into Brentwood Bay. Guido eventually came into sight and we regrouped at the third control at Interuban and Wilkinson at the 102k mark. My local knowledge came in handy as we navigated the twists and turns of the Goose as it meandered through the Western Communities. The weather just couldn't have been better. The usual westerly winds were not to be felt as we cruised at close to 30 kph speeding towards Sooke. Ed had an unfortunate flat and Guido disappeared soon after as well. Eric and I managed to navigate the last bit of the Otter Point portion and came across our friendly control station at the Kemp Lake Store (around 155k mark). A quick fill up on Gatorade and bananas and we were off once again. Riding along the highway wasn't my favorite part of the course, especially after being spoiled on the spectacular goose on the ride out.

I've got to say it was great riding with Eric. We were well suited and kept each other firing on all cylinders. We had been informed at the pre-ride briefing that the sign to Kangaroo Road was missing. Low and behold Dave Macmurchie had made a homemade sign and put it up. We laughed and Eric took a few pics at the turn. Nice work Dave. We carried on and eventually came down into Esquimalt Lagoon, beautiful vista as always, and knew we were getting close to the barn. It seemed like an awful lot of climbing for the last few kilometers, especially the last little humps along Admirals Road but Pirouette BB was soon in our sights. We rang the bell and Loraine welcomed us with warm apple pie and a glass of milk. Perfect recovery. She stamped our cards, gave me my 200k pin and ta da - my first Brevet, done.

Thanks to everyone, it was a really great experience and I look forward to my next adventure.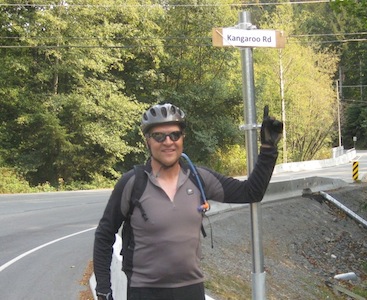 ---
Go to: Results
Go to: Photos
September 27, 2012