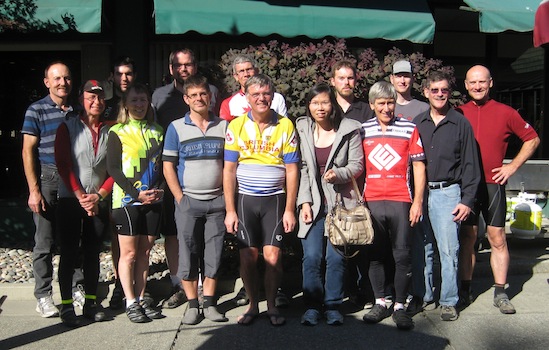 2013 Executive Committee:
Bob Goodison, Mike Croy, Ryan Golbeck, Deirdre Arscott, Andy Reimer, Dug Andrusiek, Jim Runkel, Stephen Hinde, Silvia Lee, Jeff Mudrakoff, Ross Nichol, Chris Cullum, Gary Baker and Ed Person (missing Keith Nichol).
Photo: Eric Fergusson
2012 Annual General Meeting and the 2013 Executive Committee
EF
With the closure of the Bedford House in Fort Langley a new venue needed to be found for the club's Annual General Meeting ride and bruch. (The event has been held at the Bedford House for at least 20 years.) The Delta Town & Country Inn was perfect - pretty close to the Tsawwassen ferry terminal for the Vancouver Island group, and also near to good cycling roads. Roger and Ali Holt provided four overlapping routes ranging from 25-50 km.
At the banquet club president Jeff Mudrakoff acted as MC, Susan Allen administered the election of directors and Gary Baker oversaw pin volunteer pin distribution. Six 1000 km brevet pins were also awarded.
On hand were two long time randonneurs: Harold Bridge and club co-founder (in 1979) Dan McGuire.
2013 Club Executive Committee:
Ryan Golbeck - President
Andy Reimer - Vice President
Deirdre Arscott - Secretary
Ross Nichol - Treasurer
Jeff Mudrakoff - Past President
Dug Andrusiek - Member at Large
Gary Baker - Member at Large: Lower Mainland Brevets Co-coordinator
Mike Croy - Member at Large: Vancouver Island Brevets Co-coordinator (new)
Chris Cullum - Member at Large
Bob Goodison - Member at Large: Southern Interior Brevets Co-coordinator
Stephen Hinde - Member at Large
Sylvia Lee - Member at Large (new)
Keith Nichol - Member at Large: Lower Mainland Brevets Co-coordinator
Ed Person - Member at Large (new)
Jim Runkel - Member at Large (new)
Special thanks to the three out-going committee members:
Susan Allen
Malcolm McAuley
Lee Ringham

---
Go to: Photos
October 1, 2012