VI Gold River 1000
(Unofficial) Report - Tough Randonneurs
by Ken Bonner

Ken's "unofficial report" was sent to the discussion forum shortly after the ride, on June12.
Eric – first finisher – minimalist – as I was heading toward Youbou, on a gloriously sunny and scenic Monday morning, I met Eric heading in the other direction. Wearing his prized wool B.C. – PBP jersey he was looking fresh and full-spirited, in spite of sleeping in the hallway of the Gold River Chalet keeping the company of the participants of a drunken party next door; and riding through the cold 2nd night with minimal clothing. We had a quick chat about his new training regime which was producing results. Keep in mind, Eric is looking fresh … and maybe I misheard him, but apparently a good way to train to overcome adversity on the road, is to practice sleeping 'rough' during January, February and March. Three nights a week, Eric wearing only his soaking wet karate robe walks down to Kitsilano Beach to sleep from midnight to 4:30 a.m. (3-1 ½ sleep rhythms) if it is raining or snowing, conditions are ideal.
Like anything worthwhile, it takes perseverance and practice, but after awhile, the shivering stops and sleep (or is it the beginning of hypothermia) announces itself. This is not a training regime for everyone, but reportedly, Eric has reduced his bike weight by 5 kg. by eliminating all that heavy clothing he used to carry. Certainly looks like it must work (at least for Eric), as I observed that Eric looked fresher after over 53 hours on the bike than he did at the beginning of the event.
Yutaka –with fond memories of his two unsupported 2000k Ultimate Island Exporers (during the 1st one he was struck in Tofino by a little old lady driver from Pasadena (sorry, that is a 'little old lady from Tofino) but finished the ride with malfunctioning gears – roughly another 1500k); and illness on the 1st of the Triple 1000's; Yutaka put Jim Runkel and Mike Croy's Gold River 1000k on his to-do-list of world brevets he is riding this year. Unexpectedly, after about 300k of very, very, hilly hills (4700 feet of elevation gain in the 1st 100k) an old football injury to his leg made itself known, so Yutaka saved himself for the other brevets (the next one in Denmark this coming weekend). Lots of folks would have called a taxi, rented a car or used public transportation to get back to the start. Not our intrepid Yutaka – he 'over-nighted' in Courtenay and RODE his bike back to the start! (Although the story about Eric is embellished considerably, Yutaka's story is as he told it to me. Yutaka is actually requesting that the Triple 1000 be organized again so he can complete all three of the Island 1000's another time – he 'only' managed to complete 2 of the 3, so he has unfinished business.
Different strokes for different folks!
Cheers … Ken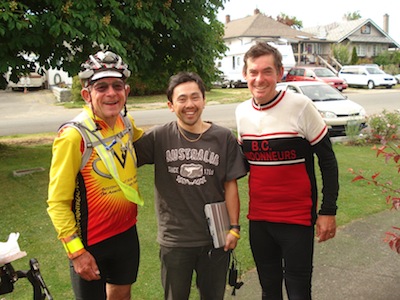 Ken, Yutaka and Eric at finish
(Mike and Brynne Croy's place - Victoria)
Photo: Mike Croy

---
June 15, 2012