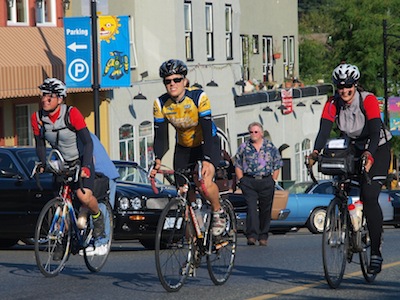 from 2010
Photo: Stepehn Hinde
Up-coming, June 16, 2012:
Tour of the Nanaimo and Cowichan Valleys 200
by Stephen Hinde

Go to: Route and Info page
The Tour of the Nanaimo and Cowichan Valleys is now posted on website, and RandoPony is just waiting to take you for a ride!
The annual summer 200 starting in Nanaimo, and visiting Genoa Bay, Mill Bay, and Glenora travels through some of the nicest scenery on the Island, and some of the quietest roads. (OK, that means it's not exactly flat--about 2500 metres of climbing.) Stop for cinnamon buns in Ladysmith (if you dare), or laze about on the docks of Control 1 watching reflections of the boats. Perhaps a visit to the bakery in Cowichan Bay for a Bretzel (how many bikes do they have there, anyway?)? Anyone for some wine as you follow the wine route back to Duncan. Detour into Chemainus for gelato. Or just enjoy the rural Yellowpoint area.
The route has a small change in it this year. Instead of following the highway out of Duncan, we will follow the new Friendship Trail along the railway line to the back of the new mall just to the north. This 700 metre section is on hard-pack chip seal, but it has zero traffic!
Previous rides can be seen on Flickr (2010 URL: http://www.flickr.com/photos/bcrandonneurs/sets/72157624736295729/ )
We look forward to seeing you in a couple of weeks.
Stephen & Carol

June 6, 2012