Nanaimo Populaire Report
by Lee Ringham

In Nanaimo, Saturday dawned bright and sunny although the temperatures were a little on the cool side. Cathy and I arrived at the Serious Coffee to set up the Start / Finish control at about the same time as the first riders. We quickly got set up and started registration. We saw some new faces, some familiar faces and some 'historical' faces (former randonneurs who have not been in the club for a few years). We even had a 'rando family' as John, Norie and Tai McGillvray made the trek from Denman Island with a few of their friends.

This year we used Stephen Hinde's well established route from south Nanaimo to Lantzville, back to south Nanaimo, further south to Cedar and Yellow Point before returning to south Nanaimo. Since this route is essentially a figure 8 the Serious Coffee cafe functioned as the start, the 50 km finish, a mid-point control for the 100 km route and the finish for the 100 km route! There was a lot os coming and going! We also had Kristy Mighton staff a Secret Control in Lantzville and Martin Williams set up a second Secret Control on Yellow Point Road.

We managed to get the five 50 km and the fifteen 100 km riders away at about 10:05 under sunny skies. Roughly 25 minutes later clouds moved in, the sky darkened and the rain began pelting down! Cathy and I just looked at each other – so much for the fine weather! The weather was to have a profound impact on the rest of the ride.

The first DNF phoned in soon after the first downpour, as the rider was too wet and cold to continue. A couple of showers later, two more DNF's called in with similar concerns. Soon enough, a steady stream of riders began arriving back at the control looking somewhat soggy but cheerful nevertheless. For the 50 km riders, this was the end of their ride and most of them looked fairly relieved at the prospect. Eventually the McGillvray clan arrived; all looked pretty done. However, a mug of hot chocolate and a finisher's pin soon revived 9 year old Tai. How his little legs powered his mountain bike with its fat tires up all those hills is beyond me, but his smile said it all. Definitely the highlight of my day was handing Tai his pin.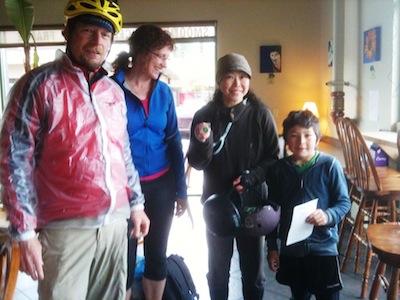 Tai and fans
Photo: Lee Ringham
The 100 km riders began arriving shortly thereafter, most singing the praises of the route and the ride organization; but not the weather. The showers had continued and resulted in Allen slipping on the metal plates at a railway crossing, crashing on his right side and breaking his collar bone. I dropped him at emergency and put his bike in the back of Nigel's truck. He called later to update his status.

The last rider rolled in some 7 hours later, suffered a flat about 3 km from the finish. I managed to hand out numerous BC Randonneurs pamphlets and spread the gospel to a few interested folks so I am hoping that the upcoming 200 km and 300 km events will draw some new riders.

All in all it was a good day – with thanks to the volunteers Cathy, Kristy and Martin (for the secrets) and to Serious Coffee for putting up with us for the day. Thanks to all the riders for turing out, we saw an increase from 17 last year to 20 this year. Oh – and Tai is already talking about riding a 100 km!


Cheers, Lee

---
June 6, 2012