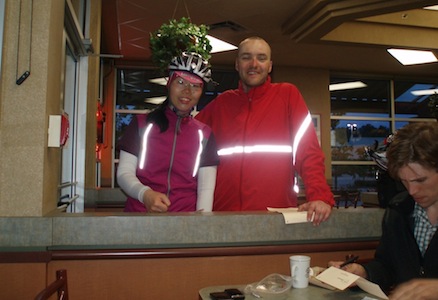 Sylvia Lee & Marciej Szareckij at finish in North Van
Official Darren MacLachlan examines Sylvia's control card
Photo: Nigel Press

Four first-time 400s on D'Arcy
Eric Fergusson

From Deirdre Arscott: "It was Sylvia's and Maciej's first 400. Nigel took their photo at the end. To quote Sylvia "The pins are so much bigger this year, I decided I had to do more rides.""
It's a little odd that not only Sylvia and Maciej, but two others, choose BC's toughest 400, with the worst sub 600 km completion rate of any brevet in the province, to ride for their first 400. Yet all four finished:
John Oswald          16:55
Roy Neifer           21:37
Sylvia Lee           23:18
Maciej Szarecki      23:18
A particularly interesting rider profile is Roy Neifer's. First brevet, the spring 200 in 1992, lower mainland. [I couldn't believe it. Very weird. LM spring 200 1992 - my first brevet also! EF.] After a very long absence, Roy found his way back to randonneur cycling, and to the start of the D'Arcy 400. From the database, here's Roy's rider profile to May 20. 2012. (There's a 400+ fleche, I know. That's different.) Click it:
New kid John Oswald had absolutely no problem with BC's toughest 400.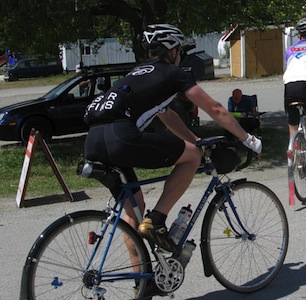 John Oswald in D'Arcy
Photo: Darren MacLachlan
---
May 20, 2012