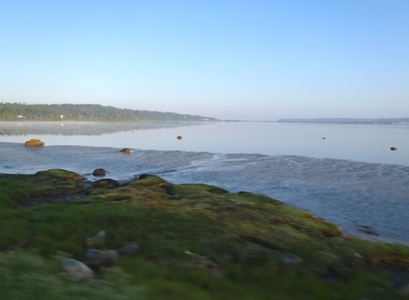 Home Early from the Lowlands 1000
by Rick den Braber

We left Sigi's place in White Rock at 6 AM and after a short spin to the border and the usual border crossing highlights such as weaving through many parked and idling cars and the Q & A from the customs officials were on our way South through the North West Washington Countryside. The early morning sun warmed us and made for a slower but social start. By the the first control at Lummi all four riders were still together. Ken Bonner picked up the pace a bit and when Barry, Gary and I arrived at the the Farm to Market Bakery in Edison. Ken was finishing off a blueberry scone that he said was excellent in every respect. We stopped to eat some of those for sure. And you could not lose time at a Control for a better reason. The weather was wonderful with sun turning to light overcast and starting to warm up nicely. We kept South for Stanwood where the store clerk guessed that I looked like a Doctor. I will certainly open a practice next week as I think the money is quite good!

Off to Camano Island for a loop around some challenging hills. My bike was making noises and had been doing so off and on for the last few rides. This is the second rear cassette body that has been on my bike and they seem to last about 5000 kms. I ordered up a new wheel with higher quality parts after my last ride but it was not ready before the start of the 1000 and the mechanic did say it would not hurt to continue riding on this wheel. We charged North for Alger and were making good time till about the AMPM market in Mount Vernon. My gears were starting to slip on the cassette body. At about 269 km my cassette body gave up and the gears went both ways with no traction. I was now riding a very expensive scooter. My ride seemed done at that point but Gary Sparks said "I read about a solution to that kind of problem and I have the stuff with me". We zap strapped the gear wheel to the spokes with some heavy zap ties. I was off on a fixed gear bike with more than one gear but I could not stop pedalling. It was interesting but just when you go to coast you find out what excitement could be. The fix lasted to 284.77 kms and the Zap ties gave out. Gary said lets do it again. I knew my ride was done anyway and wasting more of their time was not something I wanted so I declined the offer and called for the rescue ride. They were very generous in helping me through the first fix as it took some time to get it right.

A homeowner saw us break down and concerned for our safety came out to check and invited me to come in to their home and wait for my ride. Barry and Gary continued on. I was introduced to the family dogs, cats, and kids and invited to join them in eating fresh caught ling cod and chips and home made coleslaw. The food tasted great and the company was even better.

Alida found her way to my location and we were off to Sigi's place to pick up the rest of my stuff and eat my midnight dinner and a beer that Sigi had made. Not many restaurant's can serve up food like Sigi does and I have sampled here and there.

I really enjoyed the training ride and would do this 1000 again. Best of luck to the other three riders.
---
May 20, 2012