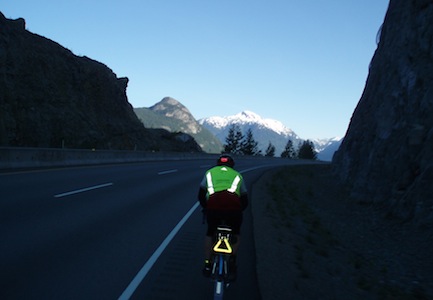 Ed Person on the D'Arcy pre-ride
D'Arcy 400 Pre-ride & Route Info
by Nigel Press
Go to: Route

Ed and I left the Tim Hortons in North Vancouver at 6 AM. It warmed up before getting to Whistler, then it was shorts and jerseys for the rest of the day. Winds were moderate and generally unfavourable. Snow capped mountain panoramic views were spectacular.
The bike path alongside Welsh Street in North Vancouver looks very inviting but there are big gnarly edges on the curbside that haven't been smoothed which could cause pinch flats or bouncing around as you try to navigate the bollards, so it's recommended to stay on the road both ways.
Food at the Brackendale and Pemberton controls was fantastic. The warm scones at Bean Around the World were amazing, good place to stock up on fresh baked goods! Both Brackendale and Pemberton controls have bike shops next door.
There is now a convenience store in D'Arcy open from 9 am to 10 pm. This will be the turn around control, and will also be staffed.
The shoulder on #99 was as clean as it gets. It looks like it has been recently swept. Between Whistler and Pemberton the shoulder is terrible so use caution on descents. The Porteau Cove corner coming back is still sketchy, with a grate taking up the whole shoulder in one spot, but it has been swept.
Watch for bears between Squamish and Whistler.
We finished at 12:20 am, having riding a leisurely pace with several stops along the way, including buying some dried fish at a pow wow happening in D'Arcy and watching traditional First Nations dance and music.
More pre-ride photos on: picasaweb.google.com/

May 16, 2012